Can Police Take Guns from My Abusive Partner?
Due to a recent federal ruling, not in Louisiana
By Doug Mentes, Esq. | Reviewed by Canaan Suitt, J.D. | Last updated on March 28, 2023
Use these links to jump to different sections:
In February 2023, federal judges on the U.S. Court of Appeals for the Fifth Circuit, which includes Louisiana, Mississippi, and Texas, ruled that prohibiting individuals under a protective order from possessing firearms violates the Second Amendment.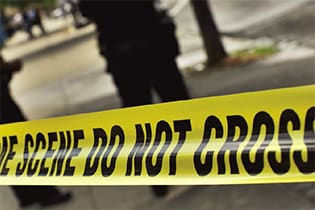 Before this ruling, there was already no state law in Louisiana requiring domestic abusers to turn in their handguns. Instead, the criminal justice system allowed perpetrators of family violence to be on their honor to voluntarily give their weapons to a third party or sheriff.
Now, under the Fifth Circuit's ruling, the federal law prohibiting domestic abusers from possessing firearms cannot be enforced in the state of Louisiana at all.
The U.S. Department of Justice has appealed the Fifth Circuit's ruling to the U.S. Supreme Court. Were the Supreme Court to overrule the Fifth Circuit, the federal law could be enforced in Louisiana again. Another possibility is that the Supreme Court upholds the Fifth Circuit, invalidating the federal law across the country.
What is the Federal Law?
Federal law, currently unenforceable in Louisiana, prohibits many domestic violence offenders from possessing firearms and ammunition. The domestic violence law applies to victims who were in a relationship or an intimate partner of the abuser, including:
Spouses
Former spouses
Unmarried parents
Dating partners
Significant others who live, or have lived, together
If the abuser has been convicted of a misdemeanor crime of domestic violence or has a domestic violence restraining order, the abuser is subject to the federal firearm ban and relinquishment to law enforcement agencies.
The crime must include an element that the abuser used, or attempted to use, physical force or threats of gun violence. The crime need not be labeled domestic abuse, but may include any crime of physical force-including assault and battery.
There is a Louisiana state law similar to the federal gun ban for domestic abusers, and it exceeds the federal ban in one respect: banning gun possession for those convicted of a "domestic abuse battery" for physical injury for 10 years after completion of the abuser's sentence or probation period.
What if the Abuser Has Not Been Convicted of a Domestic Abuse Crime?
If there is not a criminal "no contact" court order after a domestic violence incident between the abuser and victim of domestic violence, seeking a civil protection order is often the first step in protecting a victim from domestic abuse.
This will prohibit any contact from the abuser with the victim for a period of time. Once in place, the protective order will activate the protections provided in the federal gun ban.
In order for the gun ban to be in effect, the abuser must have had actual notice of the hearing on the order of protection. This means that the abuser was both:
Served with notice of a hearing
Given an opportunity to appear at that hearing
It does not matter if the abuser voluntarily chooses not to appear at the hearing. It is very important to understand this requirement, as a temporary order of protection are often issued without a hearing. Also, the federal law requires the protective order contain both findings below:
The abuser is restrained from harassing, stalking, threatening or engaging in conduct that would place the victim or child in reasonable fear of bodily injury
The abuser is a credible threat to the physical safety of the victim or victim's child; or, by its terms, explicitly prohibits the use, attempted use or threatened use of physical force that would reasonably be expected to cause bodily injury
Victims must be aware of the expiration date of their protective order; once it expires, the abuser can get their guns back. However, the firearm prohibition will stay in effect until the conviction is expunged, set aside or pardoned.
Seeking Legal Help
As noted above, the federal gun law outlined in this article that prohibits abusive partners from possessing firearms is currently unenforceable in Louisiana due to the Fifth Circuit's recent ruling. On appeal, that decision could be overturned or upheld by the Supreme Court. The legal landscape of gun control and firearm prohibition is constantly evolving.
Victims of domestic abuse should talk to an experienced Louisiana family law attorney about their options for remaining safe and protected from abusive family members. If you are in immediate danger of violence, contact law enforcement officers.
For more information on this area, see our overview of family law.
What do I do next?
Enter your location below to get connected with a qualified attorney today.
Additional Family Law articles
Attorney directory searches
Helpful links
Find top lawyers with confidence
The Super Lawyers patented selection process is peer influenced and research driven, selecting the top 5% of attorneys to the Super Lawyers lists each year. We know lawyers and make it easy to connect with them.
Find a lawyer near you