Minnesota Courts Can Take Domestic Abusers' Guns
An order for protection or misdemeanor conviction can be grounds to bar owning firearms
By Doug Mentes, Esq. | Reviewed by Canaan Suitt, J.D. | Last updated on March 28, 2023
Use these links to jump to different sections:
Domestic abuse victims, as well as their family members, must be proactive to limit the threat of potential future abuse, bodily harm and one of the best ways of doing so is by learning the laws that are meant to protect them.
Seeking a protection order (OFP), which prohibits any contact from the abuser, is often the first step in protecting victims of domestic abuse. But there are other caveats at play with such orders, including preventing the abusing party from the possession of firearms.
What the Federal Law Says
Federal gun laws prohibit many domestic abusers from possessing firearms and ammunition. The law applies to victims who were in a relationship with the abuser, including: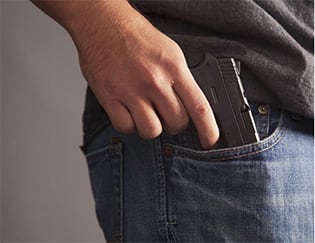 Spouses or household member
Former spouses
Unmarried parents
Significant others who live, or have lived, together
In order for the firearm prohibition to be enforced against an abuser:
The abuser must have had actual notice of a protection hearing
This means that the abuser was served with notice of the hearing and was given an opportunity to appear
It doesn't matter if the abuser chose not to appear at the hearing. Protection orders are often issued without a hearing, but in those cases, the abuser will not be prevented from possessing firearms. There must be an actual hearing for a court order.
The federal law requires the language of the order to restrain the abuser from harassing, stalking, threatening or engaging in conduct that would place the victim or child in reasonable fear of bodily injury. Further, the restraining order must include language or a finding that the abuser is a credible threat to the physical safety of the victim or victim's child.
Even if there is no protective order in place, the abuser is subject to the firearm prohibition if they have been convicted of a "misdemeanor crime of domestic violence." The crime must include an element that the abuser used or attempted to use physical force. The crime need not be labeled domestic abuse, or domestic assault, but may include any crime of violence or physical force, including assault and battery.
How Long Will the Abuser Be Prohibited From Owning a Gun?
Victims must be aware of the expiration date of their protective or no contact order.
Once the protective order expires, the abuser can get their guns back. However, the firearm prohibition against abusers convicted of a misdemeanor crime of domestic violence will stay in effect until the conviction is expunged, set aside or pardoned.
In the past, abusers were on their honor to voluntarily give their weapons to a third party. Changes to Minnesota law state law in 2014 now require the abuser give their firearms to law enforcement, a federally licensed dealer or third party (that may lawfully possess firearms).
This extra enforcement applies to abusers subject to an OFP or misdemeanor conviction for crime of domestic violence. The abuser has three days from issuance of the protective order or conviction to make a firearm transfer of their weapons. If the abuser chooses a third party to transfer their firearms, that third party is required to complete an affidavit and is subject to criminal and civil penalties if the abuser gains access to the firearms.
For victims who believe it is important their abuser be barred from possessing guns, there are several potential traps in the law that could exempt the abuser from being subject to the firearm prohibition. Those victims should seek legal advice and talk to an experienced family law attorney who can assist victims in ensuring the abuser is prevented from keeping their guns.
For more information on this area, see our overview of family law.
What do I do next?
Enter your location below to get connected with a qualified attorney today.
Related topics
Attorney directory searches
Helpful links
Find top lawyers with confidence
The Super Lawyers patented selection process is peer influenced and research driven, selecting the top 5% of attorneys to the Super Lawyers lists each year. We know lawyers and make it easy to connect with them.
Find a lawyer near you