Is Mediation Mandatory in New York?
A look at the requirements in New York's Western and Northern Districts
By Andrew Brandt | Reviewed by Canaan Suitt, J.D. | Last updated on March 23, 2023
Use these links to jump to different sections:
In the mid-'00s, in the Western District Federal Court in New York, Chief Judge William Skretny set forth a unique mediation program: civil cases filed within that court are referred to mediation.
"Originally, I was opposed to the very early period that the judge insisted that a case be mediated," says Richard F. Griffin, a mediator in Buffalo. "Many cases are going to be too early—you need depositions, and other information before the parties are able to evaluate their cases."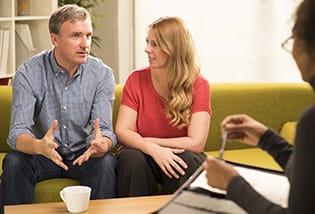 Since then, Griffin has realized the benefits of mediation. "I'm a convert to the early mediation, because it helps the parties focus and prepare, and often avoids considerable expense and time delay."
The program proceeds as follows: At the time of filing a case, attorneys receive notification that the matter has been referred to mandatory mediation. The presiding judge sets deadlines during a schedule conference, and the court has a panel of 76 mediators to select from.
Mediators (neutral third party) are compensated for their time, on a rate of $150 an hour for the first two hours (shared equally by the parties), and then ranged from zero to $300 per hour after. It is not unusual for a case to settle in the first day of mediation, or mediation session.
The mediation generally consists of both sides and the attorneys gathering in a conference room. The mediator will first alert both parties of his or her role, and then make a brief opening statement. The parties will then often split into two separate rooms, and privately discuss their demands with the mediator—who goes back and forth between them. Everything said in mediation is confidential, and no participants may disclose information to anyone other than other participants.
I'm a convert to the early mediation, because it helps the parties focus and prepare, and often avoids considerable expense and time delay.
What is the Goal of Mediation?
Mediation is intended to assist the parties to reach a settlement on a voluntary basis and avoid litigation delays and expenses. "One of the reasons it's here, [is because] the Western District Court has been very short on judges and has a backlog of cases," says Griffin. "It some instances, it can take over four years from the time you file a case until you can get a trial date."
Griffin notes that approximately 125 cases per year get settled under the program, which is 45 percent of the mediated cases. "This success in the Northern District helped institute the program in the Western District of New York," Griffin says.
"Compulsory arbitration has a bad connotation because, in most courts in the state of New York, as opposed to states like Florida, generally only have voluntary mediation programs," he adds.
Finding an Experienced Mediator
If you're looking towards a trial date in the Western or Northern Districts of New York, be sure and reach out to an experienced, reputable mediator and give careful consideration in your selection to best serve your case.
For more information on alternative dispute resolution (ADR), settlement agreements and the mediation process, see our overviews of family law, divorce, and mediation and collaborative law.
What do I do next?
Enter your location below to get connected with a qualified attorney today.
Related topics
Attorney directory searches
Find top lawyers with confidence
The Super Lawyers patented selection process is peer influenced and research driven, selecting the top 5% of attorneys to the Super Lawyers lists each year. We know lawyers and make it easy to connect with them.
Find a lawyer near you