What Happens When Your Business Needs a Lawyer?
How to prepare for your business's initial legal interview
By Andrew Brandt | Reviewed by Canaan Suitt, J.D. | Last updated on May 9, 2023 Featuring practical insights from contributing attorney Bernice K. Leber
Use these links to jump to different sections:
If you own a business, odds are favorable that you're going to need a lawyer at some point in the company's life.
When you do, it's likely you're going to have a multitude of questions:
How do I find the right attorney?
What do I need to bring when I meet with one?
How much will it cost?
Documents for the Law Firm Interview Process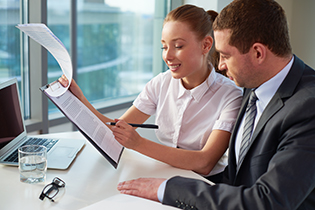 David B. Sosin, a business attorney and former president of the Illinois State Bar Association, says that your lawyer should make you feel comfortable at that first meeting—and should also tell you what documents are needed before you meet.
Bernice K. Leber, a business litigator and past president of the New York State Bar Association, agrees. "Often I give out a list of documents I'm looking for from the perspective client," she says. "The optimal meeting is one where you see the documents that pertain to the case before you meet with the person. That makes the meeting most workable and helpful."
If you're seeking a lawyer because you're facing potential litigation, those documents may include a contract or some emails.
"Even before the lawyer is retained, this gives a basis for the lawyer to give an early take on the dispute and how it might play out," says Christopher C. Kearney, a business litigator and past president of the Bar Association of San Francisco. "If there are documents that will both set the rights and responsibilities, and lay out key things about where the case would be litigated… all of that is very critical in coming up with early advice."
However, even aside from making sure they're clear of conflicts of interest, lawyers agree that not every attorney is the right fit.
You may need to meet with a couple before you find a suitable match. When you do, says Sosin, "Tell them the complete and best version of what they need to know. Tell them the bad stuff, not just the good stuff. It's like going to your doctor: When he asks you how much you weigh? He's going to put you on the scale."
Interview Tips
For Kearney, one red flag is when an attorney doesn't know anything about your business before that initial meeting.
"I would expect they've done a little bit of research and learned something about my company, so that the lawyer is not coming into the interview cold," he says. "Then the businessperson has to communicate more specifics—here are the goals, here's why we're reaching out to you.
"It's important that the client expect—and that the lawyer provide—a realistic assessment of what may happen," he continues. "Sometimes, businesspeople will come in, and they expect things to be resolved without a whole lot of fighting or expense. In the litigation world, that's pretty rare."
When Leber meets with a potential client facing litigation, she runs through her checklist, which includes settlement options, alternative dispute resolution mechanisms, potential case length, cost-benefit analysis—and budget—of the case, billing options, and retainer agreements.
While attorneys will inform clients of standard costs, a set amount is rarely given if the client is facing litigation. Regardless, a client should be knowledgeable as to how they're going to pay for the attorney's services before they meet with one. "It's hard, in many cases, to give a fee, but you do want some kind of budget—especially in litigation," Sosin says. "Very few lawyers are going to say, 'We'll do your lawsuit for X.' But you need to know if it's going to be $5,000 or $50,000 or $500,000."
Aside from asking about, and getting confirmation on, costs, it's paramount that clients make clear—from the start—what they hope to achieve in hiring an attorney. Be upfront about client needs. In return, good lawyers will lay out just what they can and cannot do for potential clients.
"The longer I do this," says Leber, "the more I realize that that's probably the most important thing when you sit down and talk to somebody."
For more information on law firms and how attorneys work on a wide range of legal issues and practice areas, see our general litigation overview.
What do I do next?
Enter your location below to get connected with a qualified attorney today.
Attorney directory searches
Helpful links
Find top lawyers with confidence
The Super Lawyers patented selection process is peer influenced and research driven, selecting the top 5% of attorneys to the Super Lawyers lists each year. We know lawyers and make it easy to connect with them.
Find a lawyer near you