How COVID-19 Changes Hospitals Responsibilities Under EMTALA
A Wisconsin healthcare attorney walks through the challenges due to coronavirus
By Trevor Kupfer | Last updated on January 26, 2023
Use these links to jump to different sections: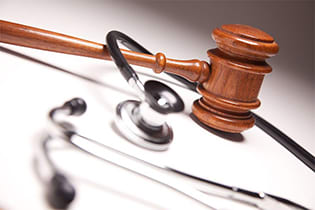 Sarah E. Coyne
is a healthcare attorney who primarily advises small, rural hospitals in Wisconsin—many with capacities hovering around 25 beds. In the normal flow of her business, she could see law changes coming down the pipeline, take the time to absorb and understand them, and then distribute that information to her healthcare clients. Then the COVID-19 pandemic hit the U.S. "Now I'm a processor of these changes, and am broadcasting them out in as digestible a form as I can and as fast as I can, because it's happening so fast and it's in regulatory language that these hospital clients don't have the time to sit down and figure out," she says. Healthcare providers have been looking for
legal advice
ever since. The biggest change, Coyne says, was obligation changes under
Emergency Medical Treatment and Labor Act
(EMTALA). The law says you can't turn away a patient or refuse emergency treatment except under limited circumstances. "It's a law that, even though it's fairly simple in concept, even in the best of times it poses a lot of challenges," Coyne says. "Now if you add the surge of people panicking about a disease that isn't well understood, and are going to emergency departments to be tested, potentially spreading it even further, let's just say I've gotten a whole lot of calls about it." Coyne says some hospitals have misunderstood the governmental changes of recent weeks, questioning their obligation to comply with EMTALA
at all
. "One of my key missions communicating with clients right now is that you absolutely are still obligated to comply with EMTALA," she says.
What Changed About EMTALA Since COVID-19
Coyne says the changes are a bit of a good news, bad news situation. Let's start with the good. "There's going to be a higher bar before the government considers something a violation, in terms of moving patients to other sites to be tested or transferring patients to other hospitals that are better equipped to deal with COVID-19," she says. "Having a lot of rural hospital clients, you know, they have the basics but not a lot of sophisticated testing equipment or ventilation equipment and things like that. So I was glad to see one of the good news pieces being, 'Do your best, and get your patients to places where they will be best treated, and there will be less scrutiny about whether you ticked every box before transfer under EMTALA.'" Other aspects that have loosened include who is allowed to do exams and where you're allowed to do the testing of COVID-19 patients. "Lots of hospitals are setting up drive-thrus or tents in the parking lot, or repurposing a building that wasn't being used to be a surge testing site. That's all blessed by the temporary relaxation of EMTALA," Coyne says. "What
isn't
blessed is redirecting patients who are in an emergent condition or need emergent treatment to some other building to test and treat them. That's a subtle distinction, with a lot of subjectivity and a lot of judgment calls. The way I think of it is, if someone comes in with a cough and fever, and wants to be tested, you can reroute those people to a testing site." If you're a small hospital with limited beds, Coyne adds, the government (and CDC) has also loosened that capacity. And they've encouraged more virtual visitation, or telehealth. "Providers are going to be compensated for telehealth, whereas before they weren't, and it used to be limited to rural areas and patients in another medical facility," she says. "The patient can be in their home and the provider can communicate with the patient on a smartphone or computer, where they have audio and video. That's huge in accommodating those sheltering and staying at home, while still providing care. Virtual consultation is now another tool in the arsenal." As for the bad news, or, as Coyne puts it, "the hard-to-deal-with news, since it's absolutely necessary," every hospital is expected to be able to screen for and immediately isolate patients who meet the screening criteria for COVID-19 testing. "That's one thing at a large center, and another at a little critical access hospital in the country," she says. "The other thing we're seeing is shortages of staff, of equipment for respiratorily compromised patients, and a shortage of protective equipment for the staff so they don't get sick and spread it around. I'm used to solving problems for hospitals by giving legal solutions, but for some of those issues, there isn't a solution; hospitals just have to do the best they can." Coyne is also fielding queries from hospitals with OB services, since pregnant women may expose themselves to the virus. "So they're scrambling to do more over the phone or virtually, to figure out if they're in labor. But there's no perfect answer there, either, because you don't want to wait too long," she says. "Many have also expressed concern about financial viability. It was already a tough time for rural hospitals, but now they're being told to shift to inpatient and emergent care and to postpone the more lucrative elective procedures. That is scary, financially," Coyne adds. Thankfully for Coyne's clients, Wisconsin wasn't ground zero for the pandemic. So while they're planning for mass panic, it hasn't totally hit yet. "There has been more phone traffic, for sure, and some surges in my rural hospital clients, but I don't know that it has been fully realized yet. Some hospitals around the country set up their drive-thrus and immediately had to shut down because they ran out of supplies. I'm very anxious about that, because you can set up all the tents you want, but if you don't have enough tests it doesn't matter," she says. For information on more legal questions regarding COVID-19, visit FindLaw's legal center, or find more articles on
superlawyers.com/articles
(search for COVID-19). For more information on this area of law, see our overview of
health care law
.
What do I do next?
Enter your location below to get connected with a qualified attorney today.
Attorney directory searches
Helpful links
Find top lawyers with confidence
The Super Lawyers patented selection process is peer influenced and research driven, selecting the top 5% of attorneys to the Super Lawyers lists each year. We know lawyers and make it easy to connect with them.
Find a lawyer near you