How Do I Sponsor an Employee for an H-1B Visa?
Filing, renewing, and extending petitions for specialty workers in Northern California
By Super Lawyers staff | Reviewed by Canaan Suitt, J.D. | Last updated on May 4, 2023 Featuring practical insights from contributing attorney James A. Bach
Use these links to jump to different sections:
Under the Immigration and Nationality Act (INA), American-based employers may be eligible to hire foreign workers to fill certain specialty occupations.
The statute defines a specialty occupation as one that requires unique, specialized knowledge and a bachelor's degree or the equivalent. Similar to other immigration matters, the H-1B application process is notoriously complicated. Below, you will find an overview of what your company needs to do to sponsor an foreign national for an H-1B visa in California.
Two Types of H-1B Visa Sponsorship
There are two types of cases for H-1B sponsorship, explains James A. Bach, an immigration attorney in San Francisco. "One is for people who are [current H-1B visa holders] and the other is for people who are either outside of the country and have no working status in the United States, or, usually, who are in student status and have employment authorization because they're a recent graduate," he says.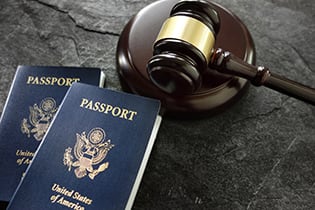 Employees seeking a new H-1B visa for employees will need to go through a lottery process. "Companies that want to sponsor new H-1B employees will have to register their company and then register in the lottery the name of the person for whom they want to get H-1B status," Bach says.
People who already have H-1B worker status won't need to go through the lottery; their new employer just needs to submit the H-1B petition. It typically takes about three weeks for both the U.S. Department of Labor and the U.S. Citizenship and Immigration Services (USCIS) to process the visa application paperwork.
Sponsoring an Employee for an H-1B Visa in Northern California
There are three key steps to sponsoring an employee for an H-1B Visa.
Step One: Make Sure the Position Qualifies for an H-1B Visa
H-1B visas are not available to all foreign workers. As explained by USCIS, your position must be a qualifying specialty occupation, or the applicant must meet a specific exception—such as working with the U.S. Department of Defense in an approved capacity or working as a fashion model. Companies do not want to waste resources going through the application process only to find that an employee will ultimately be deemed ineligible.
Bach says there are two primary eligibility considerations: "First, you have to establish that the job requires a specialty degree, and then the second part is to establish that the employee has either that specialty degree or the equivalent of that specialty degree," he says.
Step Two: Register Your Company and Worker in the Lottery
The new lottery process requires less paperwork up front than it has in the past. Companies now need to complete an electronic registration that asks for just basic information about the company and the worker. There is a $10 registration fee. Only those selected through the lottery will be able to file a petition.
"In past years, an employer would have had to prepare a complete H-1B petition with filing fee checks and send those to the USCIS," Bach says, "and they would then enter those cases into their system and conduct a lottery. This year, for the first time, it's going to be [initially] just the lottery. And then, for those people who are selected, there will be at least 90 days to prepare and file the H-1B petition."
Step Three: Submit Form I-129 to the United States Citizenship and Immigration Services (USCIS)
Once selected in the lottery, employers must complete Form I-129 (Petition for Non-Immigrant Worker) and file it with the USCIS. This is the form that is used to get immigration approval for a foreign worker.
Form I-129 is complex. It must be completed properly, with all required supporting documentation attached. That's why it's important to contact an experienced Northern California immigration attorney for assistance.
"An attorney is pretty much required for the H-1B process," says Bach. "I think the vast majority of H1 petitions are filed by attorneys. It's pretty rare for an employer to file an H-1B petition without legal assistance."
Not only do employers need to address the legal eligibility issues and complete the forms properly, but "there are also other procedural complexities that would be very difficult for an employer to try to navigate on their own," Bach says.
"There's about a 60 percent initial rejection rate of these petitions," he adds. That is, instead of approving the application, USCIS requests additional evidence and explanation. "There's more than a 20 percent rate of denial. Most of those requests for evidence and most of those denials are based on those two issues: whether it's a specialty occupation that requires a specialty degree and whether the employee has that degree or equivalent."
Do I Need an Attorney for the Lottery?
Employers are strongly advised to have legal help to file the petition. While the new lottery may make things easier for employers, there is also the potential for complications.
"It's supposed to be something simple, but unfortunately, much of what the government tries to do that is simple ends up to be overwhelmingly complex," Bach says. "The lottery might turn out to be that way, but for now we're going to assume that it's a simple procedure."
Extension/Renewal of an H-1B Visa May Be Possible
Once a foreign worker receives a non-immigrant H-1B visa, they may be eligible to have their visa status renewed or extended.
Generally, the initial H-1B visa is granted for a period of three years. If conditions are still satisfied, it can then be renewed for an additional three-year period. H-1B visas are limited at one three-year renewal. However, after six years, a foreign worker may still be able to get additional time in the United States—potentially through an adjustment of status.
For more information on this area of law, see our immigration overview.
There are two primary H-1B visa eligibility considerations: "First, you have to establish that the job requires a specialty degree, and then the second part is to establish that the employee has either that specialty degree or the equivalent of that specialty degree."
What do I do next?
Enter your location below to get connected with a qualified attorney today.
Attorney directory searches
Helpful links
Find top lawyers with confidence
The Super Lawyers patented selection process is peer influenced and research driven, selecting the top 5% of attorneys to the Super Lawyers lists each year. We know lawyers and make it easy to connect with them.
Find a lawyer near you