You Don't Have to Live Like a Refugee
The rules affecting refugees and asylum seekers in Florida
By Beth Taylor | Last updated on February 8, 2021
When
Melisa Peña
moved from Peru to the U.S. as a child, she decided to become a lawyer someday so she could help her parents get their green cards—a goal she ultimately achieved. For herself, she acquired U.S. citizenship, along with a degree from Florida International University College of Law.
Now she spends her days helping other immigrants. "The thing my clients like about me is that I'm very honest," says Peña, an immigration attorney at Jarbath Peña Law Group in Coral Gables. "I feel their pain, and when I cannot help them and they really don't have relief, I tell them, and I tell them why."
Those clients include refugees and asylum seekers: immigrants who are fleeing persecution in their native countries.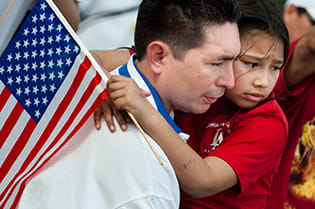 Refugees apply for status before coming to the U.S.; asylum seekers find their way here, and then petition to stay.
"Being designated as a refugee and having that status comes with a whole cornucopia of government benefits," says
John Gihon
, an immigration attorney at Shorstein, Lasnetski & Gihon in Altamonte Springs. "You are eligible for government benefits such as Medicare, Medicaid, food stamps, welfare and the like. There's also assistance that we provide to refugees to help them start businesses."
With more than 25,000 refugees per year from more than 60 countries—ranging from Venezuela to Syria—Florida has the largest refugee program in the nation, according to the state Department of Children and Families. Cubans and Haitians, who make up the great majority handled through the state's refugee program, have special status.
Any Cuban who makes it to U.S. shores can stay.
"They're automatically paroled in, and then they can get their green card within a year," says Gihon. Typically, Cuban refugees reunite with family members already here. Haitians, too, are in a unique situation. Admitted in the 1990s and early 2000s for political refuge, they now have temporary protected status for humanitarian reasons in response to the Haiti earthquake of 2010.
For people from most countries, qualifying for asylum is no simple matter. "It's not just coming here and saying, 'Somebody's trying to kill me,' or 'The gang problem in my country is so bad and everybody is getting killed,'" Peña says. "Now everybody is claiming asylum, so the asylums are very delayed. The only ones that they're expediting are the ones for minor children."
Gihon says asylum seekers make two common mistakes: "The biggest problem that people have is ignorance of the law. Many people don't understand that if you do not apply for asylum within one year of entering the United States, you are automatically disqualified 99 percent of the time." The other major problem? Picking the wrong person for assistance. "Notarios and other non-attorneys don't know the law," Gihon says. "Unless you're an
immigration attorney
who pretty much specializes in asylum law, you don't know all the nuances, and you can really set clients up for disaster."
Peña agrees. "If you go to the wrong person and they submit an application lightly and the judge finds it to be frivolous, then you no longer qualify for another form of relief," she says. "If an asylum is denied, it becomes a deportation order."
Of course, there are also happy endings.
Peña tells of a Colombian client who was in the U.S. years earlier with his family but got in some trouble and ended up being deported. He became a minister, urging youths to stay away from gangs—for which he was beaten by the guerillas. He crossed back into the U.S. and lived with his wife and children for several years, working with the homeless and veterans, before being caught.
"When somebody has re-entered [illegally], there's only one form of relief, which is the fear of persecution," meaning that the person fears reprisals if they're returned to their home country, Peña says. It can be tough to prove, but in this case, she succeeded. "The judge said that this was one of the few cases where you actually reflected that, even though the person made a mistake, everything they have been doing has been good. … When his wife found out [he could stay], she dropped to her knees and was crying."
Gihon's victories include cases representing Iraqi nationals whose lives were in danger because they had helped the U.S. against terrorist forces.
"You'll have the U.S. military and sometimes other government agencies actually physically bringing them over here to save their lives, and then we'll have government agencies here in the United States who try to deport them," says Gihon. "So I've had a couple of situations where I have been able to help."
What Peña would like to see is amnesty for refugees who have been here for many years.
"They should be allowed to at least have a work permit and [driver's] license," she says. "If you don't want to give everyone a path to citizenship, it's understood. But allow them to be a functional part of society. Even though they live in fear of getting caught here, it's still better than getting killed in their country. They're going to stay here."
What do I do next?
Enter your location below to get connected with a qualified attorney today.
Additional Immigration articles
Attorney directory searches
Helpful links
Find top lawyers with confidence
The Super Lawyers patented selection process is peer influenced and research driven, selecting the top 5% of attorneys to the Super Lawyers lists each year. We know lawyers and make it easy to connect with them.
Find a lawyer near you