How Missouri and Kansas Immigrants Cope with the Constantly Changing Laws
How the documented and undocumented are dealing with it
By Pam George | Last updated on January 26, 2023
Use these links to jump to different sections:
David W. Gearhart
of St. Louis' Lewis Rice. Unfortunately, certainty is hard to come by. "If you're a foreigner who needs a visa status to live in the U.S. right now, it's a very unsettling world," he says.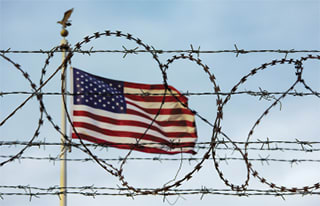 In January, Trump signed an executive order banning travelers from seven mostly Muslim countries (Iran, Iraq, Libya, Somalia, Sudan, Syria and Yemen). It was met with legal resistance, and on June 26, the U.S. Supreme Court upheld a ban from six countries (minus Iraq) for 90 days unless the traveler has a certain familial relationship with a U.S. citizen or ties to a U.S. entity, like a college. There have been increased raids from beefed-up Immigration and Customs Enforcement (ICE). In September, Trump moved to end the Obama-era Deferred Action for Childhood Arrival, which protects young undocumented immigrants from deportation. Few can predict what's next. As a result, Gearhart says, everyone from a doctor on a work visa to an undocumented foreign laborer is grappling with seesawing policies.
The ICE Age
Some immigrants who'd procrastinated on taking the next step toward green card status or citizenship began calling
Angela L. Williams
at her eponymous Kansas City firm the day after the election.
Melanie Gurley Keeney
of St. Louis' Tueth Keeney had a similar experience. "They've been green card holders for years and want to be citizens now," she says. The process, however, has become more laborious and expensive, with increased paperwork required. In October, the United States Citizenship and Immigration Services started phasing in an in-person interview for anyone obtaining employment-based permanent residency. Conversely, there are documented immigrants who've put a halt to the process due to their country of origin, religion or ethnicity, says Clayton-based
Peter A. Gianino
of Paule, Camazine & Blumenthal. "They've elected not to pursue certain benefits out of fear their cases face an adverse result, given the tone of the administration," he says. Keeney suggests, however, that now is not the time to let paperwork lapse or shun requirements. "For example, foreign students who don't carry full loads or meet the criteria for remaining as students could be subject to removal," Keeney says. Under the Obama administration, undocumented people with felonies or serious misdemeanors topped the deportation priority list. Now, those with minor offenses are prioritized, too, leaving many undocumented immigrants afraid to even pay speeding tickets, Williams says. "Worse, immigrants who are victims of crimes don't report it for fear of deportation," says attorney
Mira Mdivani
of Mdivani Corporate Immigration Law Firm in Overland Park.
An Anxious Global Economy
Mdivani primarily handles immigration compliance and personnel visas for businesses. Given the new policies, she says it's more challenging for U.S. companies to move personnel around the globe. Gearhart agrees. He represents health-care systems in rural locations that count on foreign-born physicians to fill vacant positions. Previously, an additional fee could expedite the review process. In March, the government halted such practices without advance notice. "Doctors completing their medical training in the U.S., which usually finishes at the end of June, were in limbo because their H-1B work visas would likely not be approved in time for them to start their jobs," Gearhart says. The policy has been amended to allow expedition for certain petitions. In other industries, some companies bridge the gap between hiring and approval by letting the employee work remotely in his or her home country. That might also be the case if a worker's visa lapses between leaving one job and taking another. But if the employee is from a country on the banned list, Gearhart notes, he or she may be unable to return to the United States. Many documented immigrants are concerned about leaving the U.S. even to see ill relatives. Williams sits down with concerned clients to discuss their rights on re-entry. She'll ask them, "Are you willing to forfeit a phone or be detained for hours?" To be sure, it's best to seek the
advice of an immigration attorney
before the need arises, Gianino says. "You'll be in a much better position to deal with situations that are uncomfortable, unwanted or a surprise." For more information on this area of law, see our
immigration overview
.
What do I do next?
Enter your location below to get connected with a qualified attorney today.
Additional Immigration articles
Attorney directory searches
Helpful links
Find top lawyers with confidence
The Super Lawyers patented selection process is peer influenced and research driven, selecting the top 5% of attorneys to the Super Lawyers lists each year. We know lawyers and make it easy to connect with them.
Find a lawyer near you