What to Do If You Receive a Notice to Appear for Removal Proceedings
What to expect from deportation hearings in Missouri
By Super Lawyers staff | Reviewed by Canaan Suitt, J.D. | Last updated on May 4, 2023 Featuring practical insights from contributing attorney Ryan McElderry
Use these links to jump to different sections:
Deportation does not just apply to individuals who enter the United States without authorization—that is, those living in the country illegally—but also to any foreign nationals who have overstayed their visa or committed certain crimes while in the country lawfully.
The United States Department of Homeland Security may initiate removal proceedings against any such person by serving them with a Notice to Appear (NTA) for a removal hearing.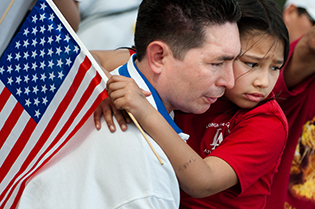 If you receive a notice to appear, make sure you check what it says. "The best thing to do, to begin with, would be to make sure that everything—all the information on it—is correct," says Ryan McElderry, an immigration attorney at House Packard McElderry in Liberty.
The form has some details you might not know, but you should look for anything you can verify, such as your name, address and date of birth.
Near the top of the form there are three boxes that can be checked with statements next to them. It's important to make sure the correct box is checked, McElderry says. The distinction between the three can be complicated and mired in legal definitions, so he recommends contacting an immigration attorney to help you understand the document and what's expected.
"A lot of times it's more complex than they'd be able to handle themselves, which is why I'd say talk to an attorney," he says. Depending on which box is checked, your opportunities for recourse or relief can be different.
Keeping Track of Dates is Critical
Aside from making sure the information is correct, McElderry says to look at the bottom of the NTA and look for a court date. "You want to make sure that if there's a date and time set, that you take note of that, because you've got to go to court that date and time," he says. "It'll also tell you the location of the courtroom."
In some cases, an individual can receive a notice to appear before a court date is set; in that case, a second NTA would be issued later that includes the time and date of a court hearing.
It's critical to pay attention to the dates provided for your hearings. "Once you receive an NTA, you have to show up to every hearing," McElderry says. "If you miss a hearing, and it doesn't even matter what your excuse is … and you don't show up, you will probably be ordered removed."
Similarly, it's important to ensure the court is notified of any change of address, to ensure you receive all your notices. "If you haven't updated them and they send it to the wrong address and you never get noticed, it's no excuse and you can be deported," he cautions.
The Role of Immigration Judges
A removal hearing is held before an immigration judge. These are not judges in the traditional sense; they are not independent officers of the judicial branch, such as Supreme Court justices. Rather, immigration judges are employees of the United States Department of Justice who are authorized to conduct administrative removal hearings. Ultimately, the immigration judge works for the Attorney General.
Master and Individual Hearings
After receiving a Notice to Appear, the next step is typically for the immigration judge to hold an initial "master calendar hearing." The master hearing is similar to an arraignment in a criminal case. The immigration judge will ask the subject to provide some basic information—such as their name and address—and direct them to answer the factual allegations presented in the Notice to Appear.
If the subject admits to the factual allegations and is not seeking relief, no further hearings may be necessary. But if the subject disputes the charges against them, or they seek relief from removal such as legal asylum, then the immigration judge will schedule an individual or "merits" hearing, which is akin to a trial.
However, McElderry notes that the process has shifted. "Now they've kind of changed it, and master hearings don't happen like they used to. Now they have a scheduling order that they send you, so things have shifted up a little bit."
What to Expect at Your Hearing
The Department of Homeland Security effectively functions as the prosecution. One of its attorneys will present evidence that the individual is subject to deportation. Unlike a criminal trial, the Department need not prove its case beyond a reasonable doubt but only by "clear, convincing and unequivocal" evidence, according to the law.
The court will go through the charges listed on your notice to appear and give you a chance to admit or deny the charges. For example, a charge could be that you are not a U.S. citizen or a national, or that you arrived in the U.S. without being admitted or paroled.
It's rare that an immigration attorney will try to deny the charges, McElderry says. "Really, the burden is on the government to prove them. You can always deny them, but usually the government has enough information. … So it's kind of pointless to deny it unless it's completely wrong."
After addressing the charges, the court will ask what type of relief you intend to seek, and will provide a deadline for filing your application and supporting evidence. "They occur kind of quickly, because they only give you a couple months, but that's a fairly reasonable amount of time," McElderry says.
Your Rights in a Removal Proceeding
During a master or individual hearing, you have the right to be represented by a qualified Missouri immigration attorney.
Keep in mind that since removal proceedings are not subject to the same constitutional rules as criminal cases, the government will not appoint an attorney to represent you at its expense. But you do have the right to hire and pay an attorney of your choice, and there are often attorneys who provide free (or "pro bono") representation during master hearings.
If you can't find a lawyer before your first hearing, McElderry says you can tell the court "I'd like some time to find an attorney," and the court will give you time to find one.
During a merits hearing, you or your attorney also have the right to review the evidence against you. This includes the right to cross-examine any witnesses that the Department of Homeland Security may produce at the hearing. But this right does not extend to any evidence or information that the Department believes would compromise the national security of the United States.
The immigration judge's decision is also not the last word. Either you or the Department may appeal an adverse ruling to the Board of Immigration Appeals. And an alien may, in turn, seek review of a Board ruling with a United States Court of Appeals.
What do I do next?
Enter your location below to get connected with a qualified attorney today.
Additional Immigration articles
Attorney directory searches
Helpful links
Find top lawyers with confidence
The Super Lawyers patented selection process is peer influenced and research driven, selecting the top 5% of attorneys to the Super Lawyers lists each year. We know lawyers and make it easy to connect with them.
Find a lawyer near you