Immigration Attorneys Break Down Your Immigration Rights
What to do when ICE comes knocking
By Amy White | Last updated on January 26, 2023
In 2015, under then-President Obama, immigrants with felonies or serious misdemeanors were prioritized for deportation.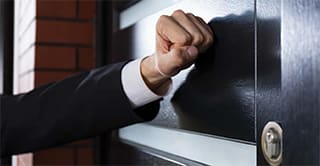 Less than two years later, one of the first executive orders on U.S. immigration that President Donald Trump signed also prioritized the removal of seven categories of immigrants, including those who have been charged or convicted of a crime. The order also requires Immigration and Customs Enforcement (ICE) to hire 10,000 additional enforcement and removal officers. 
What does that mean for New York immigration lawyers like
Tsui Yee
? "Some of my clients have just dropped off the map with communication to me," she says. "There is increased fear that if they come forward now to get their papers in order, they'll be immediately deported." 
Yee says the increased enforcement is affecting travel, too. 
"There are travelers who have had no problem getting in and out of the U.S. for years," she says. "And all of a sudden, custom and border protection officers are looking for reasons to bar people from entering."
She cites a recent incident involving a famous Japanese swordsman for whom she did legal consulting. For years, the man had traveled to the U.S. to do free presentations at schools for cultural enrichment. "He was just barred a few months ago because the officer found, despite any proof whatsoever, that he was getting paid for his services, and did not have the proper O1 [work] visa for entry," Yee says. 
But for New Yorkers and their family members who are either undocumented or have fallen out of status, the problem hits closer to home.
"The immigrant community is afraid of ICE just showing up at their home, at their job, at their children's schools, at their church; detaining them and putting them in removal proceedings," Yee says. "I have a percentage of clients who have lived in the U.S. for many years, they are trying to get all their documents in order, but there is a limitation in how far and how quick you can go in the process. It's not as simple a thing as waiting your turn in line. Sometimes the line is decades long."
Jennifer Oltarsh
, of New York's Oltarsh & Associates, says the change in enforcement mechanics within the immigration system is vast.
"The list of aliens that are priorities is much more encompassing," Oltarsh says. "You could have someone who committed a minor crime 10 years ago, has since married a U.S. citizen and has children, be jumped to top priority. Even if it was an illegal, dismissed arrest—people are arrested inappropriately, either at the wrong place at the wrong time or falsely accused—those people are now top priority, too."
There's no single solution for those facing deportation. "[In] each individual case," Oltarsh says, "I am working to save that person, however best I can. But there is no magic answer to save yourself—if you have an order of removal,
speak to an attorney
."
Both attorneys say that in addition to knowing how to deal with ICE, it's important to know how ICE is mandated to deal with you.
"ICE may target someone and show up on their doorstep at 3 or 4 in the morning and try to use the element of surprise and intimidation," Yee says. "But a lot of people don't know that officers can't just show up on someone's doorstep because they have a suspicion. ICE is required to have a proper warrant."
And ICE agents can't detain just anyone. "The [arrests] aren't always properly executed: wrong person, wrong address," Yee says. "I've had people taken in by ICE because they just happened to come across my client while looking for someone else."
To that end, Oltarsh offers a couple of tips for answering the door. "The biggest mistake someone can make is just opening the door," she says. "That can be taken as permission to enter and search the home. If an ICE agent arrives at your door, clearly state, 'Who is there?' and require that the agent slip the warrant under the door." 
She adds: "If they say they're looking for Joey Alvarez, and you are not him, and he does not live there, state that," she says. "Do not let them in."
Both lawyers note that rumors can run rampant in immigrant communities. "I've heard, 'The ICE officers are waiting on the subway platforms, or walking up the blocks searching for people in this or that neighborhood,'" Oltarsh says. She says to avoid worrying about what is most likely not happening. 
If not, "The fear will begin to just heighten reactions," Yee adds.
If you or someone you know is facing immigration issues, it's best to contact an immigration law firm and seek legal advice from from an experienced attorney. 
What do I do next?
Enter your location below to get connected with a qualified attorney today.
Additional Immigration articles
Attorney directory searches
Helpful links
Find top lawyers with confidence
The Super Lawyers patented selection process is peer influenced and research driven, selecting the top 5% of attorneys to the Super Lawyers lists each year. We know lawyers and make it easy to connect with them.
Find a lawyer near you