Common Pitfalls for Employers Hiring H-2B Visa Holders
H-2B employers must be extra cautious in era of increased enforcement
By Doug Mentes, Esq. | Last updated on January 26, 2023
Use these links to jump to different sections: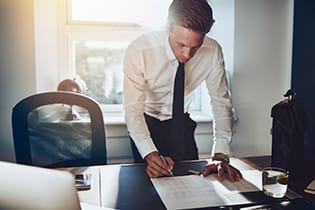 Immigration law is subject to political whim of the president or Congress at any time. Currently, in 2018, immigration law is an often-discussed topic for both branches. With low unemployment and labor shortages in the U.S., many employers are looking to foreign labor to fill positions. However, President Trump and many in Congress claim current legal immigration policy is harming the country and American workers. These two forces will greatly impact employers of foreign workers. Employers participating in the H-2B visa program must get current on immigration policy, and know how that policy will be enforced on them and their workers. "What we know is that the government is increasing enforcement, as well as reviews of whether employers are really following the process," says
Rick Gump
, an immigration attorney in Texas. "We're seeing that across the board—in H-2Bs and H-1Bs and L [visas], just to make sure employers aren't cheating."
Common Missteps for Employers
Gump sees enforcement issues for U.S. employers in several areas of the H-2B visa process. He says there are some common missteps that he sees in his practice. First and foremost, he says, you have to make sure the person is admissible; you want to know who are you are recruiting. Next, he says, pay attention to the rate of pay. The law requires employers pay the higher of either the prevailing wage—the wage rate based on similar positions locally—or the federal or state minimum wage. For example, you can't simply list a range of pay on the
application for prevailing wage determination
and
H-2B application for temporary labor certification
. "You can't do that," Gump says. "You've got to offer whatever the highest rate is." Perhaps one of the most common areas for dispute between employers and the U.S. Department of Labor is the basis for
temporary need
of the foreign worker. The law requires employers demonstrate a temporary need that's either seasonal, peak-load-related or a one-time occurrence. One other area of pitfalls for employers is the recruitment process. "Handle your recruitment properly," warns Gump. Employers must draft and submit documentation of their recruitment efforts, showing the intermittent need to go outside the country to fill the temporary jobs. Finally, explains Gump, just providing the evidence for your claim is key. "If [the company] is showing higher sales and a predictable pattern, and that's what you are basing your [temporary need] on, you need the back-up data to show that. You need to show that that's what's happening—that you have much higher sales within that particular time frame."
H-2B Subject to Politics
Besides common issues with the H-2B visa process, the H-2B visa is often the subject of political disputes or lawsuits. Some have challenged whether employers have an actual need for temporary foreign workers or are simply undercutting—and potentially discriminating against—U.S. workers and the labor market. "There have been some lawsuits in the past where U.S. citizens have said, 'Hey we were available for the job,'" says Gump. Additionally, some U.S. companies have been knocked for violations that potentially displaced U.S. workers. With the combination of government policy limiting legal immigration, and stricter enforcement of employer's petitions for H-2B workers, employers of temporary work need advice from an
experienced immigration attorney
now more than ever. For more information on this area of law, see our
immigration overview
.
What do I do next?
Enter your location below to get connected with a qualified attorney today.
Attorney directory searches
Helpful links
Find top lawyers with confidence
The Super Lawyers patented selection process is peer influenced and research driven, selecting the top 5% of attorneys to the Super Lawyers lists each year. We know lawyers and make it easy to connect with them.
Find a lawyer near you