In the Eye of a Legal Storm
Minnesotans' rights when they're in the eye of a legal storm
By Trevor Kupfer | Last updated on January 26, 2023
Use these links to jump to different sections:
Though Minnesota doesn't see the likes of Harvey, Irma, Katrina, or Irene, we still get our fair share of flooding, hailstorms and tornadoes. Every time disaster strikes, a staggering number of people are left undercompensated and/or in a battle with their insurance carrier. With that in mind, it's a good idea to be aware of your rights in case the next natural disaster hits near home.
Deadlines for Property Damage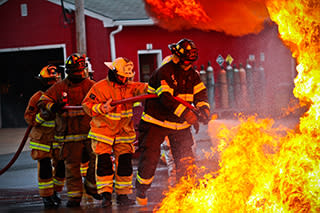 Every policy has deadlines for reporting claims, filing lawsuits and making repairs. In general, it's good to make your claim right away, but don't do it haphazardly just to get
something
on file. Most policies require insureds to file a claim within two years of the loss. "But sometimes that's a little fuzzy," says
Jenneane L. Jansen
, an insurance attorney with Jansen & Palmer in Minneapolis. She mentions a case where a remote cabin home had a pipe burst over winter and, since the owner wasn't around, they didn't know exactly when it happened. "Another tricky part is that the two-year limitation period is articulated in the statute for fire policies in Minnesota. I caution it's conceivable that a carrier could write a shorter limitations period for types of loss other than fire," she says. Regardless, the deadlines are very important, "so I always say to clients, 'Shoot me a copy of your full policy.'" Often, there is likewise a deadline for making repairs after a loss. To complicate matters, many insurance jurisdictions (Minnesota included) require that the repairs occur before the policyholder receives the replacement costs. "I have seen jurisdictions that rigorously enforce the deadline for completing repairs despite the fact that the insured in many cases cannot complete the repairs without the money from the carrier," Jansen says. The good news: When this issue has come before courts in Minnesota, often the ruling is in favor of the insured. The statute of limitations for filing a suit against your homeowners insurance carrier is two years.
Storm Damage: A Flood of Information
While nearly all homeowners' policies cover windstorms and fire, "flood is a different animal because it's specifically excluded in virtually every homeowners' policy," Jansen says. Many homeowners' policies cover water damage, but the two are narrowly defined. Flood is typically something like "surface water moving/rising or backing up," while water damage is "water escaping from a system," she says. Some people interpret the phrase "100-year flood" as meaning a flood that happens only once every 100 years or so. The moniker
actually refers to the statistical chance of one in 100
in any year for that level of flood, in that location. This
designation is also not fixed
. Your home can be assessed as being within a 100-year floodplain that is later reassessed as being in a 50-year floodplain, based on changing topography, development and/or weather patterns in your area. You may even be considered not in a floodplain at all and come to be smack in the middle of one over time. Rapid development, coupled with lagging updates to floodplain mapping, can lead to devastatingly inadequate insurance coverage, as well as homeowners who have no idea they're at risk. "If you buy a house that's in a 100-year floodplain, then often your lender will require you buy flood insurance [through federal programs like NFIP and FEMA]," Jansen notes. "If you're not, it's not required, and most people don't end up buying it as a result." The bright side is that some insurance policies cover other causes of loss that result from a flood. "In Minnesota if you have multiple causes of loss that contribute, two are covered and one isn't, and you can't separate what caused what, it's covered. … So let's say a basement floods, it shorts out electrical and causes a fire. Fire damage may be covered, but flood not. But I also look for other kinds of loss. Let's say a storm comes through, rips your roof off, rain dumps down—that's not necessarily flood, but wind damage that then caused water damage," Jansen says. "It's highly complex, to be honest, and if someone has a loss like that, they really ought to talk to a lawyer. Most of us who do this sort of work can glance at a policy and know what the structure might be for that kind of loss."
Lawyering Up for the Claims Process
Another major reason to contact
a knowledgeable attorney
is if your claim, or a portion of it, is denied. Sometimes it's a debate about what caused the loss—in which case it becomes a battle of experts. "Let's say an old pole barn collapses during a storm, and an adjustor comes out and finds rot. They say, 'The real reason was rot, so that's not covered.' The argument we make on the other side is, 'You underwrote it as though it was brand new,'" Jansen says. Many cases address the terms of the contract (the policy), and an attorney can tell pretty quickly if a breach or
bad faith suit
is a possibility. The vast majority of all insurance suits settle out of court. "The biggest issue we see is proving what they had," Jansen says. "One of the things I say is, 'Grab a video camera, a phone or whatever, and walk around your house or apartment. Videotape closets, your furniture, and everything you can to show what you had.' When we see really big disasters—tornadoes or a big fire—it's tough to prove everything you had. It flummoxes insureds and it's exhausting, so a camera can really help." Be likewise mindful of potential fraud that accompanies disaster situations. Common schemes include fraudulent inspectors, contractors, representatives of disaster aid, or requests for donations. Always ask for proof of credentials, and do not provide personal information unless you have verified the legitimacy of the source. There is no fee to apply for disaster assistance. For more information on this area, see our
insurance coverage law overview
or reach out to a law firm for information about your property damage claim.
What do I do next?
Enter your location below to get connected with a qualified attorney today.
Additional Insurance Coverage articles
Attorney directory searches
Helpful links
Find top lawyers with confidence
The Super Lawyers patented selection process is peer influenced and research driven, selecting the top 5% of attorneys to the Super Lawyers lists each year. We know lawyers and make it easy to connect with them.
Find a lawyer near you