What To Do With Your Insurance When Bad Weather Hits Texas
Filing an insurance lawsuit in the event of flooding, windstorms and wildfires in Texas
By Judy Malmon, J.D. | Last updated on January 26, 2023
Use these links to jump to different sections:
Harvey, Ike, Sandy, Irene, Katrina. It seems like every year a major storm hits the U.S., causing devastation, tragedy and
an influx of insurance claims
. Even worse: A staggering number of people are left uninsured and undercompensated afterward. (Analytics from CoreLogic found that roughly 70 percent of the damage from Hurricane Harvey was not covered.) With that in mind, it's a good to be aware of insurance coverage tips in case the next natural disaster hits near home.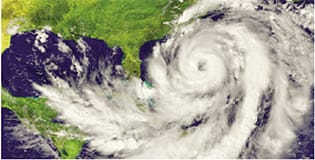 "Once there is a clear dispute, you'll need to get a lawyer to get full dollar for it," says
Robert D. Green
, an insurance attorney with Green & Barton in Houston. Attorneys know the deadlines, how to draft the documents and navigate the courts, and can also put up the money that is often necessary to defend your stance if your claim is denied. "We have to hire engineers to come in and say, 'No, this was caused by this or that,' contractors to say what it will cost to fix a building. Very few can afford that, but lawyers take a lot of risk and advance expenses. And if we don't recover, then they don't owe us anything."
Make Your Claim Immediately
"Every insurance policy has a notice provision that requires you place [claims] with reasonable notice, which means 'as soon as you can,'" Green explains. "You can sometimes get around it, but it's best that you put them on notice as soon as possible."
Do not wait to see if a small problem like water damage or storm damage gets worse because there are deadlines that may expire, potentially leaving you with nothing. Generally Texans have two years from the event to make a claim; a lawsuit, if one is brought, is usually filed after that. The homeowner, or insured, is responsible for proving a loss and damage during the policy period. When that is satisfied, the burden then shifts to the insurer to prove an exclusion under its policy, should it choose to deny it.
A Flood of Confusion
Homeowners insurance policies are established based on the history, topography, weather changes, averages and types of events that have happened in your area. From these, probabilities are calculated and predictions are made—what insurance companies call your level of risk, which in turn sets a policyholder's rates and eligibility for coverage. The language that comes out of this process can lead to confusion.
For example, the phrase "100-year flood." Most people interpret this to mean a rare flood that happens only once every 100 years or so (once in a lifetime). The moniker
actually refers to the statistical chance of one in 100
in any year for that level of flood, in that location. This
designation is also not fixed
. Your home can be assessed as being within a 100-year floodplain that is later reassessed as being in a 50-year floodplain, based on changing topography, development and/or weather patterns in your area. You may even be considered not in a floodplain at all and come to be smack in the middle of one over time. Hurricane Harvey, for instance, was a 500-year flood—Houston's third in three years.
Flood insurance is typically not required for homeowners who don't live in a floodplain, and is not part of regular homeowners' insurance coverage. As a result, most of those people don't seek out flood insurance, "but they're saying now that just about everything is vulnerable when you have events like Harvey," Green says.
Most insurance policies cover things like windstorms and wildfires, but "flood is a real complicated area," Green explains. "First of all, most insurance policies exclude it. Some expressly cover it, but there's usually a sub-limit. We have a case pending in Dallas right now where there's a $5 million wind limit, but a $1 million flood per policy period limit."
Policies also have exclusions that depend how the damage was caused. Was it rising water or a hole in the roof? If it was a hole in the roof, was that caused by wind or merely an old roof? There are tricky points and intricacies, and it ultimately depends on the circumstances. "Wind-driven rain is not covered and, if you leave your window open and the wind blows in a bunch of rain, that won't be covered. But if it's a wind-created opening, then it is covered," Green adds.
Flood is defined as water rising, then entering the home. It is not a pipe break or water coming in from wind or rain. The deadline for flood claim is 60 days from the event, unless the government gives an extension, and the deadline for filing a lawsuit is one year.
There are some affected by Harvey who will benefit from government-sponsored insurance policies. "But those have deadlines that can bite you pretty bad if you miss them. Those are administered by insurance companies, and can be difficult cases from a legal point of view."
If you file a claim with a National Flood Insurance Program (NFIP) insurer, if you're denied or provided less than you believe you're entitled to, you can appeal the decision to the Federal Emergency Management Agency (FEMA). You must file an appeal within 60 days of the written final claim decision, or you lose your right to do so.
Claim: Denied
If your claim is denied, that's the time to reach out to an attorney. "Although, some people reach out from the get-go," Green says. If people have had insurance disputes previously and expect another to crop up, they sometimes call up an attorney just to get in line.
Carriers may question any and all possibilities to deny a claim, and it may be apt to file a breach of contract suit. Often it becomes a battle of expert opinions. "The question becomes: What caused it? After Hurricane Ike there were a ton a 'slab cases' because all that was left was a slab. So what caused it? Did the wind blow it away? Did the storm surge? Was there wind damage beforehand?" Green says.
As of Sept. 1, 2017, some changes took effect in the law. "Prior to Sept. 1, you were supposed to put the insurance carrier on 60-day notice that you were going to file a suit, which would give them time to resolve it. After the new law, you have to put them on notice and detail what you are claiming," Green says. "Everyone is looking at this for the first time now. You have to have the right strategy from the very start. … The whole idea is to get everyone at the table from the beginning to see if they can get it resolved."
The vast majority of these disputes are settled before trial. "We handled hundreds of Hurricane Ike claims and only one was tried. That was because there was never any offer," Green says.
A lot of clients are hesitant to file a suit—perhaps fearing the costs and time involved—and while attorneys leave that decision to the clients, Green advises otherwise. "The beauty of filing a suit is we get the claim file, so you get their notes that they've been taking all along. So they may be saying one thing, but putting something different in the notes. When we get them in a room, under oath, and on a camera to justify what they did, that usually changes the attitudes. You usually get different eyes on it from the claims adjuster who may have dug in on their position. Most often a new adjuster sees it, a defense lawyer sees it, and those issues are usually resolved."
Insurance attorneys are paid by contingency, meaning a fraction of what is recovered. Having a
knowledgeable lawyer
represent you can make a significant difference to your outcome. For more information on this area, see our
insurance coverage law overview
.
Be likewise mindful of potential fraud that accompanies disaster situations. Common schemes include fraudulent inspectors, contractors, representatives of disaster aid, or requests for donations. Always ask for proof of credentials, and do not provide personal information unless you have verified the legitimacy of the source. There is no fee to apply for disaster assistance.
What do I do next?
Enter your location below to get connected with a qualified attorney today.
Related topics
Attorney directory searches
Helpful links
Find top lawyers with confidence
The Super Lawyers patented selection process is peer influenced and research driven, selecting the top 5% of attorneys to the Super Lawyers lists each year. We know lawyers and make it easy to connect with them.
Find a lawyer near you