How Are IP Issues Sorted Out in a Business Transaction?
What happens to intellectual property when a Massachusetts business changes hands
By Super Lawyers staff | Reviewed by Canaan Suitt, J.D. | Last updated on May 4, 2023
Use these links to jump to different sections:
When buying or selling a business in Massachusetts, both sides need to account for any intellectual property covered by the deal. Broadly speaking, intellectual property includes a range of intangible assets protected by state and federal law. The most common forms of IP are copyrights, patents, trademarks (or service marks), and trade secrets.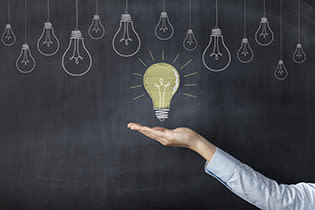 "Before you ever get to the point where you enter into a deal, you should do due diligence on yourself," says Lisa Adams, an intellectual property attorney at Mintz in Boston.
"You should know the weaknesses in your own portfolio and have a response for that. Because the last thing you want is your investor to find some red flag that makes them walk away. That will just make the company look really bad."
It is always a good practice to consult with an experienced attorney before completing any transaction that involves transfer of intellectual property rights—which is to say, pretty much all business sales.
There are a few things to consider when it comes to sorting out IP issues related to a sale, and they tend to fall into different baskets, Adams says: the terms of the deal, including transfer agreements, licensing agreements, domain names, and doing due diligence to make sure the IP is of good standing and value.
Is the IP Properly Documented?
Since IP is by its very nature intangible, it can be easy to lose track of it. That is why the seller must always prepare an exhaustive list of all known and claimed IP for the buyer's review.
"Make sure their claims cover all the products that they have on the market, that they're in good shape, that they still have some pending applications to pursue additional claims," Adams says.
"We look to make sure they have done a decent job protecting their technology, that the patent applications are well written, maintenance fees have been paid. We do look at agreements as well. You just want to make sure that the rights are where they need to be. All the inventors, for example, have assigned over their rights to the company and the company has full ownership in the IP."
Does the Seller Actually Control the IP?
You must establish that the seller actually has control over the property at issue.
For instance, let's say the seller claims to own copyrights over software originally developed by an independent contractor or a group of employees. Can the seller provide a copy of the contracts expressly assigning IP rights to the company?
If the seller makes certain representations regarding control over IP that later turn out to be false, the buyer may have a claim for damages under Massachusetts law. Along similar lines, an experienced buyer will insist on indemnification from the seller for any IP-related claims that may arise from the sale.
Another part of the IP investigation involves Freedom to Operate. "If a company has a product on the market, we will search for any patents that may prevent them from selling this product," Adams says.
"Smaller companies are often willing to take more risks because the chance of somebody coming after them for patent infringement is a lot lower. But the second a big company buys one of these, the risks shoot way up. So we do pretty extensive searching to make sure there aren't any patents out there that would be a problem or pose a big risk. We've seen many deals fall through because the IP portfolio was bad, or we've run into issues with Freedom to Operate."
It can also depend on the IP you're looking at. "With software, you're looking mainly at copyright and trade secrets, but there could also be patents or trademarks involved," says Marguerite McConihe, an IP attorney at Mintz.
"For each one of those, you would want to check the ownership and evaluation. But when you are structuring the deal, you want to know where your liabilities are. So, 'Who worked on developing their key product?' And, 'Do they have any open source used in the product that creates what you call copyleft obligations?'"
Each Type of IP Varies in Difficulty
"It's pretty easy to make sure all the trademarks and copyrights are registered and being used properly. Whereas the patent side, for example, is way more complicated and requires a lot more work," Adams says.
While most forms of IP protection are governed by federal law, trade secrets are controlled at the state level and federal level. They likewise involve inherently non-public information, so they're especially tricky to deal with.
Massachusetts broadly defines trade secrets to include "anything tangible or intangible or electronically kept or stored, which constitutes, represents, evidences or records a secret scientific, technical, merchandising, production or management information, design, process, procedure, formula, invention or improvement."
A trade secret is only legally protected to the extent the holder is proactive. This means, among other things, that a potential buyer will need to see proof that the seller has maintained appropriate confidentiality agreements and taken actions to limit the dissemination of critical business information.
Reaching Out to an IP Attorney Early On
An experienced Massachusetts intellectual property attorney can provide valuable legal advice and guidance in this entire process, but earlier is always better.
"When a company is thinking about whether they're going to sell a piece of IP or sell the entire company, that is really the best time to come forward and look for counsel," McConihe says. "We have so many situations where we wish that clients would come before they have an offer, before they get to a point where they're thinking that they're at their peak marketability, to position them well for a smooth transaction."
"At the very beginning, as you start to build your portfolio, you should really be thinking about your endgame," Adams adds. "Who is your acquirer, what do they want to see in your portfolio, and how can you try to build it for them?"
What do I do next?
Enter your location below to get connected with a qualified attorney today.
Related topics
Attorney directory searches
Helpful links
Find top lawyers with confidence
The Super Lawyers patented selection process is peer influenced and research driven, selecting the top 5% of attorneys to the Super Lawyers lists each year. We know lawyers and make it easy to connect with them.
Find a lawyer near you