My Intellectual Property Was Stolen
Steps to take after copyright, trademark or patent infringement in New Jersey
By S.M. Oliva | Last updated on January 26, 2023
Use these links to jump to different sections: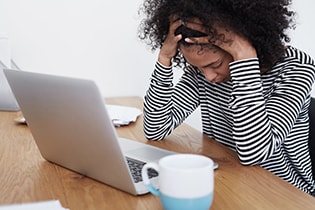 Many New Jersey residents and businesses depend on intellectual property for their livelihoods. But unlike tangible property, intellectual property can be more difficult to protect since, by its very nature, it involves ownership of intangible rights to copy or reproduce. Adding to this confusion is the legally distinct characteristics of copyrights, trademarks and patents. "You have different considerations and protections," says
Arnie Calmann
, an intellectual property litigator in Newark.
How Copyrights, Patents, and Trademarks Differ
A copyright refers to an author's exclusive right in a fixed artistic, architectural or literary work. Copyrights have a statutory term of the life of the author plus 70 years—or, in the case of works created "for hire," the latter of 95 years from the date of publication or 120 years from the date of creation. Copyrighted materials do not have to be registered in advance with the government. They exist from the moment of a work's creation. However, if there is copyright infringement, you can only sue for damages if you registered your work with the U.S. Copyright Office. Registration also serves as "prima facie evidence" in court of a valid copyright, provided you registered within five years of the first publication of the subject work. "Generally speaking, unless you have a federally registered copyright, you cannot sue for infringement. As opposed to a trademark, where you don't need to have it registered with PTO; you can sue based upon common law rights," Calmann says. While copyrights cover authored works, patents deal with intellectual property rights related to an invention. Unlike a copyrighted work, which you could keep secret and decline to publish, a patent requires you to make a public disclosure of the invention in exchange for receiving intellectual property rights. To obtain patent protection, you must file an application with the U.S. Patent and Trademark Office (USPTO). Once granted, a patent lasts for a limited period of time, typically 15 years for design patents. A trademark or service mark is a word, phrase, symbol or design (or any combination thereof) that identifies the source of a given product or service offered for sale. Unlike copyrights and patents, trademarks theoretically never expire. As long as the trademark owner continues to "use" the mark actively—and file the appropriate registration paperwork with the USPTO and the New Jersey Department of the Treasury—a trademark or service mark will last indefinitely. "With trademarks, you first have to determine if it's registered or used on a common law basis. You have to determine the strength of your mark—there are four different levels. How strong is your legal position? Have you sufficiently established your rights?" Calmann says.
How to Protect Your Rights
If you suspect that someone has cause intellectual property infringement, you need to take immediate action. "The first thing you have to look at is: Have you protected your rights in order to assert them against someone else? You have to look at your own house to make sure it's in order," Calmann says. If you have not previously registered your copyright or trademark, now is the time do so. An experienced
New Jersey intellectual property lawyer
can guide you through the registration process. If after you have your house in order, you think you have a case, there are still decisions to make.
Considerations for Legal Action
"You have to think strategically," Calmann says. "Do you want to send a cease and desist letter telling the other side they have to discontinue the use of your mark? Or do you not fight the alleged infringement because, for example, you won't use your common law mark on an international basis or they don't operate in your same sphere? If you send the letter, you run the risk that the infringer brings its own action against you in a district that's not favorable to you. If you're from New York and the other company is in California, and both use the mark nationally, they can bring a case against you in California. Whereas you could file a protective lawsuit in advance so you're in the district of New York." In many cases the cease and desist letter will be sufficient to deter the infringer of unauthorized use. But if the infringement continues, you may have to file a civil lawsuit to protect your rights. "There are a number of different considerations—legal, strategic, financial—that flow from the different forms of intellectual property," Calmann notes. An attorney's job is to determine your situation and walk you through the options with legal advice, but keep in mind that (with trademarks in particular), if you do not actively enforce your rights you may lose them. For more information on this area of law, see our
intellectual property
overview.
What do I do next?
Enter your location below to get connected with a qualified attorney today.
Related topics
Attorney directory searches
Helpful links
Find top lawyers with confidence
The Super Lawyers patented selection process is peer influenced and research driven, selecting the top 5% of attorneys to the Super Lawyers lists each year. We know lawyers and make it easy to connect with them.
Find a lawyer near you