Can I Have Uniform Employment Policies in Multiple Countries?
An international business attorney's advice on HR policies
By Trevor Kupfer | Last updated on January 26, 2023
Use these links to jump to different sections:
Terese M. Connolly
, who advises companies with workforces in multiple countries, with a request. "They have operations and entities in 15 different countries, and their new HR person was updating all of their policies globally," says Connolly, an international labor and employment partner with Barnes & Thornburg. "They wanted to see if they could be more aligned in what they offer. For example, they were looking at their pregnancy and maternity leave in the U.S. and looking at their overseas policies to figure out what to offer."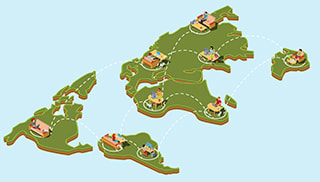 As you can imagine, that's not a simple task. In the UK, someone on maternity leave can seek as much as 52 weeks, whereas the U.S. is more commonly 12 weeks—and there are several conflicting rules from country to country based on job type, pay, protection, and more. But parental leave is far from the only area with potential complications. In fact, without consulting a
legal professional with experience in international employment
, you might create some serious problems. "Especially now, as much as people try, I don't think that there's a one size fits all," she says.
Jurisdictions Differ … A Lot
Another common desire from employers is to create an employee handbook that applies worldwide. "But even within the United States things fluctuate," Connolly says. "There used to be a time where you could do it more easily, because federal law was really dictating employment. But right now, state laws are. When you look at sick leave, federal law has not caught up to implement something that would be as generous as some states. Or take privacy, for example: California was the first state with the California Consumer Privacy Act that everyone's got to get up to speed on now. So the answer to, 'Can we do this?' is, 'It depends and it might be difficult.'" The rules about firing employees is a classic example. "Termination is very different outside the United States, where they don't have employment-at-will," Connolly says. "There are some jurisdictions where the details that need to be followed in a termination, if you miss one step, you can completely invalidate the termination—when a decision can be made, who needs to be consulted, what notice needs to be provided and sometimes even mailed." The jurisdictional differences are a reason to be wary of any template human resources policies or documents you find on the internet. "That may lead you to offering benefits that are far beyond industry standard in, say, the U.S.," Connolly says. "That also could include term contracts as opposed to keeping them at-will. And then, when you want to terminate an employee, I have to say, 'We can change it going forward, but we have to use what your contract said.'" Another difficult example is noncompete agreements. In some U.S. states, employers must provide an offer of employment or restrictive covenant at the start of a job. If an employee has been there a few years and is then given one, it might not cut it. "So, just in the United States, you have to be cognizant of what jurisdiction you're operating in and what the law is in that state," Connolly says. "The same concept applies globally. You have to know that jurisdiction's laws for that specific inquiry, and then apply the facts of the situation, which can turn on even a local law." While she has a high-level knowledge of worldwide employment laws, Connolly says she's constantly in touch with local counselors to, "sign off on any advice and advise on the more in depth legal issues." The same principle sometimes applies with translators—if, for instance, you require a dual language contract.
Why Seek Out International Counsel
"What I have found, and my clients have found, is that they've tried making changes on their own and it's an absolute mess, because that's what happens is if someone's not used to advising on the various laws and the various jurisdictions worldwide," Connolly says. Besides that, the reason to seek out an attorney experienced in international business law is they can be the point person on local governments, federal governments, and all the statutory limitations therein. "Having one person to go through as opposed to having to deal with 18 different counsels, clients appreciate that. The same goes with a business deal. The relationship partner talks to the company, and all the worker bees stay in the background," Connolly says. "Say a client calls because they want to take their independent contractor contract and make it usable across jurisdictions," she continues. "So I highlight the fact that while I didn't think that was possible, we might be able to get one for Europe, and then one for the U.S., and so forth. And when you expand in a new jurisdiction, I can say, 'Here are things that might need to change,' which usually has to do with non-competes and some other matters. And they're like, 'OK, forget it. We don't want that. We'll just do one in Europe.' And then we go from there. But that took one phone call instead of six."
What do I do next?
Enter your location below to get connected with a qualified attorney today.
Additional International articles
Attorney directory searches
Helpful links
Find top lawyers with confidence
The Super Lawyers patented selection process is peer influenced and research driven, selecting the top 5% of attorneys to the Super Lawyers lists each year. We know lawyers and make it easy to connect with them.
Find a lawyer near you