What Do I Do If I'm Arrested in Canada?
Legal advice for Americans detained over the border
By Trevor Kupfer | Last updated on January 26, 2023
Use these links to jump to different sections: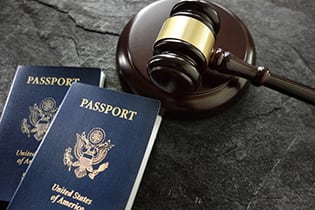 "It's a little more scary when you're in another country," says
Stuart G. Friedman
, a criminal defense attorney in Southfield, Michigan who practices on the border with a Canadian lawyer. "They can use that sense of isolation to make you feel guilty, even if you're innocent." Despite this, Friedman notes, you don't need to panic: You have several rights to exercise and olive branches to extend in your favor. "There are differences that people are not attuned to, but mostly the system is for the better," he says.
Legal Information When You Face Criminal Charges
"When a person is arrested in Canada, they have what is called duty counsel, which in most places is an 800 number where you can speak with an attorney who is
contracted with Legal Aid
. It doesn't matter if you're indigent or not. It's meant as a lifeline outside the police station where you can get an independent opinion." Just like the United States, Canada ascribes to the Vienna Convention on Consular Relations, which means you also have a right to access an American consular officer at the embassy or consulate. According to
their website
, these communications are meant to ensure that your welfare and rights are observed in accordance with the law. Between the consular officer and duty counsel, someone will reach out to family and/or friends about your situation and whereabouts, should you request it. The consular officer can also provide you with a list of attorneys, and arrange the transfer of money to pay legal costs, bail and/or fines. The consular officer cannot, however, act in the capacity of an attorney. It is your right to seek out the attorney you want, but Friedman says there's reason to be wary of someone primarily familiar with American laws. "You've got different rules about cross [examination], search and seizure, evidence rules. … You want to have competent Canadian counsel as the primary driver," he says. "They are every bit as good as ours." If you have
an attorney in the U.S.
with whom you are comfortable, there are a few things they can do for you. For one, they could serve as an assistant in your defense, though Friedman notes that it will likely drive up the cost. But a common one—and one in which Friedman has himself done on behalf of Canadian counsel—is helping with discovery: that is, securing any records, testimony and/or character witnesses that may aid your defense. "I want to caution that both drunk driving and simple assaults can be prosecuted as felonies, or as they call them, indictable offenses, in Canada," Friedman adds. "They're often not, but some offenses that we think of as Mickey Mouse can, in fact, be more serious over there."
If You Fear Arrest at the Border
If, at the border, you are stopped by Canada Border Services Agency and you have reason to believe you might be headed for a criminal conviction, Friedman suggests exercising a little-known right. "Let's assume they either divert you to secondary or it doesn't go all that well—maybe they're hostile and you foresee problems. Canadian law still allows you to withdraw your application for admission unless they have reasonable suspicion to hold you," he says. "So if they catch you with a brick of heroin, it's probably too late, but if you have hostile questioning, you got a little cute with them, and it's blowing up in your face, the best thing you can do is withdraw." Quite simply, you can say, "I withdraw," and head back to the U.S. There is an exception, however: If a police officer suspects you are drunk and asks you to take a breathalyzer, a refusal would trigger an inference of guilt and have a similar result as in American criminal code (DUI). It could trigger a suspension of your license. For more information on this area of law, see our overviews of
international law
, 
federal criminal law
 and
criminal defense
.
What do I do next?
Enter your location below to get connected with a qualified attorney today.
Additional International articles
Attorney directory searches
Helpful links
Find top lawyers with confidence
The Super Lawyers patented selection process is peer influenced and research driven, selecting the top 5% of attorneys to the Super Lawyers lists each year. We know lawyers and make it easy to connect with them.
Find a lawyer near you