The Dangers M&A Attorneys Protect Michigan Businesses From
Why to call a mergers and acquisitions lawyer when you're looking to sell or grow
By Trevor Kupfer | Reviewed by Canaan Suitt, J.D. | Last updated on April 26, 2023
Use these links to jump to different sections:
Just because you've got business smarts doesn't mean you know the legal issues surrounding mergers.
"If you've never done it before, there are dangers," says John P. Kanan, an M&A attorney at Honigman LLP in Detroit. "Some clients agree to things in early discussions that make total sense to business owners but make the lawyers and accountants cringe."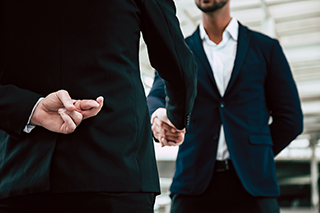 Take the common starting point: a letter of intent (LOI). "It's nonbinding, typically, but it has a tremendous amount of inertia," Kanan says. For example, if the seller requests that there's no working capital adjustment so they feel more secure about what they'll get in the end, the buyer may agree just to get the ball rolling.
"But once it's in there, it's hard to renegotiate such a large point," Kanan says. 
Don't Do Due Diligence Alone
Agreeing to major provisions is especially inadvisable if done before due diligence, an important aspect to any M&A deal. "It's the investigation that you make of the seller and all its attributes—looking at contracts, commercial relationships, workforce status, labor relations issues, employee benefits issues, environmental issues, all those sorts of things," says Justin G. Klimko, an M&A attorney at Butzel Long in Detroit. 
This used to require digging through cabinets of paper files, but now commonly involves electronic repositories and data rooms. "You've got to identify the assets of what the buyer is acquiring, and that buyer wants to make sure they understand what the company's about, what they own, what the status of their commercial relationships are, and what the status of their legal protections are," says Klimko.
While an LOI usually includes a tentative price, due diligence will likely affect the final purchase agreement, depending on what's discovered. "You may uncover liabilities, lawsuits, employment claims, regulatory issues, environmental issues, the lease rate is about to go up dramatically or a big customer contract's about to run out," Kanan says.
"A lot of times it can give rise to renegotiation of certain terms of the deal. There's ongoing discussions when these things arise and multiple ways of addressing them in a purchase agreement."
It's certainly important to have experienced people working on your deal, because there are a lot of things that can derail a transaction. At the end of the day, the parties are trying to get to the same place. It's just a question of how you get there.
The Legal Services a M&A Business Lawyer Provides
A big part of an M&A attorney's value is in explaining the myriad ways in which you can address such concerns. "Sometimes you'll find a showstopper, and the deal will fall apart," Klimko says. "Oftentimes, you'll find things that need to be addressed but they don't rise to that level."
Because these deals can involve everything from real estate to tax planning to intellectual property, M&A lawyers usually work with a team of specialists. "You have to pull together people with lots of different expertise in order to be able to evaluate the universe of potential problems that might arise," Klimko says.
The job of the M&A lawyer is to essentially quarterback the whole deal, and negotiate with all the parties involved until it's time for the final purchase agreement. "The bulk of the purchase agreements can run between 30 and 100 pages, and each specialist might be responsible for four or five pages, but the M&A lawyer writes two-thirds of it and is primarily responsible for the whole thing," says Kanan.
How Long M&A Transactions Take to Complete
As for how long these deals commonly take, Kanan says it can vary from a month to years, but a common timeframe is 90 days. "Some deals require regulatory filings," Klimko notes, "which can be a delaying factor. There are a bunch of things to take into account when you map out a transaction and plan the timetable."
An important thing to take into account is who knows and when. Word of a deal can cause ripples with employees, customers, suppliers and others. "Also, sellers sometimes don't appreciate how much of their time is going to be taken up doing deal stuff as opposed to running their business. And if the business doesn't perform, the buyer might make a price adjustment," Klimko says.
Get the Best Lawyer for Your M&A Business Transaction
While a business owner may already have a go-to attorney, it doesn't mean they're right for a merger or acquisition.
"If they don't do a lot of M&A, or they dabble, it can be an issue," Kanan says. "The way transactions were done 10 years ago is much, much different than the way they're being done now." Having someone with a network of connections for advice on tax structuring, labor issues, employee classifications and integration issues is also crucial, he adds.
"It's certainly important to have experienced people working on your deal, because there are a lot of things that can derail a transaction," Klimko agrees. "At the end of the day, the parties are trying to get to the same place. It's just a question of how you get there."
For more information on this practice area, see our overviews of mergers & acquisitions and business law, or contact a law firm that has a practice group with extensive experience in commercial transactions.
What do I do next?
Enter your location below to get connected with a qualified attorney today.
Attorney directory searches
Find top lawyers with confidence
The Super Lawyers patented selection process is peer influenced and research driven, selecting the top 5% of attorneys to the Super Lawyers lists each year. We know lawyers and make it easy to connect with them.
Find a lawyer near you