Autonomous Vehicle Crashes: Who is to Blame?
For now, it's humans; but it may soon be the car manufacturers
By Benjy Schirm, J.D. | Last updated on January 26, 2023
Use these links to jump to different sections: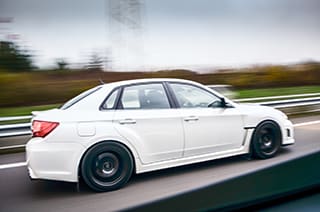 Imagine if, one morning on the way to work, you stop in a queue of cars at a red light. Suddenly a car from behind slams into you. When you gather yourself and confront the other driver, you're surprised to see the seat empty and, instead, see passengers in the back seat of a self-driving vehicle. Who pays for the damage and injuries? Who is at fault? As self-driving cars become more prolifically available, several legal issues arise. "It's too early to tell if these cars will make it safer out there," says
David Bulluck
, a personal injury attorney in Temple Terrace who handled an accident case involving an automated Tesla, "and either way, this will be more and more of an issue the more they get out on the roads."
Tech Takes the Roads
In the last few months of 2017, autonomous cars were unleashed onto the public roads of the United States in Arizona, California, Pennsylvania, Massachusetts, Michigan, and many countries abroad. A company called Waymo (a Google spin-off) has a fleet of over 100 autonomous taxis operating in Scottsdale, Arizona, with plans to expand to more than 500 in 2018 and beyond. Uber and Lyft both have pilot programs running in various places, and every major car company has plans and dates for the release of their version of the autonomous car. The research on driverless vehicles points to various changes in
liability
, and auto industry leaders like Volvo are taking notice as this technology takes to the roads. Here's what the research says:
There will likely be a shift to product liability, making car companies primarily liable for accidents caused by their autonomous cars. Court battles in such cases will likely center around two key questions: Would a reasonable design change have prevented the crash? Would a human driver or another automated system have performed better in the situation in question?
Personal injury claims will likely be focused on the unreliability of automated systems. If the human victim wins that case, the damage claims could be higher than with user-driven claims, simply because of the extensive documentation of the events by the cameras on the automated car.
Most accidents on the roads today are caused by driver error, drunk driving and speeding. These should be taken out of the equation with self-driving cars, which are controlled through computer sensors and programing, but we're not quite there yet.
The Accidents Thus Far: Humans Still at Fault
An autonomous shuttle bus made headlines in Las Vegas for getting in a crash within two hours of being on the road—though it was later determined that the human driver of the truck that collided with the bus caused the accident. An autonomous taxi trying to avoid road debris hit a bus in Arizona, and Uber suspended its expansion after an automated accident—also in Arizona. At the moment none of the driverless cars on the roads are fully driverless. They may be in autonomous mode, but have a driver behind the wheel tasked with making any necessary corrections. As of now, the driver is at fault for not correcting the system. The current investigations have not changed from a car that has a full time human driving the car. Police will investigate if any laws were broken and issue citations as appropriate (driver assistance). In some cases, the autonomous car's cameras may be available to clarify what happened and make investigations easier. The first driver fatality with an autonomous vehicle occurred in Florida and involved a white truck and a Tesla. The truck went in front of the Tesla, which was in cruise control at 74 mph, but the Tesla sensors didn't recognize it—possibly due to its color—and hit the truck. The Tesla driver was deemed at fault for failing to correct the automated car's actions. "Cases with these cars are going to get more expensive," says Bulluck, who is handling a different crash case that involves a Tesla. He points to the incredible amount of information that these automated cars can capture, even while not in self-driving mode. "Tesla cars have cameras that activate and take pictures at the time of the impact. They record and log that data and also hold the key to interpreting that data." Bulluck has hired engineers to talk with Tesla's team to collect that data. As for if it's a helpful tool, Bullock says, "It depends what side you are on." If ever you find yourself in an automated car crash, consider talking to a reputable law firm's 
personal injury attorney
as well as
a reputable products liability attorney
. They will help you get compensated by the driver or carmaker for any injuries you sustain. For more information on this area of law, see our overviews of
personal injury
,
product liability
, and
motor vehicle accidents
.
What do I do next?
Enter your location below to get connected with a qualified attorney today.
State Motor Vehicle Accidents articles
Attorney directory searches
Find top lawyers with confidence
The Super Lawyers patented selection process is peer influenced and research driven, selecting the top 5% of attorneys to the Super Lawyers lists each year. We know lawyers and make it easy to connect with them.
Find a lawyer near you