When Pedestrians Collide With Cars
Tips for maximizing your recovery if you've been hit by a vehicle
on July 1, 2021
Updated on May 11, 2022

In San Francisco, roughly three pedestrians are injured every day in a traffic incident. The aftermath of being struck by a vehicle can be both physically and emotionally damaging. 
The first step recommended by injury attorneys: seek medical care immediately. "Adrenaline is very good at hiding severe injuries," says Tanya Gomerman, who has an eponymous firm in San Francisco.
And when you get to the hospital, attorney Arsen Sarapinian says you should seek a specialist: "General practitioners usually are not qualified to address specific conditions."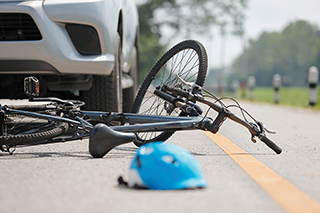 If you are able, you should also collect as much information at the scene as possible. Document the other party's driver's license, license plate, and insurance information; get names and phone numbers of any witnesses; and take photos or video of the scene. Later, seek a copy of the police report and hang on to any medical documentation.
Seeking recovery for damages starts with insurance companies, and how much you can recover may be limited by the other party's policy, Gomerman says. If the driver's policy won't cover it, your only options are: 
Make a claim against your own insurance carrier, if you have uninsured motorist coverage. 
Make a claim against the owner of the vehicle or the driver's employer, although the circumstances that allow you to do so are narrow.
Some of these cases don't require you to hire an attorney. "If there's a low policy limit and a really serious injury, I think you can easily get the same recovery with or without an attorney," Gomerman says. "So if you had your leg amputated and the person only carries a $50,000 policy, you don't really need an attorney to get that policy."
But even if you're not going to court, a lawyer can help by handling calls from insurance companies, police and investigators, Sarapinian says. Plus, they're adept at pressuring insurers to produce a reasonable settlement. "I've encountered cases where people who are unrepresented have had months go by where phone calls aren't returned, requests aren't returned, or eventually they'll receive lowball offers," he says. "Once you have a lawyer involved, naturally the case becomes more serious. And typically, it does increase case value."
Recovery depends on the types of damages you've suffered: "Any types of bills related to the accident, whether it's medical bills, Uber bills, bills for purchasing medicine, any financial losses, including lost wages, lost benefits, any PTO that you're using," Gomerman says. "And finally, most importantly in my opinion, is pain and suffering damages. Those would include disfigurement, embarrassment, pain, activities that you can't perform, anything that would impact you on a level that's not financially provable."
Quantifying non-economic damages can be tough. "Sometimes it's hard for people to express what they've endured," Sarapinian says. "A lot of cases involving personal injury, those general damages are supported by third-party witnesses: family, friends, people that talk about how it's affected the injured party's lifestyle."
Documentation, including photos and video, can once again help, Gomerman says. "If somebody is on crutches for a week, what does a day in their life look like?" She also recommends people keep a journal or calendar to track how their life is impacted. "If it's a serious accident, seeing a therapist or a psychiatrist would really put the emotional distress that you're suffering on paper," she adds. 
If you are headed to court, having an attorney is a must. "If the injuries are serious, you wouldn't know what a good recovery is, so you would really rely on an attorney to advise you, to look at past jury verdicts, and to look at your particular case," Gomerman says. "And you definitely don't want to file a lawsuit without an attorney, because the Code of Civil Procedure is a minefield. It's not a question of if you're going to step on a mine, it's when you're going to step on a mine."
For more information on accident victims, pedestrian accidents (pedestrian collisions), car accidents (traffic accidents), personal injury attorneys (personal injury lawyers), see our overviews of personal injury law and motor vehicle accidents.