Do I Need a Lawyer If I Was in a Car Crash in Maine?
A personal injury expert answers this and other common auto collision questions
By Trevor Kupfer | Last updated on January 26, 2023
Use these links to jump to different sections:
"People who are in a crash are physically and emotionally in a bit of a head-spin," says
Brett D. Baber
, an attorney at Lanham Blackwell & Baber in Bangor, Maine.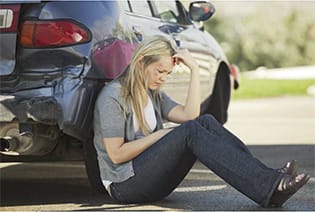 Your blood and adrenaline are pumping, not to mention the shock of what just occurred, putting you in a jarring mindset. Sometimes the first reaction is to step out of the car, forgetting that you may put yourself in further danger by doing so. Sometimes you don't realize the serious injuries you just sustained in the crash. And all the while, even after the initial shock fades, your mind swims with questions: Who do I call? What do I do? How will this impact my insurance, my medical bills? It a lot to deal with. That's why we reached out to an
auto collision lawyer
for his expert advice. "There are several things people should and should
not
do before reaching a resolution with the other driver's insurance," Baber says. Here are some of them.
What should I do when a crash first occurs?
"Seek appropriate medical attention as soon as possible, and follow the doctor's orders."
What do I tell the police when they arrive and want to make an auto accident report?
"Try to be as accurate as possible about what happened and, if you can, note whether there are witnesses other than the drivers at the scene."
Is there anything else motorists should do early on?
"Whenever it's convenient, photograph your injuries. You don't need to be grotesque or indelicate about it—you know, a compound fracture where the bone is sticking out—but documenting your injuries at various stages can be very helpful later on."
When should I involve my auto insurance company?
"Within a week of the collision you should notify your insurance company about the fact that you were in a collision. You should also inquire about medical payment coverage to pay any medical bills you might have."
What about the other driver's insurance provider?
"You may be contacted by the other insurance carrier. You really shouldn't agree to an interview or recorded statement before speaking with your own attorney. And don't sign a release before speaking with an attorney, either." "It's really important that people make the distinction between your own insurance company and the other driver's. You have a duty to cooperate with your own insurance, but not so much with the other driver's. For example, they may ask to inspect the car and photograph the car. If they do so, get the name and contact information of the person who does the inspection. I would allow the other driver's insurance company access to the damaged vehicle if it's located in a junkyard, provided there's someone there for the injured party to observe in case there's anything that happens during the inspection. You don't want to allow destruction of evidence or them to take physical evidence away."
The other insurance company asked me how much of the fault is mine. What do I say?
"That's why I suggest you not allow a recorded statement, because the other driver's insurance company will ask questions like, 'Why do you think our insured is at fault?'"
Can I settle a car accident claim without a lawyer? Is it worth hiring a personal injury attorney?
"Don't try to settle your case on your own. The insurance adjusters for the other driver will typically present much lower offers to unrepresented parties. It's very important to review the case with an attorney before you explore a settlement to make sure you get maximum compensation for everything you've been through." "You should also wait until the injuries are completely resolved or have reached a medical endpoint before attempting to settle the claim with the other driver's insurance company, because you can only recover once. Once you sign a release, you would not be entitled to future compensation."
How much will a car accident attorney cost?
"Almost all personal injury cases related to car crashes are on a contingency basis—meaning they don't get paid unless the attorney obtains a recovery for them. Fees can vary depending on the nature and severity of the injuries … and they can be negotiable. Just because one attorney says that's the common fee doesn't mean another might not take a little less."
What should I bring to a car accident lawyer?
"We try to take as much off your plate as possible and deal with it ourselves. You have to focus on recovering from your injuries. That's your job after being in a collision: get the medical treatment you need, be compliant with the doctor or provider's instructions, and get better. We'll sort out the rest of it. Let us deal with all the paperwork—getting the police report, getting medical records and bills." "Having your insurance information at the first meeting is very helpful—for instance, so we can explain your own insurance situation for things like medical payments. Our focus is always helping the client get better. Then we sort out the compensation issues from there."
What do I do next?
Enter your location below to get connected with a qualified attorney today.
Attorney directory searches
Find top lawyers with confidence
The Super Lawyers patented selection process is peer influenced and research driven, selecting the top 5% of attorneys to the Super Lawyers lists each year. We know lawyers and make it easy to connect with them.
Find a lawyer near you