Lawsuit Compensation When Another Driver Caused an Accident
When motorcycles, cars, and the law collide in South Dakota, here's what happens
By S.M. Oliva | Last updated on January 26, 2023
Use these links to jump to different sections:
Each year there are more than 17,000 motor vehicle traffic crashes in South Dakota, according to the state's
Department of Public Safety
. The economic losses from such accidents exceed $400 million annually and, in 2016, accounted for more than 5,100 injuries. While most South Dakota traffic accidents involve passenger cars and minivans, motorcycles are of particular note. Eight percent of South Dakotans own motorcycles—a higher percentage than any other state—and the Sturgis Motorcycle Rally draws thousands of riders each year.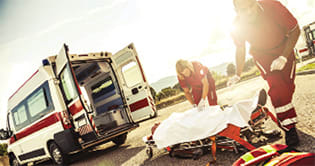 The downside of motorcycles is their high fatality rate in accidents. In 2016, motorcycles only accounted for about 8 percent of reported injuries but more than 18 percent of fatalities. The other downside, at least in South Dakota, is that the law is particularly harsh for plaintiffs in injury lawsuits. "South Dakota has contributory negligence rather than comparative fault," explains
Kasey L. Olivier
, a personal injury attorney with Heidepriem | Purtell | Siegel | Olivier Lawyers in Sioux Falls. "In a comparative fault case, a jury or judge gets to decide the percent level of fault for each party and that dictates their recovery. In South Dakota, if a jury finds the plaintiff negligent more than slight, then there is a zero recovery. Our courts and law have not defined the term 'slight.' So we have to tell a jury, 'You have to decide what is slight.' It is a very harsh law that makes recovery very difficult in our state."
How a Car Accident Lawsuit Involves Car Insurance Companies
If you are injured in an accident caused by another driver's negligence, you have the right to recover damages from the responsible party. South Dakota is a "fault" state, which means you do not have to seek financial compensation from your own insurance carrier first before pursuing any negligent parties. In many cases, your insurer will settle issues regarding fault with the other driver's auto insurance company. If litigation does become necessary, you need to be mindful of the time limits imposed by South Dakota law for bringing a claim. For personal injury claims—in which you may seek damages for your medical care, pain and suffering, and loss of income—the statute of limitations is three years from the date of the accident. If your claim involves damage to property, you must file a claim within six years. In addition, if the negligent driver was acting on behalf of a state or local agency, there is a stricter time limit of one year to bring a personal injury claim.
How Contributory Negligence Can Affect Your Award
Many auto accidents are not solely the fault of one driver. So even if you are partly to blame for your accident, you may end up with nothing in your car accident claim. A plaintiff can only recover damages if his or her own negligence "was slight in comparison with the negligence of the defendant." But the law does not give an exact definition of "slight." A qualified
South Dakota personal injury lawyer
can advise you on how judges and juries may apply the law to the facts of your particular car accident case. "We had an electrocution case where a Meridian bin was placed too close to power lines and a worker touched the lines, fell and died," Olivier says. "So the question was: Was the worker aware that the power lines were up there and could get too close, and is that slight?" Another case she had involved a police officer who was transporting prisoners. The officer was texting while driving and turned in front of Olivier's client, who lost her legs as a result of the accident. "The issue, they argued, was if my client was speeding at the time and if that makes her contributorily negligent—because if she was going the speed limit, she might not have been at that intersection at that time. It's very unfair to plaintiffs, but that's unfortunately the law." The "slight" issue arises more often than not in these cases, Olivier says, and as such clients often opt to settle their legal action rather than take a chance in a trial. "We give the clients the driver's seat, and we're here to make recommendations. Sometimes it's better to take the guaranteed money, and other times it's better rolling the dice," Olivier says. "You have a chance at trial to convince the jury it wasn't slight—that their negligence wouldn't have mattered, it would have happened anyway. Sometimes juries believe that and give an award." It can also depend on the city and court. Olivier says federal court in Sioux Falls or Rapid City tend to give higher jury verdicts than more rural counties. For more information on this area of law, see our overviews of
personal injury
,
trucking accidents
, and
motor vehicle accidents
, or reach out to a
car accident lawyer
for legal advice.
What do I do next?
Enter your location below to get connected with a qualified attorney today.
Attorney directory searches
Find top lawyers with confidence
The Super Lawyers patented selection process is peer influenced and research driven, selecting the top 5% of attorneys to the Super Lawyers lists each year. We know lawyers and make it easy to connect with them.
Find a lawyer near you