Who's at Fault in a Tennessee Car Accident?
How to determine fault and recover damages in a car accident suit
By Judy Malmon, J.D. | Last updated on January 26, 2023
Use these links to jump to different sections:
Automobile accidents are, unfortunately, a fact of life. Because most of us drive, the odds are strong that at some point, you will be involved in an auto accident. Whether a fender-bender, rear-end collision or more serious injury accident, there are some basic things to know about Tennessee law before the need arises.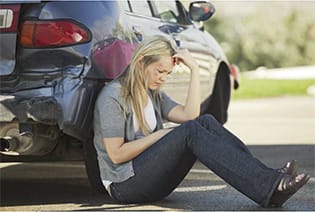 If you're in a car accident, the first thing to do is verify that everyone involved is OK. If there have been any injuries, immediately call for emergency assistance. If there appears to be only vehicle property damage, move your car to the side of the road and remain at the scene until law enforcement has arrived. Failure to stop at the scene of an accident is considered a misdemeanor, even where damage appears negligible. Drivers are required to provide identification and vehicle registration information, and are required to have insurance policies. At the scene of the accident, it's best to remain as calm and helpful as possible, truthfully answering all police questions, but not offering any assessments or admissions of fault. Determination of what happened and who is responsible can be complex. It's unfortunate, but even telling the other driver that you're sorry can be construed as an admission of fault that can complicate recovery.
Establishing Fault
If you're injured in a car accident, who will pay for your medical bills and other expenses? Tennessee is a "fault" state, meaning that a determination of which driver was responsible for the accident will govern whether you can recover from the other driver or their insurance. Specifically, under Tennessee's comparative negligence rules, you must be less than 50 percent at fault in order to recover any damages at all. If you are less than 50 percent but more than zero percent at fault, your compensation will be reduced by the percentage of your fault. Determining fault in a car accident is not always straightforward. There are certain circumstances, such as rear-ending, where the driver behind will almost always be considered at fault. Violation of a statute, like failing to yield the right of way, creates a presumption of fault. Either of these may be rebutted by extenuating circumstances. Information considered in assessing fault includes the police report of the accident, traffic citations issued, statements of eyewitnesses, road conditions at the scene, as well as possible vehicle malfunctions. It's worth noting that bad weather does not mitigate fault, but rather can indicate that a driver failed to behave with reasonable caution under the circumstances. Similarly, poorly functioning brakes or broken taillights are evidence of the driver's negligence. Ultimately, how fault is determined follows certain protocols after you file an insurance claim, but settlements are negotiations, and an insurance company, even if it's your own insurance, is trying to get their best deal. Don't sign a release of claims or accept payment unless you feel certain that the insurance settlement adequately covers all of your damages. This is where having a law firm or an
experienced personal injury attorney
on your side can be extremely helpful and most car accident lawyers offer a free consultation.
What if the Accident Is My Fault or the Other Driver Is Uninsured?
If you are found to be 50 percent or more at fault for the accident, or if the other driver is uninsured, you will not be able to receive anything from the other driver's insurance. However, you may still be covered for your losses under your own car or medical insurance, depending on the type and extent of your coverage. Tennessee does not have Personal Injury Protection (PIP) coverage, a type of insurance that allows for recovery regardless of fault, because it is not a no-fault state. Tennessee also does not allow for "stacking," or adding together your uninsured motorist coverage held on multiple insured vehicles you own.
What if I Can't Arrive at a Settlement?
If you can't come to an agreement with the insurance company, you may choose to file a personal injury lawsuit in court. Such a claim must be filed within one year from the date the accident occurred, or you will be barred from recovery. If you're taking the step of filing in court, it's especially important to seek legal representation. For more information on this area of law, see our overviews of
personal injury
,
trucking accidents
, and
motor vehicle accidents
.
What do I do next?
Enter your location below to get connected with a qualified attorney today.
Attorney directory searches
Find top lawyers with confidence
The Super Lawyers patented selection process is peer influenced and research driven, selecting the top 5% of attorneys to the Super Lawyers lists each year. We know lawyers and make it easy to connect with them.
Find a lawyer near you