What to Do If You're Injured While Riding a Bike
How to expect the unexpected in NYC
By Andrew Brandt | Reviewed by Canaan Suitt, J.D. | Last updated on July 24, 2023 Featuring practical insights from contributing attorneys Daniel Flanzig and Marc S. Albert
Use these links to jump to different sections:
In 2019, there were more than 3,800 motor vehicle accidents involving a cyclist who was seriously injured or killed in the New York City area, according to Marc S. Albert, a personal injury attorney at his eponymous firm in Astoria.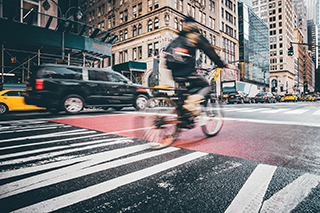 "Motorists often don't look out for bicyclists—whether it's opening a door, going through an intersection, or making a turn," he says, adding that drivers not seeing bikes in blind spots is another common culprit.
Doorings are the most common accident seen by Daniel Flanzig, a personal injury attorney at Flanzig & Flanzig in Mineola. "A very common injury with a dooring crash is either fractured hands or fingers, or a fractured shoulder or AC joint separation," he says.
What To Do if You've Been Injured While Riding a Bike
If you've been doored—or in any accident involving a motor vehicle while you're on a bicycle—the two attorneys recommend you first call the police.
Call Law Enforcement
"You want the manner in which the accident happened to be documented by the police. It's very important to tell your version of the events," says Albert. "If only the operator of the vehicle's side gets printed in the report, that's a major negative, as the report is a very critical piece of evidence in all of these cases."
Gather Evidence
Next, obtain any witness information you can, and, in the case of a dooring, identify the exiting passenger. "I've had a number of cases where we were able to get a recovery well above the insurance coverage for that vehicle by naming the exiting passenger, who would have either homeowners' or renters' insurance that may cover them," says Flanzig.
Adds Albert: "If there are witnesses at the scene, it's important to get names and numbers. A lot of witnesses do not want to get involved with the police … but they may be willing to speak with an injured party and give them a name or telephone number. An independent witness can be critical."
Attorneys further recommend obtaining video from nearby cameras, if possible, or taking photos or video of the location where the accident occurred—as well as of the vehicle involved. "If you take a photograph of where the vehicle that hit you came to rest, that can provide us with important evidence about how this accident happened and whether or not the vehicle was going too fast," Albert says.
Seek Medical Help
Finally, seek medical assistance if you need it. "I'm not one of these lawyers that's going to say, 'Go to the hospital in an ambulance even if you're not really injured,'" says Albert. "But if you are injured, don't be too proud to go to the hospital."
Don't get rid of a smashed bike, either. "It could be a piece of evidence," Albert says. "If you can't keep it, your attorney can generally store the bicycle for you."
Getting Compensated For Your Injuries
Flanzig notes that under New York's no-fault insurance law, bike riders have the potential to receive up to $50,000, under the vehicle's coverage, for all medical bills relative to the injuries suffered in the accident, as well as a portion of lost wages if they're out of work due to the injuries—as long as they file within 30 days of the accident.
"Some insurance companies will try to contact you directly, and have you sign a release before you speak to an attorney," he adds. "It doesn't cost any money to reach out to an attorney for a free consultation."
Most lawyers handle bike-accident cases on contingency, meaning they don't earn a dime until settlement is finalized or you win at trial. Often, they take one-third of the award. Albert estimates that more than 90% of cases involving bicycle accidents settle rather than go to trial, "and that can take mere months after an accident, while others can take years."
And, of course, while the goal is to ride without ever getting into an accident, it's good to be prepared.
"New York City is a difficult environment to ride in," says Flanzig. "You're dealing with turning vehicles, opening car doors, and street defects—all at the same time. Just try to be vigilant, keep a look out ahead, and expect the unexpected."
NYC Bike Laws
Ride in the street—not on the sidewalks.
Ride with traffic—not against it.
Stop at red lights and stop signs.
Use marked bike lanes or paths when available.
Use a white headlight and a red taillight—as well as a bell.
For more information on bicycle accidents, car accidents, personal injury lawyers, bicycle accident attorneys, and personal injury cases, see our overviews of personal injury and motor vehicle accidents.
What do I do next?
Enter your location below to get connected with a qualified attorney today.
Related topics
Attorney directory searches
Find top lawyers with confidence
The Super Lawyers patented selection process is peer influenced and research driven, selecting the top 5% of attorneys to the Super Lawyers lists each year. We know lawyers and make it easy to connect with them.
Find a lawyer near you