What Oregon Personal Injury Attorneys Look For in a Case
Personal injury cases aren't as simple as they seem
By Susan G. Hauser | Reviewed by Canaan Suitt, J.D. | Last updated on July 25, 2023 Featuring practical insights from contributing attorneys Timothy J. Jones and Jan Baisch
Use these links to jump to different sections:
Let's say you've been injured because of a broken sidewalk or a car accident or even a family doctor: What are the chances you can sue and recover money?
If you listen to the culture at large, getting a personal injury case settlement is as easy as spilling a cup of hot coffee in your lap.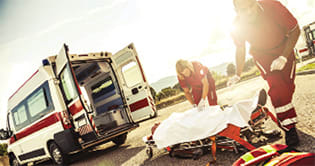 If you listen to personal injury-plaintiff attorneys, it's not so simple.
"I turn down 90 percent of calls," says Jan Baisch, a personal injury lawyer with Plaintiffs Trial Lawyers in Portland, then he ticks off some of the reasons. "It's been too long since the accident happened, there were no witnesses, there's no liability, the injury's not significant enough to go to court. You can go on and on."
"Out of the vast number of wrongs that we do to each other as humans, there's only a few that [lawyers] can do something about," says Kate Stebbins, a former prosecutor who runs an eponymous personal injury law firm in Gladstone. "Sometimes you just have to have a hard conversation: 'Yep, you're absolutely right. What you're saying is the truth. And I still can't do anything for you. I'm not going to take your case when I cannot improve your position.'"
What's Needed for a Personal Injury Claim
Baisch breaks a personal injury lawsuit down to two aspects: fault and damages. "You have to prove fault," he says, "before you can get damages."
And how do you prove fault? The term that Tim Jones, a Portland personal injury attorney, keeps returning to is reasonable care.
"We start from a basic idea that the law requires that everybody use reasonable care to avoid harming others," he says.
"We want to look at the reasonable care standard and we also want to look at the conduct [of the defendant]. Was it reckless conduct? It's the difference between a driver who runs through a stop sign and a drunk driver who runs through a stop sign. One is an example of the reckless disregard for the safety of other people.
"We also look and see if there's intentional wrongdoing," Jones adds. "And that goes for private individuals or corporate entities. That basic notion comes out of common law. Negligence is the term for failing to exercise reasonable care."
Stebbins adds that even if fault can be proven, there's the practical matter of financial recovery. "If someone who is uninsured and does not have a dollar to their name causes you harm, are you going to take the time, money, expense and grief to try to go after him?" she asks. "If you're not going to recover damages and I'm not going to get paid, it doesn't help either of us to drive us through the muck.
"Being a plaintiff is not fun," she adds. She says she often withdraws from a case when the plaintiff stops following through on the necessary steps in the process. She wants a good partner in her attorney-client relationship.
Oregon Law
Finally, you have to keep in mind where you live and that the law can evolve. For example, until recently, the state of Oregon limited all non-economic damages to $500,000. That changed in July 2020, when Oregon's Supreme Court ruled that the cap on non-economic damages violated the state's constitution. Now, non-economic damages are no longer limited to $500,000 in Oregon.
Jones concludes that if someone is convinced that wrongdoing or serious injury was caused by the carelessness of another, it's worth discussing with an attorney. "What drew me to the profession was the ability to help people who need help under desperate situations … to achieve some justice for my clients. It's an amazing feeling when you can do it."
An Oregon personal injury lawyer, many of whom provide free consultations, can help you through the process. For more information on this area of law, see our overviews of personal injury, motor vehicle accidents, medical malpractice, truck accidents and product liability.
What do I do next?
Enter your location below to get connected with a qualified attorney today.
Additional Personal Injury articles
Attorney directory searches
Helpful links
Find top lawyers with confidence
The Super Lawyers patented selection process is peer influenced and research driven, selecting the top 5% of attorneys to the Super Lawyers lists each year. We know lawyers and make it easy to connect with them.
Find a lawyer near you