What Happens If My Rifle Misfires?
How and when Missourians can sue a gun manufacturer
By Benjy Schirm, J.D. | Reviewed by Canaan Suitt, J.D. | Last updated on May 2, 2023
Use these links to jump to different sections:
According to the International Hunter Education Association, there are approximately 1,000 hunting accidents involving shooting injuries in the U.S. and Canada per year. About 10 percent of them end in death.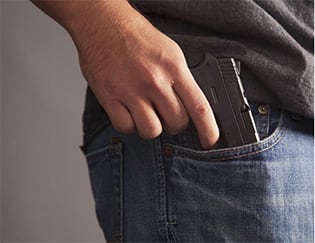 Surprisingly, a common cause of gun-related accidents occur due to a manufacturing defect in the trigger systems of some rifles causing malfunctions.
"Remington has had problems for 60 years with their model 700, which has a tendency to misfire when you shift the mechanical safety from the safe to the fire position," says Missouri-based attorney Timothy W. Monsees, who is concluding a class action against a gun manufacturer. "It doesn't involve pulling the trigger, but the safety virtually acts as a trigger."
Be Sure to Preserve Evidence
If you're the victim of a misfired rifle or handgun, there are many things you can do to protect yourself and ensure you will be compensated for your injuries.
For one, Monsees says these cases will almost always be reported to the police. In order to determine if you have a case, experts often examine the rifle and even test it. If a test involves shooting the gun, Monsees says that act could destroy evidence that may have resided in the fire control and, instead, it gets disturbed or changed when the fire control is cycled or the gun is test-fired.
"It's not unusual that by the time someone comes to see me, they've already reported it to the firearms manufacturers," says Monsees. "I've had cases where the companies already have the rifle that I needed to prove my case."
Instead of allowing the gun to be fired—or you doing it yourself—immediately take it to a reputable and experienced attorney. "The trail gets cold very quickly in a firearms case," says Monsees. "If the police are called, they invariably take possession of the weapon, and they'll want to monkey with it and test it. … So, the earlier I can get to it the better."
Defenses to Gun Product Liability Claims
Products liability cases involve proving that because of the negligence of a manufacturer—either in the design or building of a product, or warning of a danger associated with the product—a company can be held liable for the damages caused.
Common defenses are that a consumer contributed to their own injuries, or that they assumed the risk. If you'd like more general information about this area of the law, see our products liability law overview.
"It's hard litigation, mainly because, if you're using a firearm, a big part of the population will presume that you have kind of assumed the risk involved," says Monsees. "We rarely see a true assumption-of-risk defense entered. It's always something that we have to address, because it's what juries have on their minds."
Gun Safety Rules and Liability
Most states have hunter and firearm safety courses that everyone must go through before they can get a hunting license. Some older people get grandfathered in, but most who are 50 or younger need to take a course.
"One of the things taught in these courses are the 10 commandments of gun safety," says Monsees. "They are all good rules, but they were crafted 40 years ago by the firearms industry, and the paperwork from that effort demonstrates clearly that they were building in contributory negligence defenses when they knew people would get hurt.
"It's clear they didn't have a philanthropic motivation for doing it. Knowing people were going to get hurt—knowing they were going to get sued—they can now say that people were violating these gun rules, which is a contributory negligence defense; they are scripting these things ahead of time."
Monsees adds that from a plaintiff lawyer's standpoint," they don't know the names of the victims—but they already know there will be victims, so they are already building their defenses."
What do I do next?
Enter your location below to get connected with a qualified attorney today.
Additional Products Liability articles
Attorney directory searches
Helpful links
Find top lawyers with confidence
The Super Lawyers patented selection process is peer influenced and research driven, selecting the top 5% of attorneys to the Super Lawyers lists each year. We know lawyers and make it easy to connect with them.
Find a lawyer near you