Was My Attorney Negligent?
Defining legal malpractice in Maryland, and what to do if you're a victim of it
By Super Lawyers staff | Reviewed by Canaan Suitt, J.D. | Last updated on May 4, 2023 Featuring practical insights from contributing attorney Lon Engel
Use these links to jump to different sections:
Litigation is rarely quick or easy. And if things go poorly, it's natural to initially blame the attorney's legal advice for a bad outcome. In some cases, a client may go so far as to pursue a legal malpractice claim. But just because you failed to win a lawsuit does not mean your attorney did anything wrong.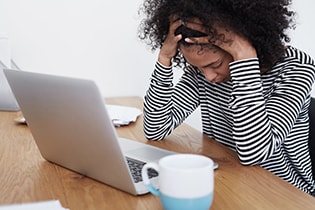 "You cannot look at just the outcome. You can do everything the way you're supposed to, but a judge or a jury can still rule against you," says Lon Engel, a professional malpractice attorney at law firm Engel Law Group in Baltimore.
"I've been trying cases for 35 years. I have won cases that I should have lost, and lost cases that I should have won. But as long as I do everything by the accepted standards of care, even if I don't win, that is not malpractice."
However, when there is evidence that the attorney was negligent—and that those negligent actions caused you to lose—then it may be possible to recover damages through a separate malpractice lawsuit. Here's how those work.
How Maryland Defines Attorney Malpractice
There is no straightforward definition of what specific actions (or inactions) qualify as malpractice in Maryland law. The state's courts have basically set out three things a former client must prove to prevail against a former attorney:
The attorney was employed by the client.
The attorney neglected to perform a "reasonable duty" during this employment.
The client suffered a loss that was "proximately caused" by this neglect.
As with any type of civil lawsuit, the burden of proof is on the plaintiff. That means the former client needs to show the attorney did something negligent.
"You must utilize experts under Maryland law," Engel explains. "You need to have another attorney who's familiar with that area of practice testify that there's been a violation of the accepted standards of legal care and that the violation was the sole proximate cause of the damages. What makes legal malpractice very complex is that it is a trial within a trial. It's not enough to show that the other attorney malpracticed. You also have to show that, had the prior attorney done the case properly, you would have won."
How Much Legal Malpractice Cases Cost
"That's the unfortunate side," Engel continues. "With any malpractice case, they're expensive because it requires experts. And as a result of that, there are a lot of malpractice cases—medical, legal, accounting, securities, and engineering malpractice—where the client will never get a day in court because the damages are not sufficient to warrant taking the case forward."
He gives an example where someone hired an attorney to draw up a contract, and the malpractice ended up losing them $30,000. But then, when you sue for malpractice, it costs you $20,000 and Maryland courts do not award costs or attorney's fees as part of malpractice verdicts.
"So you wind up spending $20,000 on experts to recover $30,000 and, of that, you still have to pay your malpractice attorney. So I unfortunately have to turn a lot of legitimate cases away because they're not economically worthwhile," Engel says.
At a minimum, he estimates these cases cost $10,000 before attorney's fees, but they can go up much higher. The way attorneys charge for this kind of work can vary, Engel adds. He has taken cases on an hourly fee basis, on a contingent basis (a percentage of the winning verdict), and hybrids of the two.
"The other problem that you run into is there is no requirement under Maryland law for a lawyer to have malpractice insurance," he says. "I finished a case three years ago, with a $400,000 case against an attorney who had no malpractice insurance, and then she turned around and filed bankruptcy and my client and I got absolutely nothing."
Deadlines to File a Legal Malpractice Claim
Maryland has a three-year statute of limitations for these suits. But when the clock starts to run can be difficult to determine.
"Most clients find out that there's been malpractice in one of two ways: A judge makes a comment from the bench that puts the client on notice that their attorney may have done something wrong; or, two, another attorney makes a comment that puts the client on notice. This can be the attorney on the other side, or the client is not happy, and discharges their attorney, and the subsequent attorney makes a comment," Engel says.
"These comments are critical because Maryland is a notice state for the statute of limitations. So the time that you knew, should have known, or reasonably suspected that your attorney had malpracticed or committed negligence, is when the statute of limitations starts to run. So it's not when it actually occurs, but when the client knew or should have known that it has occurred," he adds.
There are gray areas in the timing, too. If you repeatedly ask your attorney why it doesn't feel like you're doing better, and they give excuses, it could be argued that you should have known. Engel explains:
"There comes a point in time with the redundancy of these inquiries that you have to step outside of the box and take what's called the reasonable man standard. You have to look at the client and say, 'Had all this kept occurring to me, the reasonable man, would I have grown suspicious of my attorney?' So even though you have not heard anything that is clear and concrete, [things happen] that cause you to have raised some type of suspicion.
Once you have that suspicion, that tends to start the clock for the statute of limitations and you then have a duty to make inquiry. You can't just sit there and say, 'But my lawyer told me that it was all everybody else's fault.' The law says you can't just sit on your laurels. You need to actually mitigate your own damage. You have to advocate for yourself and you have to make reasonable inquiry."
This is why it's essential to seek reputable counsel early on, and possibly a malpractice attorney (malpractice lawyer). For more information on this area of law, see our overviews of professional liability and legal malpractice.
What do I do next?
Enter your location below to get connected with a qualified attorney today.
Attorney directory searches
Helpful links
Find top lawyers with confidence
The Super Lawyers patented selection process is peer influenced and research driven, selecting the top 5% of attorneys to the Super Lawyers lists each year. We know lawyers and make it easy to connect with them.
Find a lawyer near you