How COVID-19 Impacts Condo and Homeowners Associations
What they need to consider to comply with the ever-changing laws
By Trevor Kupfer | Last updated on January 27, 2023
Use these links to jump to different sections:
It's one thing for a rural or even suburban homeowner to stay inside and practice social distancing as part of the emergency order called for by government officials. It's entirely another when it relates to those in a condominium or apartment complex. Even more, owners, landlords and community associations have to react accordingly, providing essential services while also adapting to the hardships of their owners and tenants. And that hasn't been easy in the COVID-19 pandemic.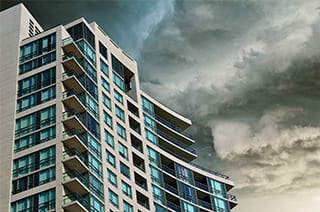 "I've been really busy," says
Kevin Hirzel
, an attorney who represents condo and homeowners associations at Hirzel Law firm in Farmington, Michigan. "We're trying to assist people with holding remote board meetings and postponing or cancelling annual meetings. We're rewriting a lot of building use rules to comply with emergency orders. We're sorting through the financial impact—and over the next few months it will have a major impact, with the rapid rise in unemployment—and how that impacts payment of condominium assessments, and trying to adapt collection policies so the association gets paid and can still provide services, while still being flexible." Here's an overview of Hirzel's current advice on each of these fronts. "Nearly all of these issues are changing on a daily basis," Hirzel adds. "I've never experienced anything like this—seeing how rapidly
the law
is changing."
Holding Compliant Meetings
Many community association boards can hold remote meetings. "It varies from state to state what the governing documents say, but in Michigan it's really simple to hold a board meeting remotely. You can do it by telephone conference or video conference. Any vote during a remote meeting will still count as valid board action. Email is a little different. Under our state statute, you need unanimous consent, so everyone on the board has to respond to an email or the action needs to be ratified at the next association meeting. "It's much more difficult to operate larger meetings remotely with all the owners, like annual meetings or special meetings, a lot of those are being adjourned, especially with larger associations. Some community associations can annual or special meetings online, though. You need to make sure there is a mechanism in place to verify who is participating—that they are who they say they are—and to allow two-way conversation. So long as everyone in the meeting can speak with each other, that can work. "We encourage muting people and using the hand-raising function so it's not chaos when a hundred people all try to talk at once. It has been a new experience for a lot of associations, so they've needed both practical and
legal advice
. "You still have to mail notice of a meeting, or have an owner consent to electronic, say, via email, if you plan on holding a remote meeting."
Social Distancing in Common Areas
"We have advised clients to close nonessential common areas that would be a hotbed for spreading germs—workout facilities, pools, playgrounds, and things of that nature. We've been helping our clients adopt building rules that limit the use of areas such as elevators, lobbies or a hallways to limit interaction between condominium unit owners. "We've also enacted rules that limit access to the building to essential workers—trying to limit social guests, and that sort of thing. With respect to deliveries, we have drafted rules on drop-offs outside the building to minimize the number of people coming inside. "We've advised condominium associations to increase cleaning measures, but also take note of anyone who appears symptomatic. If someone is diagnosed, we've encouraged them to confidentially report that to the association, so the association can then let occupants know that someone has been diagnosed and the steps the association is taking to protect the safety of all of the owners. However, we do not recommend disclosing the identify of any owner that has been diagnosed with coronavirus. "Our state banned short-term rentals yesterday, so you can't list or permit short-term rentals unless it's for a health care worker or volunteer that needs housing to help combat the virus. "Those are the main issues we're dealing with in terms of building use rules."
Amending Collections, Foreclosures, Liens and Other Financial Aspects
"A lot of people have lost their jobs, or now they're underemployed. We are telling our community associations to have collection policies, but that the collection policies need to account for the emergency orders issued by the governor. It's important for those who can pay assessments to do so, and do so on time, because community associations are nonprofits. They have very limited budgets, yet still need to provide essential services. "If someone is delinquent, we're urging them to contact their condominium association as soon as possible. Once the association has a better handle on delinquencies, they can adjust their budget if necessary. Community associations cannot waive assessments, though. Community associations can waive late fees or interest. Associations can also enter into payment plans, but written verification of lost employment or underemployment should be requested from the co-owner in order verify their inability to pay. It is imperative that associations continue recording liens, even if a payment plan is entered into, in order to protect the association's interests and avoid any issues with lien priority. "One of the things that we're hoping will be re-funded by Congress in the near future is the
Hardest Hit Fund
, which came out of the 2008 housing crisis and helped keep people in their homes. In Michigan, we have a program called
Michigan Step Forward
. If you meet certain requirements, you can apply for a loan of up to $30,000 to be used for mortgage, property taxes, or condominium assessments. We are trying to help condominium associations and co-owners with obtaining assistance, as this program is a win-win. "As for loan programs for associations, they may qualify for the
Small Business Administration Economic Injury Disaster Loans
. If a community association has been negatively impacted by the COVID-19 pandemic, we're encouraging them to apply for an EIDL loan. The board has a fiduciary duty to operate the association, they need money to do so, and they could potentially be sued if they don't provide services and repairs as they're legally obligated to. An SBA loan may be able to alleviate the financial burden on a community association and allow it to operate while the members of the community get back on their feet."
What do I do next?
Enter your location below to get connected with a qualified attorney today.
Additional Real Estate articles
Attorney directory searches
Helpful links
Find top lawyers with confidence
The Super Lawyers patented selection process is peer influenced and research driven, selecting the top 5% of attorneys to the Super Lawyers lists each year. We know lawyers and make it easy to connect with them.
Find a lawyer near you