How New York Landmarks Get Protections
Will the death knell ring for historic buildings?
By Jennifer Haupt | Last updated on February 8, 2021
Perhaps no city in the country resonates with more passion over historic preservation than New York. Two Columbus Circle, a post-WWII modernist building adjacent to Central Park, has become the poster child for the landmark preservation battle that has rung throughout New York City the past few years. Edward Durrell Stone designed the marble-clad, porthole-edged, concave building in 1964, and ever since New Yorkers have loved to hate it.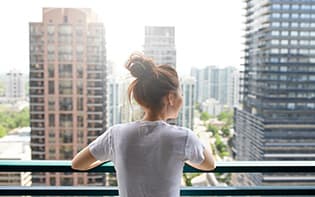 So, how did Two Columbus Circle develop staunch crusaders determined to preserve its original "charm"? To understand, one must begin with the refusal of the New York City Landmarks Preservation Commission (LPC) in 1996 to classify the building as a historic landmark. In June 2002, the city sold the building, which had been vacant for seven years, to the Museum of Arts and Design, which announced a plan to transform its new home inside and out. The goals were to let in more light and to convert the space into a usable public arena. The announcement raised the hackles of some historians and architects, and prompted concern about the decreasing amount of public input into LPC decisions.
At the heart of this controversy is the question of whether or not the building warrants a public hearing, which is a signal from the LPC that it is seriously considering designating a building a historic landmark.
"The public needs to understand that it takes a lot of work and resources to get a property to a public hearing," explains Meredith Kane, a real estate lawyer and a member of the prestigious American College of Real Estate Lawyers. Kane served on the LPC for nine years before retiring in fall 2004. "That's why, of all the hundreds of thousands of structures in the city of New York," she says, "the commission holds hearings on only those that have a high probability of being worthy of landmark status."
Kane, a partner with Paul, Weiss, Rifkind, Wharton & Garrison, says LPC commissioners, all of whom are historic-preservation experts, decide if a public hearing is warranted. If so, the commission discusses the fate of a building at a public hearing. LPC staff analyzes the building's architecture, history and current condition and presents the detailed analysis to the public, which votes on whether the building should, in fact, be given landmark status. If so, that building is immune to demolition and owners must seek permission from the LPC to make extensive change. Robert A.M. Stern, dean of the Yale School of Architecture, is at the forefront of those who oppose changes to the museum.
"You don't kill your old grandma just because of funny breath and bad teeth," he recently told CBS News. "And you don't tear buildings down because they don't exactly conform to who you are. That's the whole point."
When discussing the historic versus financial value of property in New York, where the average price of office space nears $500 per square foot — more than double the national average — it's not surprising that emotions run high on both sides of the issue.
"The landmarks process is a delicate compromise between change and preservation," says Morrison & Foerster partner Andrew Weiner. "A non-political agency should have ultimate responsibility as the gatekeeper for landmarks decisions. The best you can realistically ask is that the agency be informed and act in good faith, and the LPC does that, even though it inevitably reflects the assumptions of its members." Weiner is co-chair of Morrison & Foerster's Real Estate Group and chair of the Real Estate Group of Lex Mundi, an international association of independent law firms. "There will be hard decisions," he says. "New York is not a museum, and some buildings with arguable significance will be unprotected if not sufficiently unique or special. The challenge is to involve all other interested parties — historians, preservationists, community members and property owners — without making the process unmanageable."
Since City Council established the LPC in 1965, the commission has designated more than 1,100 individual landmarks and more than 22,000 properties in 81 historic districts. According to the Mayor's Management Report, this represents about 2.3 percent of the entire city of New York. "In some ways, the success of the LPC in preserving landmarks is also its problem," says Weiner. "The Commission is not just responsible for designation, but also for regulating renovations — and the burden of overseeing these thousands of properties is just overwhelming."
Over the past decade, an increasingly understaffed and underfunded LPC has had an increasingly difficult time handling the enlarged regulatory workload inherent in each new landmark designation. Bit by bit, public access to the LPC's decisions has eroded, making it hard to discern how, when, and on what basis the LPC makes its decisions. As a result, a participatory decision-making process has become an administrative maze.
Another wrinkle is the Landmarks Hearing bill, which purports to amend the city's administrative code to empower City Council to mandate LPC public designation hearings. The question is: Will such a move clarify the murky waters or simply add another layer of bureaucratic muck to the historic-designation issue?
"Real estate owners, including individual shareholders, are against the Landmarks Bill, taking those who are elected — City Council members—and giving them the ability to overturn decisions by those who have the technical background and are trained professionals," says Ross Moskowitz, a partner with Stroock & Stroock & Lavan, the law firm representing the Museum of Arts & Design in its efforts to refurbish Two Columbus Circle. Moskowitz is former vice president of the New York City Economic Development Corporation and a member of the City of New York Committee on Land Use Planning and Zoning. "The issues involved are much more complicated than simply whether or not a minority group has the right to lobby City Council and demand a public hearing on a specific building," he says. "If anything, it may be time to revisit the overall structure of the LPC, instead of just taking this one piece of its charter to focus on."
"Landmarks preservation laws, like zoning laws, should in the first instance be administered by an independent, expert agency," says Paul Selver, a partner with Kramer, Levin, Naftalis & Frankel and co-chair of the Land Use Department. "Knowledgeable and politically disinterested people are better able to apply rationally the broad and, arguably, subjective statutory standards governing whether to designate a historic landmark."
One thing is clear: The cacophony of contention still resonates throughout New York's majestic skyline.
What do I do next?
Enter your location below to get connected with a qualified attorney today.
Additional Real Estate articles
Related topics
Attorney directory searches
Find top lawyers with confidence
The Super Lawyers patented selection process is peer influenced and research driven, selecting the top 5% of attorneys to the Super Lawyers lists each year. We know lawyers and make it easy to connect with them.
Find a lawyer near you