Will Downtown Real Estate Bounce Back After COVID-19?
What real estate attorneys think the road ahead may look like
By Erik Lundegaard | Last updated on January 27, 2023
Use these links to jump to different sections:
Phillip N. Coover
, a real estate attorney and partner at Ice Miller in Chicago, did something he hadn't done for months: He got into his car and drove to the office.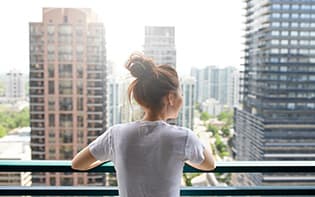 "I had to grab a document with an original signature for a closing on Monday," he says. "It was strange. One, I got to downtown Chicago in 19 minutes. It usually takes me 45. It was just very eerie. No one was around. … I'm just going by blocks and blocks of businesses that are not making money right now, and there's very few people in downtown Chicago on a Thursday morning at 10 a.m." In the first few months of the year, as the COVID-19 pandemic began to spread, people still traveled, plans were still made, hands were still shaken. As the number of confirmed cases ratcheted up, though, and the stock market plummeted, the handshake gave way to the fist bump, which gave way to the elbow bump. Spring events were postponed until the summer. The world was holding its breath but still moving forward. Until one day it wasn't. Coover remembers the exact day he'd last been in the office: March 12. That was the day after the Dow plunged 1,464 points, President Trump suspended all travel from Europe, and the NBA suspended its season. "It reminds me of something my father told me about recessions," says
Marc Glenn
, a real estate and lending attorney at Taylor English Duma in Atlanta. "He said, 'You get a sense they're coming, but then you turn around one day and it's almost like a switch had been flipped. One day you weren't in a recession and the next day you were.'" "March was a lot of shock and awe," adds
Lydia Chesnick
, an attorney at Bernkopf Goodman in Boston. "People grabbing their proverbial suitcases with their computers and trying to figure out how to set up remotely, if they hadn't historically done that; how to keep their business going when everything they were familiar with, all the rules, suddenly seemed to change." For
Joshua Stein
, a real estate attorney with an eponymous firm in midtown Manhattan, the day he grabbed his proverbial suitcase and left the city was March 17. "It felt like I was fleeing something very bad that was going to happen," he says. New York was particularly hit hard. The day Stein left, 425 new cases of COVID-19 were reported in the state; a week later it was over 4,800. By early April, 10,000 cases were being confirmed per day. From his country home, Stein kept practicing law, but business was down and he had to lay off two assistants. And whenever he returned to the city, he experienced the same sense of unease as Coover. "You're there in rush hour, but nobody's there," he says. "It's like Sunday morning." As financially struggling businesses strived to reopen, so much remained unknown. How bad would it get? How long before a vaccine could be developed? Could a vaccine be developed?" And then there's this: Is that eerie vision of a deserted downtown areas simply an anomaly of the pandemic? Or is it the shape of things to come even post-pandemic?
Time in a Bottle
Throughout spring, as stay-at-home orders were issued from county to county and state to state, many companies shifted to remote work and the economy contracted in unprecedented fashion, real estate attorneys fielded urgent questions from clients: tenants, landlords, and lenders in the commercial office and retail markets. Many of their concerns had to do with time.
"The number one question is usually, 'Can we get more time?': more time to close the deal, more time on due diligence, more time to finalize the contracts, more time to finalize the lease," says Coover.
"Landlords want to know if their tenants are going to stop paying rent," says Nicholas P. Scavone Jr., with Bodman PLC in Detroit. "Tenants want to know if they can stop paying rent. Clients who are selling real estate want to know what it means if someone has to back out of a deal they've already entered into."
Stein uses the phrase "streams of cash" to describe the normal flow of money from tenant to landlord to lender. The popular perception during this crisis, he says, is that any of these stops can handle long periods of forbearance. Stein disputes this.
Tenants? "[They] often don't have cash reserves," he says. "The money that comes in today goes out tomorrow to pay operating expenses, and if they're lucky, there's a couple of bucks left over at the end of the month."
Landlords? "The profit margins on a lot of New York City real estate are pretty thin," Stein adds. "You get a dollar in, and you immediately pay around a third of that to the city government in the form of property tax. …  You've got payroll. You've got insurance. You've got repairs. You've got water and sewer bills, and then you've also got other expenses. The big one is your mortgage."
Surely, then, lenders could hold off for a while? "The problem there is many lenders are also borrowers," Stein says. "Those loans, the commercial loans on apartment buildings and shopping centers, are financed as well—a lot of them. Maybe they're pledged to other lenders. Maybe they're put into packages of loans that are supposed to spew out monthly payments to the people who hold bonds. In either of those cases, there's nobody just sitting on pots of money. It's borrowed. It's based on the assumption that there's streams of cash: One person gets one stream of cash and they pay another stream of cash. All that is being interrupted."
Early on, Glenn fielded many questions about the federal government's Paycheck Protection Program, implemented in early April to help small businesses cover expenses. Leases were looked over; some loopholes were found that allowed tenants to vacate without liability. Force majeure clauses were on everybody's mind, but Stein is doubtful if even a positive interpretation would have much impact under the current circumstances.
"You can read a thousand leases," he says, "and you're going to find maybe 800 of them have a force majeure clause. And of those, 799 say: 'The force majeure clause does not apply to the payment of money.'"
Even so, despite the economy contracting and "streams of cash" no longer flowing, foreclosures and evictions weren't exactly happening—and for good reason. Most states issued months-long moratoria on evictions for both residential and commercial tenants. And even when moratoria weren't issued, as in Georgia, the courts themselves were closed to non-essential matters. And even if litigants were allowed to proceed on matters via court teleconferencing, on-site inspections were, to say the least, problematic.
"A lot of transactions," says Glenn, "require on-site due diligence: multi-family, going door-to-door; or retail, going store-to-store; or getting a surveyor or environmental engineers out there. Those types of things have certainly been more difficult and require more lead time—to the extent you can even do them now."
Glenn feels there's another reason why evictions were on hold in states that still allowed them. "This is one of the few times where everybody is somewhat suffering from the same thing," he says. "So you're not going to, say, kick out a restaurant—or from a lender's standpoint foreclose on a retailer—because everyone's in the same boat. Which is different than other financial crises. It's not like you have an immediate replacement coming. So there's been a lot of momentum toward, 'Let's get us to the fall and see what happens when things reopen more fully; then let's take stock.'"
All of which, to Coover, means the bigger picture is being obscured. "You can't tell right now what businesses are partially closed and are working with their landlord," he says. "You can't tell what landlords are not able to pay their lenders, who don't have the ability to go to court right now. … A lot of deals aren't happening because there's a gap between what the sellers still think their property is worth and what buyers think the property is worth. And until vacancies hit, until foreclosures hit, until the properties become distressed, then we won't see the comparables lower, then the prices will go down."
Stein is blunt: "It's going to hurt."
Change to the Real Estate Market
Almost from the beginning of the pandemic, people have talked about how things might look on the other side.
At the moment, Scavone isn't optimistic about retail space. "I'm only talking anecdotally now," he says, "but I never had bought toothpaste online before. I just went to the local pharmacy and bought the toothpaste. I don't know that I'll ever go back and buy toothpaste again other than just click a button and it arrives in three days. And the same is true of so many other things. That's certainly the concern I have [with retail]."
Some of Chesnick's clients include the businesses hardest hit by the pandemic: the hospitality and restaurant industries, whose profit margins were already thin, and were obviously much worse under the fractional occupancy rates mandated during the reopen. But she's not pessimistic. "I'm really committed to helping people and their businesses navigate through this and strategizing next steps," she says.
The words she keeps returning to are nimble and pivot. Businesses need both. An example of a pivot, she says, is "when you see restaurants including grocery items in their takeout because they're being responsive to what people need in the here and now."
She's applying the same principles to her own practice. "A significant part of my practice is representing commercial real estate owners and the need to look at each case very holistically," she says. "What we do with clients is we look to see what the likelihood of tenant survival is, and under what circumstances, and try to customize the relief to have the most optimal success rate."
Stein says he tends to be an optimist as well, and though he anticipates a lot of vacancies in the retail space, with rents going down, there may be a potential upside. "New York City used to be full of weird and quirky stores: a violin repair person, a bookbinder, somebody who specializes in old classical records. You don't have those people anymore because the rents are too high. So maybe, with lot of vacant space, the rents will drop to a point where you can have those quirky stores again. I don't know."
On the commercial office side, meanwhile, a key question is whether the mid-March scramble to work from home worked too well. Many businesses were able to continue, and some thrive, with close to 100% of their workforce providing its own workspace, and paying for its own heat, electricity and coffee. Won't some businesses, on the other side of the pandemic, simply decide to forgo the overhead of commercial office space?"
"I don't think there's any question," says Scavone. "I work in downtown Detroit and I live in a suburb of Detroit, and I've been driving downtown every day 40 minutes each way—80 minutes a day. And I now work from home with systems that are absolutely as good as what I had in my office."
"This is a forced test, isn't it?" says Chesnick. "You'll see where the weaknesses are and where the strengths are. The pandemic forces everybody to look at things through a whole different lens. So I think some industries will clearly reevaluate their space needs. Do they need to be in expensive urban centers? Can they be in more suburban or outlying areas? Can they still attract the right people? Certain businesses will always require collaboration and facetime while other industries may flourish in a more remote setting. Many things are going to change."
Glenn had always liked the physical separation between home and office, but the forced test of the pandemic has opened his eyes. "I have enjoyed being able to see my family at lunch, and I have been a lot more productive than I thought I would be," he says. "So, for someone like me, does this mean I won't be going into the office? No. But instead of being there five days a week, could I see myself working from home two days a week? If you had asked me this six months ago, I would have said, 'Absolutely not.' If you ask me this today, I would say, 'Absolutely.'"
People Who Need People
At the same time, most of the attorneys think talk of the death of office buildings has been greatly exaggerated. If everything is currently working well, they say, it's partly because office workers already know each other. They have a sense of each other's personalities. They've all been trained in whatever systems operate within the company.
"But I think it's going to be a real challenge to bring in new colleagues and acclimate them to new systems without being in an office environment," says Coover. "Are you going to feel like a part of the team? I think that ability to work remote will start to erode at some point—as people drop off and they try to bring in new people."
"For our firm," says Chesnick, "we do vast amounts of work in a very collaborative environment. … Everyone really enjoys working as a team and interpersonal interaction. And we plan to restore that as soon as possible. But I do think industries are going to evaluate: 'How much space do I really need?'"
"What makes it easy now is nobody expects in-person meetings," says Stein. "So the fact that I can't meet somebody at, say, 50th and Park, is not a problem. But once people start doing that again, if I'm here in the country enjoying the birdies and the trees and somebody wants to have a meeting at 50th and Park, that's sort of difficult.
"Maybe I'll figure out I do need to have some presence in the city. Do I still need to have a regular office with everybody sitting there every day? I don't know. But I do like having everybody sitting in the office every day. I miss it."
What do I do next?
Enter your location below to get connected with a qualified attorney today.
State Real Estate articles
Related topics
Attorney directory searches
Helpful links
Find top lawyers with confidence
The Super Lawyers patented selection process is peer influenced and research driven, selecting the top 5% of attorneys to the Super Lawyers lists each year. We know lawyers and make it easy to connect with them.
Find a lawyer near you