Should I Register My Trademark?
It's not required, but there are advantages
By Judy Malmon, J.D. | Last updated on May 10, 2022
Use these links to jump to different sections:
A trademark is a distinctive symbol, image, words, design or combination thereof that represents a company's brand or product. A trademark must be unique in order to be subject to ownership and to connect with the identity of a particular brand. Under common law, you can establish your rights to a trademark simply by using a logo, name or phrase connecting to your brand. However, this right will only extend within the geographic area where your business operates. If you do business online, or plan to eventually expand beyond your region, nationwide trademark protection requires that you register it with the U.S. Patent and Trademark Office (PTO).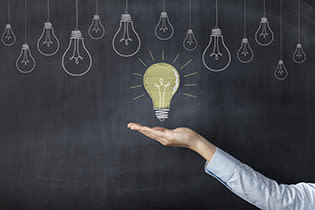 "If you have a trademark that's not registered, you have rights when you use the mark, but if you apply to register it before anyone else uses and/or applies to register it, you have rights throughout the United States," says Rob Hassett, an intellectual property attorney with Hassett Law Group in Atlanta.
Registering your trademark provides three primary benefits:
It serves as notice on a nationwide basis of your use and ownership of the trademark
It affords you a claim for infringement in federal court against others using a similar mark
After five years, a registered mark becomes "uncontestable," and its use is exclusive
In addition, having a registered trademark can help to establish the strength of your business in the eyes of potential investors.
Filling Out a Trademark Application for a Business Name
When you file for registration, your trademark will be assessed for its distinctiveness, based generally on four categories:
Generic: generic terms and common descriptions may not be trademarked, but may be used freely by anyone. Occasionally, words that began as trademarks can be so frequently used as to become generic, such as "popsicle" or "Kleenex."
Descriptive: words that simply describe a product will not be granted trademark protection unless it can be shown they have become associated with that brand over time.
Suggestive: words or images creating an implication about the product by association can be a strong basis for a trademark. A commonly cited example of a mark requiring the consumer to use some imagination is "Coppertone," which suggests, but does not describe, suntan lotion. The line between descriptive and suggestive marks can be somewhat fuzzy.
Arbitrary or fanciful: words that have meanings distinct from their use in a trademark context or that are completely made up have the strongest trademark protection. For example, an arbitrary use would be "Apple" computers (apples have nothing to do with computers). "Kodak" is fanciful (not a word).
When you select a trademark, making it unique can go a long way. "If you pick a mark that's generic—like 'cars' for a car dealership—you can never earn the rights for that mark," Hassett says. "If you pick a mark that's descriptive—like 'good cars'—you can earn rights only by using it long enough to make the public know about it and associate it with your goods and services. But if anyone used it before you made it distinctive, they're grandfathered in and can continue to use it. So you end up with a mark that's not very helpful. Think of all the vitamins that are called 'natural this' or 'natural that.' Can you think of a more worthless mark? Fanciful are the easiest to protect."
The Registration Process If Your Trademark Fining is Denied
If your trademark is rejected for registration, usually this is either because it's descriptive, or it's confusingly similar to another registered or unregistered trademark. You can increase your chances of having your mark approved by conducting a search of the USPTO trademark database prior to submitting your application. Rejection of your registration doesn't mean you can't use your mark. It would still be entitled to the basic common law protection, just not the added protections of registration.
While specificity and uniqueness can help your trademark, Hassett recommends caution with logos or drawings. "The drawback is, if you register a design mark and that changes, you'll lose your registration when it comes up for renewal. You'll have to file a new one all over again," he says. "I try to ask my clients not to be tied to designs unless they need to for strategic reasons."
State Laws and Legal Advice
While trademark protection is primarily based in federal law, states have their own trademark registration systems. There may also be additional claims under state unfair competition laws, such as misappropriation.
"It takes something like four weeks to register a mark in Georgia, where in the U.S. Patent and Trademark Office it can take 10 months or more. It's much better to have a federal registration, but a state registration can give you some advantages. For instance, complying with business opportunity laws is much easier in Georgia if you have a registered mark. … A state registration doesn't give you rights by itself—the only thing that does is applying to register for it [federally] or using it—but it can be beneficial."
For help with establishing and enforcing your trademark rights, talk to a trademark attorney. Hassett likens the process to doing your own taxes. "You're probably not going to get it all right, but you might get enough right. There are a lot of rules and strategies that go into this."
If you'd like more general information about this area of the law, see our trademark law overview or contact a law firm.
What do I do next?
Enter your location below to get connected with a qualified attorney today.
Additional Trademarks articles
Related topics
Attorney directory searches
Helpful links
Find top lawyers with confidence
The Super Lawyers patented selection process is peer influenced and research driven, selecting the top 5% of attorneys to the Super Lawyers lists each year. We know lawyers and make it easy to connect with them.
Find a lawyer near you