When the Feds Overstep Your Privacy
It might be because more data is open to government scrutiny, but opponents say some should be off-limits
By Susan Ladika | Last updated on June 29, 2022
Use these links to jump to different sections:
When the federal government decided to find out what Americans surf for on the internet, Microsoft turned over the search request records the feds wanted. So did Yahoo and AOL. But Google dug in its heels and decided the federal government was overstepping.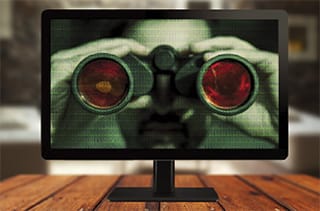 Albert Gidari, a partner with Perkins Coie's Seattle office, helped Google state its case, complaining to a federal judge that search requests often contain personal private information. The Bush administration wanted to use the data in a study on children's access to online pornography.
The judge said Google did not have to turn over the search queries but did order the world's most popular search engine to produce a sample of Web addresses it has found for users. The other three search engines maintained they were able to protect customers' privacy.
"The general feeling [among clients]," says Gidari, "is that the interpretation of surveillance laws that we thought the government adhered to is maybe outdated and twisted in the hands of government today."
Although Google and other Internet companies are willing to help the government fight issues such as child pornography, Gidari says, skepticism exists over whether that's all the government officials will do with the information—and whether they will also be on the lookout for searches on controversial political issues.
The Patriot Act
Privacy and civil liberties are a hot topic these days, with the pros and cons of the USA Patriot Act and other privacy issues being debated everywhere from op-ed pages to coffee shops.
The Patriot Act, passed by congress and the senate in the weeks after 9/11, grants the government more powers in the fight against terrorism, meaning everything from medical records to bank accounts to library searches to telephone numbers and conversations is subject to official scrutiny. The act was renewed, with a few curbs, in March.
Some of the provisions clash with Washington state's privacy laws. Federal law, however, trumps state law.
"Our state [has] always held privacy as a very important right in our Constitution. It gives more rights than in the federal Constitution," says Anne Bremner, a partner in the Seattle law firm of Stafford Frey Cooper who often represents law-enforcement agencies. In Washington state, it's unlawful to intercept or record private communications using an electronic device unless all parties consent.
In a case involving a Friday Harbor purse-snatching, the law prompted the December 2004 reversal of a robbery conviction because a woman identified the defendant after listening in on her daughter's phone conversation.
"The purpose [of the Patriot Act] is laudable," says Bremner. "But in balancing it against the rights of individuals, they have to be very careful in its execution."
With the Patriot Act in place, provisions that once applied only to those suspected of spying for a foreign power can now be directed toward domestic suspects as well, says Amanda Lee, a criminal defense attorney with the Seattle firm of Schroeter, Goldmark & Bender who has worked with clients accused of terrorism-related crimes.
Simply being a friend, business associate or relative of a suspected terrorist—even if you are unaware of the suspicions about that person — means "the FBI can use their tools to look at your phone records, your business records, your financial records, your Internet records … and it's all invisible to you," Lee says.
The Foreign Intelligence Surveillance Act, approved in 1978, allows a federal court to approve spying on people—without proof of probable cause—as long as the main purpose is to gather international intelligence, not to prosecute someone for a crime.
"In the whole history of the [federal] court, virtually no requests have been denied and very few have been modified by the court," notes Lee. And now, the information-gathering can be broader.
To Gidari, the battles over privacy of electronic communications are of greater concern than the Patriot Act itself: "Much of what was in the Patriot Act already existed. In my opinion [the law] really cleaned up a lot of technical ambiguities."
But to Lee, the Patriot Act is troubling: "There's plenty of history to suggest that these kinds of powers will be abused. It has nothing to do with the politics of those who have these powers. They overstep." She warns, "You never lose your Constitutional rights overnight. It's a creeping process."
What do I do next?
Enter your location below to get connected with a qualified attorney today.
Attorney directory searches
Find top lawyers with confidence
The Super Lawyers patented selection process is peer influenced and research driven, selecting the top 5% of attorneys to the Super Lawyers lists each year. We know lawyers and make it easy to connect with them.
Find a lawyer near you