Doctor Selection is Why You Need a Workers' Comp Attorney
Workers' compensation lawyers can prevent your employer from short-changing you on medical benefits
By Trevor Kupfer | Last updated on January 29, 2023
Use these links to jump to different sections:
but
straightforward. The system inherently gives the employer and insurer power to determine the best course of action for the worker's future and, sometimes, they may choose to protect a bottom line rather than that worker. This, according to Atlanta workers' comp attorney
Sarah E. Stottlemyer
, is the biggest reason to consult a lawyer on a workers' compensation claim. "Medical treatment and the panel are the most important things in the workers' comp system," she says. "That determines whether you're in or out of work, whether you're getting appropriate treatment, and what your permanent impairment rating is. It's huge."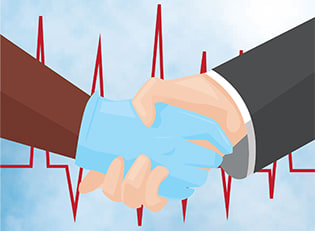 Your Treating Doctor: The Panel
State law dictates that employers must post a list of treating physicians, referred to as the panel. "Usually it is explained in orientation or an orientation packet that, when you're hurt at work, this is what you choose a doctor off of," Stottlemyer says. "If you have a smart HR person, they ask [an injured worker] to initial their selection and circle it, then they photocopy it and keep it." By law, the employer needs a minimum of six medical providers for that list to be considered valid. "The panel is the most important thing an attorney can help you with," Stottlemyer says, "because we know all the doctors, and if they're infamously employer-insurer friendly or if they'll give you a fair shake." If it's a valid panel, you are therefore restricted to those six doctors, however the physician you choose can refer you to someone
not
on that panel—say, a specialist. You're also entitled to once change from the panel doctor you first visited to another on that same panel. "But if you've already went to one panel physician and they were terrible, I would advise
calling an attorney
as fast as possible," Stottlemyer says. A workers' compensation attorney may be able to give you freedom to choose your own doctor. That is, if they can challenge the validity of the panel.
Challenging the Panel
Invalidated panels do happen, Stottlemyer says, and can be as simple as one of the doctors retiring—thus making the list of six physicians actually five. Similarly, if a doctor moves to another state or no longer handles workers' comp cases, that panel can be invalidated. "The attorneys and staff immediately get to working on the panel," Stottlemyer says of when she takes a case. "We can also make the argument that they didn't show the panel to the worker, and just sent them to one of the industrial clinics. Sometimes they don't post it in, say, the break room, but it just sits in a desk drawer. All of those things would get you around the panel." When you get a work-related injury, Stottlemyer recommends taking a picture of the panel list—or asking a coworker to do so. "Because sometimes I'll ask the adjuster to send me the panel that was posted, and they'll send me one that is totally different from my client's." She goes further to say documenting
everything
is the best tip, since it can only help your case. Another way to get power over doctor selection is if you have received income benefits within the past 120 days. You are entitled to an independent medical evaluation by a doctor of your choosing and paid for by the employer-insurer.
When All Else Fails?
If you can't successfully challenge the panel and are convinced the employer-insurer's doctor is short-changing you on benefits, there is still one option. "You can usually settle your case and put treatment on your health insurance, if you have it," Stottlemyer says. "But it depends if the insurance company is going to pay fair value in order for you to get out of it. I always tell my clients, 'You don't
have
to settle. Nothing is going to change between today and tomorrow if we go to a mediation and it doesn't settle—if they don't offer a fair amount. But it gives you the possibility of getting out to where you can take back control of your own medical treatment.'" Receiving a bulk-sum settlement is sometimes your best-case scenario. "If I have a client who requires surgery, we can fight over it for a year—which is what it would take in court. And if someone is surgical, I'm not going to settle their case until they have the surgery, because I want to make sure nothing goes awry after," she says. "But if they say, 'I can't wait a year. I have no income coming in,' I'll say, 'Alright, we can discuss settling it and put it on your health insurance.' "A lot of things can happen. A back injury could lead to a knee injury later because of, say, an altered gait." Georgia used to provide lifetime medical treatment as a result of a workers' comp injury, but now it is restricted to 400 weeks from the date of the incident. So if a knee injury requires surgery that 10 years from now will more than likely require a knee replacement, you're out of luck. "Insurance companies are usually willing to settle, so it just becomes about the appropriate value of the case. If I get a medical opinion that you'll need that replacement in two years instead of 10, they'll say, 'That might happen. That might not.' So then they may pay 50 cents on the dollar." There are some cases where an employee moves through the workers' comp system efficiently and they're happy with the doctor's recommendations, Stottlemyer says. But for others, it's simple: "If you're in a situation where you don't like your panel doctor, you don't feel like they're taking your interests into account, then you need to
call an attorney
." If you'd like to know more about this area, read our
workers' compensation law overview
.
What do I do next?
Enter your location below to get connected with a qualified attorney today.
Additional Workers' Compensation articles
Attorney directory searches
Helpful links
Find top lawyers with confidence
The Super Lawyers patented selection process is peer influenced and research driven, selecting the top 5% of attorneys to the Super Lawyers lists each year. We know lawyers and make it easy to connect with them.
Find a lawyer near you