A System Set Up Against You
Ever-changing workers' comp laws make it hard for employees to go it alone
By Trevor Kupfer | Last updated on November 8, 2022
In the early days of Missouri's workers' compensation laws, employers were tasked with furnishing compensation, irrespective of negligence, for the injury of an employee in an "accident arising out of or in the scope of his employment." Nowadays, the statute reads, "An injury by accident is compensable only if the accident was the prevailing factor in causing both the resulting medical condition and disability."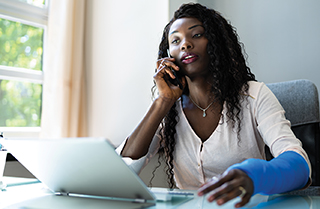 Explains Nancy R. Mogab, a workers' compensation lawyer at Curtis, Heinz, Garrett & O'Keefe in St. Louis: "Let's say you're walking, you fall, and they ask, 'What happened?' If you say, 'I don't know, I just fell,' that may not be compensable by the courts at this point—unless you said, 'It was these boots I have to wear and the grease that's on the floor that caused me to fall.'"
Worse, Mogab says, is that the statute is complicated, constantly changed, and its current incarnation is largely against employees. "There are even some insurance companies that don't want to come to Missouri because the statute changes so often there's no predictability," she says.
In the early days, when a worker needed advice, they could turn to an adviser at the Department of Labor, or an administrative law judge. Now, judges are barred from doing so, and those advisers are gone. An attorney is your only option. The good news is that workers' comp lawyers commonly give free advice, and, if you hire one, take a maximum of 25% of your settlement—after you've received all medical benefits—at the conclusion of your case.
"People think they want to save money, but in the long run, they don't know what they're missing when they don't call a lawyer," Mogab says. "The initial interview is free for most lawyers, and it's worth taking the time to call because it can get very complicated—way more than it should be, really."
Companies with more than five employees are required by Missouri law to carry workers' comp insurance, meaning the employer insures for protection and provides limited benefits for injuries that occur during work. "In exchange, the employee gives up their right to sue for negligent acts that may have caused that injury," Mogab says.
If you're injured, you should report it to your employer as soon as possible, and they in turn should advise you to seek medical care. "The employer gets to choose [where you go], which is really the insurance company directing you to a specific doctor," says R. Scott Pecher, a workers' compensation attorney at Miller Stilwell in Eureka. "Most ordinary cases are getting sent to doctors who do lots of work for these folks, so they're pretty conservative."
If you believe your employer, their insurance, or the chosen doctor isn't doing what's in your best interest, Pecher suggests reaching out to a lawyer. This is especially true if a claim or payment is delayed or denied. "Or, if you get sent to a doctor and they release you from treatment when you're not feeling 100% … call someone," he says.
During that first call or meeting, an attorney commonly asks the circumstances surrounding your injury, what has been communicated, and the steps that have been taken by the employer, insurance company, and doctor. They will then address what you can expect moving forward.
"Whether you want to retain a lawyer or not, at least you know what your protections are, what your rights are, and what your employer is supposed to do," says Pecher.
The attorney's job is to make sure you get the medical attention you need, the temporary and permanent benefits you're entitled to and, ultimately, "the fair value for your injury and how it's going to affect you down the road," he adds.
At the end of your workers' compensation case, you may get a disability settlement or award. This is typically when the lawyer, if you chose to hire one, would get paid. If you're not happy with the work the lawyer has done, says Mogab, and feel you should get the full amount, you can challenge it in front of a judge.
"There's a lot to think about, and on top of it all is the fact that people are really not feeling too well," she adds. "When you have an injury, dealing with all this is new and you're at risk."
"If an insurance company and the employer are treating the injured worker in the way you'd expect to be treated, most people aren't going to go to a lawyer," adds Pecher. "It's when they start making decisions not in the best interest of the injured employee—quite frankly, that's when people start calling lawyers."
To learn more about this area of law, see our overview on workers' compensation.
What do I do next?
Enter your location below to get connected with a qualified attorney today.
Attorney directory searches
Helpful links
Find top lawyers with confidence
The Super Lawyers patented selection process is peer influenced and research driven, selecting the top 5% of attorneys to the Super Lawyers lists each year. We know lawyers and make it easy to connect with them.
Find a lawyer near you