The New Office
Are work-from-home employees entitled to the same benefits that on-site workers are?
By Amy White | Last updated on May 2, 2022
Use these links to jump to different sections:
T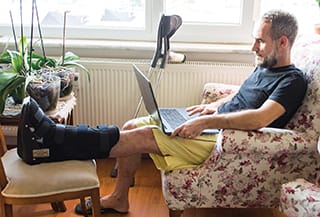 here's not much the pandemic hasn't disrupted over the past two years, but when it comes to U.S. workers, how and where they do their job is likely their biggest daily reminder of a world turned upside down.
According to a Pew Research Survey from December 2020, surveyed workers answered that pre-pandemic, they never or rarely worked from home. However, due the pandemic, 71 percent of those same workers were sent home to work as their offices shuttered. 
With such a large contingent of U.S. workers now at home, what happens if they get injured while working? Are work-from-home employees entitled to the same workers' compensation policies that on-site workers are?
Do Workers' Compensation Benefits Extend to Remote Work?
Jose Perez, who helms The Law Offices of Jose Perez in Syracuse, says yes, protections do extend to work-from-home employees when they are on the clock. Perez, who just litigated a case for a remote worker, is awaiting the judge's decision in the matter, which centers on an injury Perez' client says he developed after working in a chair in his home office. 
"The same way an employer provides for employees in the office—a desk, desk chair; or, in the case of many of my migrant worker clients, a trailer or other reasonable accommodation—an employer also has to ensure not only that the home office adequately accommodates the employee, but also that the space would not risk any sort of exposure or liability, even though it is the employee's home."
In his case, Perez says, the employer did not provide a chair for the worker's new home office. "When the chair is not good and you're sitting in it for eight to nine hours, you don't have the resources to purchase a new one and the employer refuses to provide one, that's a problem," Perez says. "The employer and the insurance company both objected to the claim, but we believe it has merit."
If you are a remote employee who has not been provided adequate office equipment to transition to your new workspace and it's causing an issue, "notification is key," Perez says.
What About a Work-Related Injury?
"For any workers' compensation injury, which fall in two categories—a physical injury, like you fell and fractured a bone or other injury; or an acquired occupational disease, like the onset of carpal tunnel after a repeated workplace task—having something on record from the start is critical," he says. 
If, for example, you are doing a repeated workplace task that gives you pain at the end of the day, and instead of alerting your manager you just take pain medication, Perez says you could be harming a potential future claim.
"Many workers think they can't go to their manager and say, 'I have shoulder pain' or 'I have back pain,'" Perez says. "But if that becomes an occupational claim, and you never said anything, the claim will likely be opposed by the employer and insurance company. So it's really important to have at least an incident report on file in the event a claim is filed."
When it comes to potential physical injuries for a work-from-home employee, things can be less cut and dry. Say a work-from-home employee is doing something within the normal scope of their workday—taking a bathroom break, for example—and they trip on the way and become injured. Such an injury, Perez says, is more difficult to prove for the at-home employee because it's likely there were no witnesses present to corroborate the story and describe the conditions. 
His best advice? Contact a lawyer. 
"It's important to not only understand that every part of the body has value," Perez says, "but also that you have rights. Far too many workers don't know those rights. I don't care if you don't speak English, if you're undocumented or if you came from the moon—if you're a worker, you have rights."
If you have questions about your rights as a worker, read our overview of workers' compensation law, otherwise an Upstate New York workers' compensation lawyer is a good place to start for legal advice. 
What do I do next?
Enter your location below to get connected with a qualified attorney today.
Additional Workers' Compensation articles
Attorney directory searches
Find top lawyers with confidence
The Super Lawyers patented selection process is peer influenced and research driven, selecting the top 5% of attorneys to the Super Lawyers lists each year. We know lawyers and make it easy to connect with them.
Find a lawyer near you