Anniversary Collection for
Mark M. Dumler
100%
Satisfaction
Guarantee
on all merchandise.*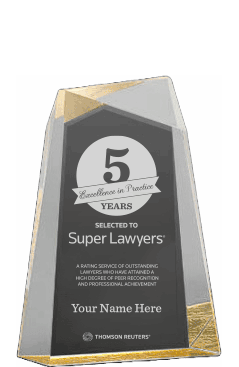 Anniversary - Acrylic
Highlight 5, 10, 15, 20, 25 or 30 years of selection to a Super Lawyers list with this gold-faceted acrylic award. The Super Lawyers logo and your name are placed prominently on the front.
Material: Acrylic
Dimensions: 5-Year: 7" Tall; 10-Year: 8" Tall; 15-Year or more: 9" Tall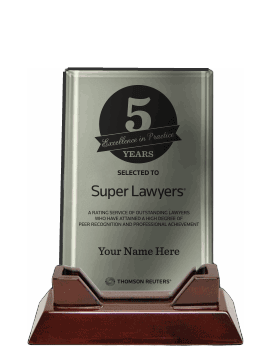 Anniversary - Crystal
Looking for another way to commemorate being selected to a Super Lawyers list for 5, 10, 15, 20, 25 or 30 years? This crystal award with an accompanying holder prominently places your name and the Super Lawyers logo on the front of the award.
Material: Crystal
Dimensions: 5-Year: 7.75" Tall; 10-Year: 9" Tall; 15-Year or more: 10" Tall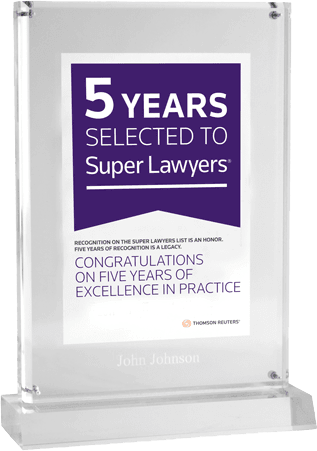 Anniversary Desktop Marquee
This marquee serves as a perfect desk or bookcase display. It frames your multiple years of selection in a brilliant Lucite enclosure. The beveled edges and sleek pedestal design make it a great way to preserve your accomplishment for years to come. Each anniversary year option is a different color. Name will appear in black color text.
Material: Acrylic
Dimensions: 6" W x 9" H
Anniversary Recognition Plaque
Celebrate multiple years of recognition to a Super Lawyers list in style. This hardwood plaque is available with your choice of background and trim. Each plaque comes with a custom nameplate. Keyhole slot mounting on the back.
Material: Wood
Dimensions: 11.75" W x 14.25" H
Thickness: 3/4 inch
All products subject to availability.
Logo placement and color may vary.
All merchandise items may take 6-8 weeks for delivery.
100% Satisfaction Guarantee
If you are not completely satisfied with your Super Lawyers merchandise, return it to us within 60 days of receipt (in original packaging if possible). Once we receive your return, we will refund the full purchase price. You will pay only the cost of shipping the return.
This guarantee only applies to the following Super Lawyers merchandise: selection & anniversary collections (plaques, decals), apparel, barware, business accessories, sporting goods, magazines, and reprints. It does not apply to Super Lawyers online directory profiles, TopSpots, Spotlights, or Ask Super Lawyers.
---