An Overview on Elder Law
A starting point for planning for the future
on February 10, 2020
Updated on March 30, 2020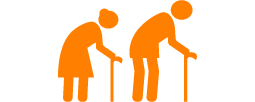 Caring for an aging loved one can be stressful, rewarding and, at times, confusing. The process can raise many questions, like: Who will make medical decisions for your loved one when they can't? What will happen to their assets when they die? How do you know if they are being neglected? The following overview is designed to give you a starting point if you or your loved one would like help planning for the future.
Overview
Elder law is defined less by the types of laws it concerns and more by the type of person it helps—here, being aging adults. Of special concern to you, your caregiver or your aging loved one might be long-term care decisions, end of life plans and how to recognize elder abuse.
Elder Care
Assisting living facilities or nursing homes that accept Medicaid or Medicare payments fall under the Nursing Home Reform Act, which requires assisted living facilities to assess each resident's needs and ensure there is enough staff to meet needs and carry out comprehensive care plans. Nursing homes should also keep and maintain accurate medical records and allow random inspections—including resident interviews. Above all, homes should maintain a resident's dignity and respect.
The law also gives residents the right to be free from abuse, mistreatment, neglect or physical restraint. Nursing homes should respect residents' right to privacy and allow them to communicate freely, maintaining social connections with friends and family members. Residents should be allowed to make decisions about their care and voice grievances without fear of repercussion.
End of Life Planning
Estate law is relevant for everyone, but it is especially important for those that are approaching the ends of their lives. When you create your will, you should consider including plans for incapacity, directions for trustees or executors for your estate, and funeral arrangements. You might also want to consider creating advance health care directives so that your health care wishes will be followed.
Living will
A living will is a common advance directive that lets you have a say in your health care, even if you are too sick to make your wishes known. This document can make hard decisions easier for your family by stating what kind of care you do—and do not—want.
Power of attorney
This is a legal document that lets you name a person who will make legal decisions for you. You can also create a power of attorney for your health care needs, in which you name someone who will make medical decisions on your behalf. During this process, you will need to decide between a general power of attorney and a durable power of attorney. A general power of attorney will end if you are unable to make your own decisions, but a durable power of attorney will remain in place. 
Once you have created your estate plan, you may want to consider telling a trusted friend or family member where to find the documents at a future date. This will ensure that your wishes are followed and that your family is taken care of. You can follow this link for more information about estate planning in general.
Elder Abuse
As adults age they become less able to care for themselves and more susceptible to elder abuse. Abuse can occur in families or in long-term care facilities, and commonly takes the form of neglect or financial exploitation. Caregivers and family members should be on the lookout for signs of abuse, and elderly people should take steps to protect themselves from future incidents.
Neglect
Neglect is the most common form of elder abuse. It involves the failure to fulfill a caretaking obligation. Sometimes the failure is intentional, but it can also come from ignorance towards the level of care that a person needs. Warning signs of neglect include dehydration, unusual weight loss, untreated physical problems and unsanitary living conditions. Caretakers should also be aware of self-neglect, which is when older adults refuse to seek help, often because they are ashamed or worry about losing their independence. Elders should make sure to keep in touch with family members to avoid becoming isolated, as well as to speak up if they are unhappy with their care.
Financial exploitation
This is the unauthorized use of a person's funds or property. Elderly people can be victims of financial abuse by a caregiver or by a scammer. Exploitative caregivers might forge a signature or misuse a financial account. Even caregivers who have been given access to the elderly individual's finances can be found to have exploited their finances if they use the money for unauthorized purposes, such as personal gain. Scammers commonly target the elderly by claiming the person has won a prize but must pay money to claim it. Scammers might also call claiming that the social security number or credit card has been targeted in hopes that they will give them the numbers over the phone. Elderly individuals should consider taking steps to make sure their assets are protected from future abuse. 
Common Questions
Below are some common questions you might want to consider when meeting with an attorney for the first time.
What do I do if I think my elderly loved one is being abused?
What do I need to include in a living will?
How do I pick a good nursing home?
How do I report elder abuse?
Can I change my trust?
What do I do if I think someone used undue influence to change my parents' will?
Finding the Right Attorney for Your Needs
It is important to approach the right type of attorney—someone who can help you through your entire case. To do so, you can visit the Super Lawyers directory, and use the search box to find a lawyer based on your legal issue or location.
To help you get started, you may want to consider looking for a lawyer who specializes in elder law.
Why Should I Talk to a Lawyer?
Elder law issues can be complex, and every state has its own rules about what can and cannot be included in wills and powers of attorney. There may be state-specific formalities about creating end of life documents and who you can appoint as a caretaker. Every state also sets its own criminal code and chooses what constitutes elder abuse. An elder law attorney will be knowledgeable about the state law and the special concerns you may have as you are aging.
A lawyer will further be able to anticipate potential problems with your case and advise you on how to approach them. Your lawyer will also keep track of deadlines and file all the paperwork with the necessary courts and agencies, giving you one less thing to worry about.
Why Super Lawyers?
Super Lawyers is a rating service of outstanding lawyers from more than 70 practice areas who have attained a high degree of peer recognition and professional achievement. The patented selection process includes independent research, peer nominations and peer evaluations. The objective is to create a credible, comprehensive and diverse listing of outstanding attorneys that can be used as a resource for attorneys and consumers searching for legal counsel. As Super Lawyers is intended to be used as an aid in selecting a lawyer, we limit the lawyer ratings to those who can be hired and retained by the public. You can learn more about the selection process here.