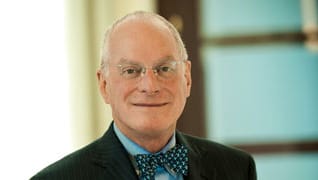 Photo by: Stan Kaady
A True Gentleman
Birmingham civil defense attorney Mike Atchison believes in treating everyone with dignity
Published in 2011 Alabama Super Lawyers magazine
By Nancy Henderson on April 25, 2011
Despite his illustrious career—he's rescued mega-companies from the brink of financial disaster, defended a major airline after a highly publicized crash, and earned a reputation as one of the leading business litigators in the Southeast—the case Mike Atchison considers his most interesting revolved around, of all things, the "feather sexing" of chickens.
In the late 1980s, a feed-and-seed company in Des Moines, Iowa, discovered a way to genetically breed a chicken whose gender could be determined by inspecting its feathers the day it hatched. "You don't want roosters. All you want are the girls," says Atchison, 70, of Burr & Forman in Birmingham. "Roosters don't start exhibiting male characteristics until about four to six weeks, so you don't know for a month, while you're feeding all these chickens, that you're gonna have to destroy half of them because they're roosters."
Unfortunately, the breakthrough process wasn't foolproof. After receiving a load of chickens and not being able to tell the boys from the girls, a major customer sued. Atchison headed to snowy, bitterly cold Des Moines, researched the facts and secured a surprisingly reasonable settlement for the feed-and-seed supplier that required no large-sum payment. Says Atchison, who learned more about egg layers and roosters than he'd ever imagined, "I had no idea chickens were so fascinating."
During his 40-year civil defense career, Atchison has relied on his attention to detail, "people instincts" and strong verbal skills in matters ranging from employment discrimination to medical malpractice. A key trait: He remains calm in the courtroom. "I'm not a shouter," he says. "I always try to out-prepare the other side. … I never look at my fellow lawyers as enemies. They represent their client; I represent mine. But we're not the issue."
"If there ever was a true gentleman, it's Mike Atchison," says colleague Ed Hardin, who joined Burr & Forman in 2008. The two have been friends since their college fraternity days. "In spite of the personal consequences or obstacles or risk of personal ridicule or social pressures, Mike always does what is right under the circumstances."
Growing up on the east side of Birmingham, with a Southern drawl so thick he took speech lessons as a teenager, Atchison yearned to be a major league baseball player. But, he says, "I couldn't hit a curve ball," so he set his sights on becoming a "pipe-smoking, tweed-wearing" professor and earned a history/political science degree from Birmingham-Southern College. But with throngs of young men enrolling in graduate school to avoid the Vietnam War draft, there wouldn't be enough academic jobs to go around after graduation, so Atchison switched gears again.
It wasn't until he started working as a reporter, first covering the federal court beat at the now-defunct Birmingham Post-Herald (at a time when future, legendary New York Times editor Howell Raines worked the copy desk) and later the volatile civil rights movement at the local United Press International (UPI) bureau, that he caught the itch to practice law. From behind his reporter's notebook, Atchison saw the best, and the worst, of people. On Saturday nights, he scribbled notes as hooded Ku Klux Klan members burned crosses and chanted racist epithets. The next morning, he sat on a church pew and listened to the impassioned sermons of Dr. Martin Luther King Jr. and other black preachers. The experience, Atchison says, was "intoxicating. It was an incredibly exciting time if you were doing what I did."
Thanks to his wife Sheila's employment and his weekend job at UPI, in the mid-1960s the young man was able to attend Cumberland School of Law at the Baptist-affiliated Samford University in Birmingham. "I never had any interest in criminal law," Atchison says. "I really liked the civil part of it best. Going to visit people in jails and penitentiaries never really held an interest for me." He also gravitated toward defense work, preferring "the reaction rather than the action part."
To earn extra money, Atchison clerked for Abe Berkowitz, the "larger-than-life" but short-statured founder of Berkowitz, Lefkovits, Vann, Patrick & Smith, which later merged with Baker Donelson. It was there that Atchison learned the importance of treating all clients and attorneys with equal respect. "Mr. B had a philosophy of never putting his adversary in a position where he or she couldn't escape without keeping their dignity," Atchison recalls. "He always made certain that everybody left the room thinking that they had done a good job for their client."
By the time Atchison passed the bar in 1968, legal jobs in Birmingham had become incredibly scarce. The big firms, Atchison asserts, turned their noses up at Cumberland graduates, and the smaller ones didn't have enough work. To help his protégé, Berkowitz secured for Atchison an 18-month stint clerking for U.S. District Judge Clarence Allgood.
Two years later, Atchison left the federal building for the "loud, profane and chaotic" offices of McDaniel, Hall & Parsons, which he describes as "a combination of Animal House and MAD magazine."
"They had more cases to try than anybody in the city," he says. "You had immediate work. You didn't have to sit writing briefs or doing motions to dismiss for five years before you got in a courtroom. You were immediately taking depositions, attending trials and trying cases."
McDaniel attorney Ed Conerly started mentoring Atchison, often picking him up for a 4 a.m. work session and breakfast. One day, when Conerly was sick and unable to appear in court, Atchison filled in. The plaintiff, an older woman who sustained severe injuries when her former son-in-law wrecked the car in which she'd been riding, had sued for gross negligence. "It was kind of a delicate thing for me to cross-examine this nice, elderly lady," recalls Atchison. "I was scared to death." At the end of the four-day trial, however, he snared his first defense verdict.
But there are always lessons for a young attorney. Early in his career, Atchison went head-to-head with a disheveled-looking attorney in a small nonjury case. "He looked like a hobo disguised as a bum," says Atchison. "He was the worst-looking guy you've ever seen. His socks were literally rolled down on top of his shoes. And I thought, 'Man, I'm gonna go up there and just beat the stew out of this hick lawyer.' Well, he ate my lunch. … I've never looked down my nose at another lawyer since."
Over the years, Atchison tackled more personal injury cases, then branched into products liability and medical malpractice. In 1979 he joined the father-son firm of Starnes & Starnes, which later became Starnes & Atchison.
On July 10, 1991, Atchison was sitting at his kitchen table, compiling the next day's closing argument, when he looked out the window and saw an enormous black cloud rolling in from the west. Flipping on the television to check the weather forecast, he spotted the news at the bottom of the screen: L'Express Airlines Flight 508 had crashed while attempting to land at Birmingham Municipal Airport. Only two of the 15 people on board—the pilot and a lawyer—survived, and four residents were injured when the plane struck their Ensley neighborhood. It was the deadliest commercial aviation accident in Alabama history.
Atchison defended the airline and the pilot, a retired Yonkers police officer, in the subsequent litigation. After settling the suits filed on behalf of the deceased passengers, those involving the people on the ground went to trial. "The jury ruled against the airline but not the pilot, and rendered a very, very reasonable verdict—something that I'm sure the insurance company would have paid long before that if it had had the chance," Atchison says.
Atchison has certainly had his share of several "bet-the-company" cases. In the mid-1990s, when Ed Hardin was general counsel at what is now CVS Caremark, he called on Atchison's expertise in a securities case that was, says Hardin, "very, very important to the future of the company." With Atchison's help, the matter was resolved. "If that case had not been handled efficiently and timely, then the company would not have been able to meet its obligations in connection with a large note that was coming due," says Hardin. "I've watched him work on a very complex matter under time pressures. And he passed every test with flying colors."
After more than 30 years with Starnes & Atchison, one of the original partners left, and the job, says Atchison, "just wasn't the same for me." In 2010 he joined Burr & Forman.
Despite his legal victories, Atchison stays down to earth. "I still get sick before I have to try a case," he admits. "You don't want to lose it, don't want to let your clients down, or your partners, or do anything that would bring dishonor upon anybody. I think when a lawyer quits being nervous about what he's doing, then it's time to hang it up."
Search attorney feature articles
Helpful links
Other featured articles
Family attorney Justin Crozier was an Army mental health specialist
The Tallahassee attorney for the families of Michael Brown and Trayvon Martin has one goal: proving that black lives matter
Patrick Q. Hustead went from rodeoing to fleeing bulls, and he's lived to tell the wild tale
View more articles featuring lawyers
Find top lawyers with confidence
The Super Lawyers patented selection process is peer influenced and research driven, selecting the top 5% of attorneys to the Super Lawyers lists each year. We know lawyers and make it easy to connect with them.
Find a lawyer near you