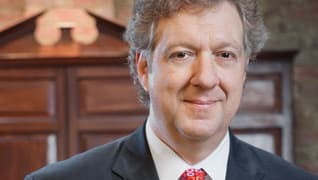 Photo by: Stan Kaady
No Doubt for Miles
Faith in the triumph of good over evil fuels the career of W. Daniel "Dee" Miles
Published in 2013 Alabama Super Lawyers magazine
By Lisa Frederick on May 1, 2013
After more than two decades as a commercial and consumer fraud litigator, W. Daniel "Dee" Miles III has accepted a blunt fact of human nature: "People will find a way to cheat," he says.
Yet no matter how sly and numerous those cheaters might be, Miles believes he and his team can outsmart them. Every case won, he hopes, is another step on the path to stricter safeguards against wrongdoing. "We come in and make sure that the cheaters are taken care of and whatever it is they're doing is stopped," says Miles. "We can do that one case at a time."
Miles has an easy smile and genteel warmth, the tenor of reassurance in his voice. He seems like the kind of person who could talk someone off a ledge. He is a benevolent listener and an ardent believer—a dedicated Catholic driven by faith. Miles is the grandson of persecuted Lebanese Christians who fled their home country and eventually landed in the American South. Currently he is shareholder and head of the consumer fraud/commercial litigation section at Beasley, Allen, Crow, Methvin, Portis & Miles, in Montgomery.
Miles caught the law bug early. When he was in 6th grade at Our Lady of Sorrows Catholic School in Homewood, he participated in a mock trial, complete with witnesses and a judge. "We had to dress up, and we went to the library and we had a court with a jury," he says. "And I just became addicted at that point and decided that was what I'd really like to do. I wasn't a great student, so it sort of inspired me to do better as a student."
His road to law school took a dogleg or two. Raised in a family with a long tradition of banking, he opted for a B.A. in business at the University of Alabama at Birmingham. After graduation, low on money and wanting to marry his high school sweetheart, Sandra, he signed on as an internal auditor with AmSouth Bank (now Regions Financial Corp.). The pay was good. "Even though I liked it, I didn't feel that same thing I did in that 6th grade trial," he says. "I decided I was going to take the LSAT."
Miles leveraged his banking experience when he was hired by Beasley Allen in 1991. His first cases focused on mortgage and insurance fraud. His finance background made it "much easier for me to see the wrong that was in those transactions," he says.
Working in the financial sector, Miles says, "I saw a lot of stuff that banks did, particularly to people who weren't wealthy, that I didn't like. If you were wealthy, you got your way. If you were just an average Joe … they would not treat you the same way. That's how banks operate."
He recalls two of his first major cases: In one, two elderly sisters had been defrauded by a life insurance company selling them dozens of unnecessary policies. In the other, an elderly man was denied health care coverage for reasons that later proved baseless. Miles and his team came out winners; the plaintiffs in both cases were awarded $2 million.
"The best feeling in the world is the one the client gives you, when she or he says, 'You helped me … you changed my life for the better,'" Miles says.
At the moment, Miles is deep in the weeds of a huge case that he considers one of the most important of his career. He and his firm have signed on to represent the states of Alabama, Alaska, Hawaii, Kansas, Louisiana, Mississippi, South Carolina and Utah against drug companies that allegedly charged Medicaid inflated prices for their products.
"As a result of the overpayment, Medicaid agencies became strapped," Miles says. "They had to cut services. They were not allowed to put as many people on the rolls." The team has recovered about $700 million to date, and Miles expects to reach the billion-dollar mark by the time litigation ends, at least two years down the road.
"That's a billion dollars in those eight states that could have reached the poor and the needy, that these companies, just as a result of doing business in a fraudulent manner, affected," he says. "It's awful what they did. It is a case of classic corporate greed. It's also a classic case of a David and Goliath battle. And the worst part about it is this: That act of greed hit the neediest citizens in this country."
Miles credits longtime colleague and mentor Jere Beasley, the firm's founding shareholder, with teaching him how to be a trial lawyer. "And not just about being a trial lawyer, but also being a good person," Miles says. "I've always been a good strong Catholic, but the way he uses his faith in his practice, I learned from him."
Miles hopes to pass on those same lessons to other attorneys. "We have so many young lawyers in our community who don't understand and appreciate the fact that they need their faith in their profession," he says.
"I don't try to push my religion on anybody. But I do believe that in this business if you're going to be successful, you have to be a person of strong faith because a lot of times, especially as a plaintiff's lawyer, you're alone. You're there with your issue by yourself and your client, and you have to believe in what you're doing. … I think that you grab that strength and that direction and that courage from your faith. … If all lawyers would do that instead of worrying about how much money they're going to make off a case, or how big a headline they're going to get, they'd be surprised. If they just took that simple approach, those other things just happen for you."
Alongside Miles' faith, there's his family. Several years ago, he and his wife launched a Lebanese food festival in Birmingham that has raised significant funds for Catholic social services. His wife came up with the idea, and "I just kind of went along with it," he says, with a laugh, "because my mother is Lebanese, and I grew up eating Lebanese food and love the Lebanese people. … My grandmother, who was the matriarch of the family, cooked for everybody; she taught my wife how to cook Lebanese food."
His grandmother was far from home, but the recipes stayed with her like a kind of faith. Perhaps that is one pattern of Miles' life—the past is always present. It is present in the memory of that mock trial in 6th grade, where everyone had to dress up and be prepared to make their case. Miles knew something pivotal happened at that trial, and he didn't let it go.
Search attorney feature articles