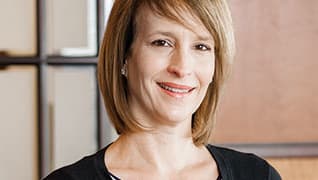 Photo by: Stan Kaady
She Speaks the Language
Kimberly Bessiere Martin could have been a spy but she became fascinated with products liability
Published in 2015 Alabama Super Lawyers magazine
By Beth Taylor on April 29, 2015
When Kimberly Bessiere Martin came out of the University of Alabama in 1991, with a degree in international relations and a fluency in Russian, the CIA came calling. But after nailing one interview with the intelligence agency and going through another in D.C., a few weeks later she was accepted into law school.
"I felt that was probably more of what I wanted to do," says Martin, now managing partner of Bradley Arant Boult Cummings' Huntsville office. "It's just a new language. … I think that was one reason why I enjoyed law school so much. I think my parents were quite happy that I did not decide to go off and be a spy."
Martin had also studied French and German and planned to practice international law. "But then when I got to law school, I really enjoyed the classes that were courtroom-oriented," she says. "I really liked how the law applicable to the cases may be the same for every case, but tort cases, even involving the same product—products liability—are so unique that every case is new and interesting."
Martin now co-chairs her firm's life sciences litigation group. She has an unusual mix of defense practices: products liability—mainly medical device and pharmaceutical cases—and media defamation. Her client list ranges from Pfizer Inc. to the Discovery Channel.
"It's just fascinating, particularly in the pharma and medical device realm," she says, "how the science is evolving and can change right in the middle of your litigation."
Beginning in 2004, Martin spent nearly a decade working on hormone replacement litigation, helping defend Pfizer against claims that many women developed breast cancer after taking Prempro, Premarin and Provera for menopausal symptoms. She worked on cases in Alabama, Tennessee and Puerto Rico, and was sent across the country to depose plaintiffs and doctors.
"It was tough duty sometimes, because we would have depositions of plaintiffs whose cancer was very advanced," she recalls. "One of the things that helps me, as a lawyer, is that I can be empathetic to plaintiffs who maybe have had some difficult circumstance happen to them, while still doing my job to establish that it wasn't as a result of my client's product or anything that my client did."
Hormone replacement lawsuits were filed across the country, and some were tried—with mixed results. Eventually, many of the cases were consolidated in multidistrict litigation in federal court in Arkansas, and her cases were resolved in 2014.
In one of her favorite cases in 2003, she helped represent Sports Illustrated against a high-profile defamation lawsuit from football coach Mike Price. The magazine had detailed his firing—before he coached a single game—from the University of Alabama in a story.
"It involved confidential sources," Martin recalls, "and ethical issues involved with disclosure of confidential sources. … That was one aspect that made it very interesting. But the other was I'm a huge Alabama football fan."
The case, of course, was big news. "Sports talk radio in Alabama is a big deal, and people would call in and talk about the case," she says. "So it was really interesting to hear something that you were working on being discussed on a daily basis."
The courts eventually ruled that the magazine's confidential source was not protected under Alabama's media-shield law because the word "magazine" was not specifically mentioned in the statute. After the ruling, Sport Illustrated reached a confidential settlement with Price in 2005.
"That was right about the time of the Valerie Plame stuff," Martin says. "Our issue, maybe on the national scale of confidential sources, was small, but it really was topical for the time."
Martin recently represented Discovery Channel in a lawsuit brought by a former NASA employee who claims he was defamed by a TV program about the Challenger space shuttle disaster. At press time, Martin was waiting for a ruling on a motion to dismiss.
She is also heavily involved in the Huntsville-Madison County Bar Association, of which she was president in 2008. Born in Birmingham six years after that city's landmark civil rights demonstrations, Martin is sensitive to matters of diversity. She started a women's section of the local bar to give female lawyers a place to network and support each other.
There is diversity of sorts on the home front, too: Kimberly Martin, the defense lawyer, is married to Clay Martin, the plaintiff's attorney. "It just gives us balance and perspective," she says. "We're both pretty strongheaded and independent. We each decided to chart our own course, and it's worked out well for both of us."
The couple has two daughters, and last summer Martin took them to a state bar meeting, where they heard a presentation by legendary Alabama civil rights attorney Fred D. Gray. She gets choked up telling the story: "To say to my 10-year-old, 'That is Rosa Parks' lawyer' … sorry … it was just very moving to be able to say that to my child."
Search attorney feature articles