The Man Who Introduced John Lewis to Martin Luther King Jr.
Attorney Fred Gray on the passing of the civil rights icon
Published in 2020 Mid-South Super Lawyers magazine
By Steve Knopper on July 20, 2020
Fred Gray was not only the attorney who represented Rosa Parks during the 1955-56 Montgomery Bus Boycott, he was the man who introduced Dr. Martin Luther King Jr. to a young kid from Troy, Alabama, who, in 1958, wanted to file suit to attend Alabama's all-white Troy State College. His name was John Lewis. While Lewis never attended Troy State, he would go on to become the first president of SNCC, speak at the March on Washington, lead the Freedom Rides, lead the Selma-to-Montgomery marches that set the stage for passage of the Voting Rights Act, and represent the 5th District of Georgia in the U.S. House of Representatives for more than 30 years.
In his 1995 book Bus Ride to Justice, Gray, who, at 90, still practices civil rights law at Gray, Langford, Sapp, McGowan, Gray, Gray & Nathanson in Tuskegee, called Lewis "the sparkplug behind the Freedom Rides." Lewis returned the favor. In his intro to the book, he called Gray "the first African-American attorney I had ever met and he impressed me tremendously."
Lewis died last Friday at the age of 80 after a seven-month battle with pancreatic cancer and a lifetime struggle against racism, oppression and injustice. We spoke with Gray this morning.
---
How did you meet Rep. Lewis?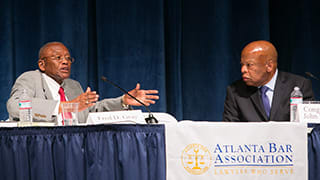 Dr. King told me he had gotten a letter from a boy in Troy, Alabama, who had been hearing about the Montgomery Bus Boycott in '55 and '56, and who asked [King] if he would help him. He was interested in going to Troy State College, in his home county of Troy. Of course, in 1958, none of the schools in Alabama were desegregated. Dr. King sent him a round-trip Greyhound bus ticket to Montgomery. I took him to meet Dr. King, who was in a meeting with the Rev. Abernathy at First Baptist Church in Montgomery. He was a minor, so his parents had to file the suit on his behalf. They were sympathetic about what their son wanted to do; but they felt the pressure that they would have to live under, in Pike County, Alabama, if he were to file a lawsuit to integrate Troy State, would be more than they could stand. So he did not go. We later desegregated that school in Knight v. State of Alabama, but he never lost the desire. He attended the American Baptist Theological Seminary and Fisk University.
When did you meet again?
My next meeting with him was about 1960, working on the Freedom Rides. When they arrived in Montgomery at the bus station in 1961, he was beaten, and I ended up filing a lawsuit for him, Lewis v. the Greyhound Corp. My next encounter with him was the Selma- to-Montgomery march. When he came back on Bloody Sunday, he and Hosea Williams told me what happened to him. Of course, I'd seen it on television. They wanted me to come to Selma. They retained me to represent them, and before the close of that next day, I filed Hosea Williams vs. George C. Wallace. We had a trial. It took us a week or so. As a result of [the march], the Voting Rights Act was passed.
When did you last talk to Rep. Lewis?
The last time I saw him in person was about a year ago when the Library of Congress unveiled Mrs. Rosa Parks' papers. I had talked with him on the phone several times since then and had a good working relationship with his chief of staff. We talked for about 15 or 20 minutes on the 8th of July.
What did you discuss?
We went back and talked about our initial meeting at the bus station. We talked about our representing him some years later, with the Greyhound Bus Station, when he got beaten. We talked about the Selma-to-Montgomery march. I thanked him for what he had done in the Civil Rights Movement and he thanked me for what I had done. I asked him if he thought [there was] anything I needed to do to continue to fight. He told me to "Keep going, keep pushing, set the record straight." It ended with me giving a prayer.
That was the last encounter I had with the congressman. He will be sorely missed.
---
A longer interview with Fred Gray and other attorneys who have practiced for more than 50 years can be seen in the 2020 edition of Mid-South Super Lawyers in December. Fred Gray also spoke with us on the 60th anniversary of the Montgomery Bus Boycott.
Search attorney feature articles