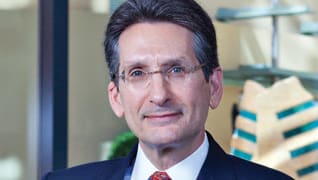 Photo by: David Schmidt
All Along the Watchtower
Media lawyer and Dylan sound-alike David J. Bodney protects the media's access to public records
Published in 2012 Southwest Super Lawyers — Arizona magazine
By Jimmy Magahern on April 13, 2012
On the second Saturday of 2011, Jared Lee Loughner entered the parking lot of a Safeway supermarket in a suburb of Tucson and opened fire, shooting 18 people. U.S. Rep. Gabrielle Giffords was critically injured and six others were killed, including U.S. District Judge John Roll; Giffords' community outreach coordinator, Gabriel Zimmerman; and Christina-Taylor Green, a 9-year-old girl born on 9/11.
Because Loughner's killing spree apparently targeted a Democratic politician at a time when the rhetoric between America's two-party system was particularly divisive—a tone exemplified by Sarah Palin's use of crosshairs on a map featured on her website targeting 20 Democrats who supported President Barack Obama's health care legislation, including Giffords—many initially assumed Loughner's actions were politically motivated. While his actual motives remain unknown (based on two medical evaluations, Loughner has thus far been found incompetent to stand trial), the tragedy nonetheless became a symbol for America's division and discontent. President Obama visited Tucson four days later to deliver a memorial speech viewed by more than 30 million Americans, in which he called for a new civility. He closed with an enduring tribute to Green: "I want America to be as good as she imagined it."
It was a tragedy so inflamed with complex emotions and political implications that it was difficult to gather information about it. The investigators who had served a search warrant on Loughner's home hours after the massacre and discovered extremist literature among the firearms, ammunition and grim notes detailing his plan were being cautious with details. So were the administrators at Pima Community College, who had dismissed the 22-year-old student earlier that fall because of "extreme behavior." Parties didn't want to release information that could suggest culpability in failing to prevent the worst mass shooting in state history.
So to get the real story, the state's top news organizations called on attorney David J. Bodney. Representing The Arizona Republic and 12 News, the city's NBC affiliate, Bodney—managing partner of Steptoe & Johnson in Phoenix—obtained a decision from the U.S. District Court unsealing search warrant records shortly after Loughner's indictment. He also led a successful suit against Pima Community College to release email records between the school and Loughner under the Arizona Public Records Law.
"I've handled hundreds of public access cases over the last three decades," says Bodney, who is celebrating his 20th year at Steptoe & Johnson, "but never one like the Loughner case. And that's because I found myself dealing as an advocate with adversaries, and much of the legal community, generally, in mourning. Many of us, including our adversaries, were deeply affected by the loss of Chief Judge John Roll, the death of friends and neighbors in Tucson, and of course the serious wounding of Congresswoman Giffords. So the challenge, really, was to help secure these records and achieve my clients' legal objectives, but to do it at a time and in a way when many hearts had still not mended."
Gentle words coming from a First Amendment pugilist who has, over the years, fought to obtain access to tightly sealed documents on behalf of every major newspaper and TV network affiliate in Phoenix. Bodney has also defended national media clients like 60 Minutes, 48 Hours, The Washington Post and the late John F. Kennedy Jr.'s magazine, George, in defamation cases. He fights hard, but his style is softer.
"His basic personality is that of a gentle, kind soul," says veteran commercial litigator Paul Eckstein of Perkins Coie in Phoenix, who hired Bodney fresh out of the University of Virginia's law school in 1979, when the office was still known as Brown & Bain. "But when he's representing a client, he does whatever is ethical and legitimate to achieve the client's goals."
José Cárdenas, general counsel and senior vice president of Arizona State University, agrees. "He's certainly a gentleman, but he's firm, and he's tough when he needs to be," says Cárdenas, who's been opposing counsel to Bodney on a number of occasions. "Because he is so knowledgeable in the area and carries the reputation that he has, he makes it clear that he knows his stuff without hitting you over the head with it."
Part of Bodney's success lies in the fact that public officials and their counsel prefer doing business with him rather than the investigative journalists he often represents.
"Whenever David gets involved, there's always a sense of relief," says Joseph Kanefield of Ballard Spahr, president of the State Bar of Arizona and former general counsel to Gov. Jan Brewer, an official who endures a sometimes-acrimonious relationship with the local press. "Often reporters and others in the media will throw the public records law around loosely, and it can be difficult to deal with these folks, because they may not understand the complete scope of the law. With David, we know we're dealing with a professional and we can focus on the real issues of the case, and not get caught up in personality conflicts with someone being difficult in the name of advocacy."
"He's not difficult just for the sake of being difficult," adds Cárdenas. "He's tough, in terms of his legal position, but not a jerk."
That's because Bodney believes he's fighting the good fight.
"It's important to ensure that speech about public officials and public matters remains uninhibited, robust and wide open," says Bodney, whose main focus is media and constitutional law, but who also practices commercial and intellectual property litigation, Native American law and government relations. "It's not only important to the media, but it's also important to the survival of our democracy. If we lose access to reliable public information, or private sources of information other than the government itself, we risk our democracy. We must be educated and informed if we hope to keep this experiment in ordered liberty alive. And those are pretty important reasons to keep fighting the fight."
Bodney's faced his share of formidable opponents.
"I've had more than one public-records battle against Sheriff Joe Arpaio on behalf of The Arizona Republic and the Tucson Citizen," says Bodney of Maricopa County's self-proclaimed "America's Toughest Sheriff." "He certainly does not make public access easy."
But not impossible. Bodney recently won access to a lengthy investigative report into alleged improprieties at the highest levels of Arpaio's office on behalf of The Arizona Republic and 12 News. More recently, he's been representing a half-dozen media companies and news organizations to secure access to a docket in a criminal case arising from the Bureau of Alcohol, Tobacco, Firearms and Explosives (ATF) sting operation known as Operation Fast and Furious. During the operation, more than 2,000 firearms were knowingly sold to Mexican drug cartel members with the intent of tracking the weapons to higher-level traffickers. Instead, many of the guns were used in fatal shootings on both sides of the border, including one resulting in the death of Border Patrol Agent Brian Terry.
"Amazingly, the docket, the court records and court proceedings for the past nine months have been entirely sealed," he says. "A secret docket!" Thanks to the efforts of Bodney and his clients, the federal court in Tucson recently unsealed many of those records.
Bodney's battles with Arpaio and the ATF have been challenging, but his first assignment as a media lawyer had an element of personal danger. The idealistic young litigator, working on behalf of The Washington Post, was sent to handle a defamation case in the High Court in London on a case involving a Russian businessman with alleged mob ties. It was the first time Bodney had to travel with a bodyguard, which only strengthened his resolve.
"I saw the way in which journalists put their lives at risk to bring news to the public," says Bodney, who later worked as an editor at the Phoenix New Times for a couple of years. "Traditionally, the media has fought the fight for an informed citizenry—and paid a very high price for it, here and around the world. That's what I've seen traveling to Russia and China. From Don Bolles in Arizona to journalists killed in the line of duty in Russia or imprisoned for telling the truth in China, the sacrifices reporters make to keep us informed are real."
The London assignment had an unexpected bonus. "I met my wife working on that case," he says, "so that one ranks highest among my sentimental favorites."
In addition to spending time with wife, Sarah, and kids Christian, Anna and Daniel, Bodney loves hiking—last year he descended the Grand Canyon with his alumni group from Yale, where he completed his undergraduate degree—and walking to Diamondbacks games.
He's also a lifelong music fan, who, at 57, counts among his greatest experiences seeing the Beatles perform in his native Kansas City on Sept. 17, 1964—"It was very hard to hear; whole lot of screaming going on. But it was an experience I'll never forget," he says—and seeing Bob Dylan perform at ASU the night after Bodney interviewed for Brown & Bain in October 1978. "Right then I figured there was something in the stars about Arizona," he says.
Bodney claims he's "singularly unaccomplished as a musician," but State Bar President Kanefield begs to differ.
"He really has a great voice, and I tell ya, I think he could make a living as a Bob Dylan impersonator," says Kanefield, who's known Bodney for 17 years and has attended other Dylan concerts with him. "He can cover Bob Dylan songs with great precision. I play guitar, and one of these days I'm going to surprise David and get him into a coffee shop to sing 'Tangled Up in Blue.' He doesn't know it yet, but that's on the horizon at some point in our future."
Knowing Bodney, those plans won't stay secret for long.
Search attorney feature articles