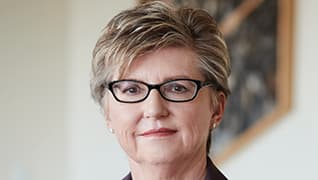 Photo by: Brandon Sullivan
Balance Point
When she's not slaying trolls and conquering class actions, Cindy Ricketts proves lawyers can manage life and the law
Published in 2020 Southwest Super Lawyers magazine
By Jimmy Magahern on April 21, 2020
In a case that went from internet complaint to class action suit, Cynthia "Cindy" Ricketts contended with a pesky claim against the Massage Envy franchise that landed in two states. "That was a case in which somebody was claiming they didn't get what they purchased," she says, "because they, the consumer, did not understand that when it advertised a price for a one-hour massage session, they were only going to receive 50 minutes of hands-on massage time and the other 10 minutes would be spent for a consultation and dressing and undressing." 
"It was in Illinois where a consumer was claiming that there was false advertising, and we were able to get that case dismissed there," Ricketts says. "And then the plaintiffs appealed to the 7th Circuit, and the 7th Circuit affirmed the dismissal. And then the same lawyers filed another lawsuit in Missouri making essentially the same claims. And we were able to remove that in federal court. 
And then the plaintiff tried to remand it. Finally, we were able to convince the 8th Circuit that it belonged in federal court. And that led the plaintiffs to settle on a very nominal amount."
In another particularly contentious case, Ricketts represented Best Western hotels after anonymous bloggers dragged the hotel chain through the mud over—of all things—its reservation website's failure to list certain branded hotels for a few days in December 2006. "There were [what Best Western believed were] defamatory posts on a blog, and we filed a defamation lawsuit against an anonymous defendant," says Ricketts. One of the bloggers was discovered to be a voting member on a branded hotel's board and tried to countersue Best Western for tortious interference in the hotel's holiday business. Ricketts says that they didn't win everything they had hoped to; both parties submitted summary judgment motions, which the court granted in part and denied in part, and the parties came to a settlement.
Based Phoenix, the co-founder of Sacks, Ricketts & Case  has made a name for herself in such internet-related commercial litigation, handling cases in which defamatory comments or confidential material are posted online. Basically, she's an internet troll slayer, riding in to help companies dogged by hard-to-track provocateurs.
"I trust Cindy's judgment in a wide range of matters," says Kristin Paiva, general counsel for Massage Envy Franchising, "which includes her involvement in handling some of our most important litigation to seeking her consultation on more routine day-to-day tasks. She's a true professional."
Ricketts was born in Southern California, and her family moved to Phoenix in 1972, when she was 8 years old. She attended Saguaro High School in Scottsdale, then completed her undergrad at Smith College in Northampton, Massachusetts, one of the largest of the prestigious "Seven Sisters" women's liberal arts schools. Then it was back to Arizona, where she got her J.D. from the Sandra Day O'Connor College of Law at Arizona State University.
"I was attracted to law because I really wanted a job where I was always learning something new and never doing the exact same thing," she says.
Her resume reflects that thirst for variety. Throughout her 30-year career, Ricketts has taken on a wide range of complex commercial litigation matters defending businesses in class action suits, breach of non-compete and anti-solicitation agreements, fraudulent registrations, copyright infringement, improper handling of trade secrets, employment discrimination, wrongful termination and business valuation disputes, as well as consumer class actions.
Seven years ago, Ricketts, Luanne Sacks and Hope Case, litigators at DLA Piper's Phoenix, San Francisco and Palo Alto offices, respectively, began talking about launching a smaller firm built around what Sacks called "a culture that was more conducive to keeping women in the profession." Their ideas centered on common requests: more flexibility for attorneys with children and other family commitments; a more collaborative and supportive environment, with an emphasis on empowerment; more diversity and transparency; and more opportunities to work with smaller clients they believed in, rather than always casting for the corporate big fish. Lastly, more women in charge, with built-in protections from sexual harassment and a female-forward emphasis on creativity and entrepreneurship.
Within three months of brainstorming their dream firm, the three left DLA on good terms—while also bringing with them a number of associates and staffers—to launch Sacks, Ricketts & Case. They set up shop in spare office space offered by friends at the Coppersmith Brockelman firm in the 2800 Tower on Central Avenue.
In the seven years since, the 100% women-owned firm has become recognized as one of the top law firms in the West, with offices in Phoenix, San Francisco, Palo Alto and San Diego and received four U.S. News and World Report Best Law Firms awards, including one for 2020. 
Ricketts serves as the firm's commercial litigation guru and helms SRC's Phoenix office, while labor and employment attorney Case oversees the Palo Alto location, and class action authority Sacks runs the San Francisco office. Ricketts admits that some parts of starting up a firm were "pretty scary. … Particularly in the middle of the year, since the way most law firms pay partners makes it more difficult for anyone to leave mid-year."
Nevertheless, all three felt the timing was right, given the overall scarcity of women-owned firms.
"I helped start the DLA Phoenix office," Ricketts says. "And throughout the entire time I was there, I was the only female partner. Breaking out on our own was actually Lu's idea to begin with, but it had been a longtime dream for all of us."
The concept turned out to be a hit not only with SRC's female associates, but also with a number of male attorneys.
"We're very committed to diversity and hiring people who may have not been afforded the traditional path or trajectory in a big law firm," Ricketts says, then adds with a laugh, "but that's not to say we don't hire white males, too!"
"For example," she continues, "we have one male lawyer who had worked at DLA and joined us within six months after the firm started. He worked at our San Francisco office for a while and then decided that he didn't want to live in the Bay Area anymore because it was so expensive, plus he felt he was more of an artist and decided he wanted to move to Portland. So he said, 'Sorry, I'm going to have to leave and move to Portland, because that's what I need to do for myself.' And we said, 'Well, why can't you work remotely with us?'" That lawyer has now worked part time for SRC for the past four years, while creating and selling his art up in Portland. This past year, Ricketts says, they made him a partner.
"We've found the key to combating burnout is just giving our lawyers the ability to do different things and be refreshed now and then. So, I think we've tried to cultivate an environment where people feel like they can—and actually do—explore other aspects of their life. That only can make them better lawyers, better citizens and great humans."
Class action suits have become a Ricketts trademark. 
Clarissa Cerda is the former executive vice president and chief legal officer for LifeLock, a Tempe-based identity theft protection company. In January 2015, plaintiffs filed a nationwide putative consumer class action suit in the U.S. District Court in Northern California against LifeLock over its marketing and sales practices.
"Cindy helped LifeLock navigate a settlement for $68 million, that the Federal Trade Commission also approved as part of a settlement of an action filed by the FTC against LifeLock," says Cerda, who calls it an elegant solution. "It allowed the settlement dollars to 'count' for both actions against the company and ensured a simple and centralized process for all consumers entitled to payment in the litigation."
Cerda adds that Ricketts is a great person who is dedicated to making the world around her—and her profession—a better place.
"One of the reasons I like working with Cindy and the partners of her law firm is that they are true leaders in their field from a substantive legal expertise perspective," says Cerda, now GC of Pindrop Security. "But more than that, they are true leaders when it comes to guiding and mentoring the next generation of superstar lawyers—especially women lawyers."
The founders of Sacks, Ricketts & Case have more in common than their philosophy in creating law firms. They're all big baseball fans who aren't afraid to talk a little trash throughout the season.
"Baseball is kind of the common denominator between Lu, Hope and me," Ricketts says. "I'm a big Diamondbacks fan, Lu is a big Giants fan and Hope's a big Oakland A's fan." Staffers tread lightly during the playoffs.
Ricketts brings an umpire's eye to commercial litigation issues. Having represented a wide variety of firms in class action cases (the City of Glendale is included among her clients), Ricketts is well-versed in the corporate slights and slip-ups that prompt customers and employees to sue, and advises her clients on how to play fair so that the same fouls can't be called on them.
"Part of what we do, when a client comes to us for advice, is identify what their company's problems are and how to right the ship, so to speak," she says. "I guess in some ways we're kind of putting ourselves out of business. But it's actually in the best interest of the client. Where companies get into trouble the most is when they've grown too fast and haven't put the safeguards in place to make sure that they're complying with the laws across the United States, or complying with the most onerous consumer protection laws. And that's when we tell clients to pump the brakes a little bit, make sure that they're complying with the laws, because it can get sideways quickly."
On the consumer front, Ricketts says, "What often leads to consumers filing class action lawsuits is just a sense that the company doesn't care about them as people, only as a source of money." Ditto for disgruntled employees. "We tell our clients who are business owners to make sure they empower people to feel like they're making a contribution. If they can take some ownership of their position, then they can take pride in the company's success along with the owners."
Naturally, Ricketts and her partners apply the same rule to their firm. That extends to allowing their lawyers to set their own rates. For example, if they have smaller clients they'd like to develop into bigger ones, they can adjust their rates as necessary.
"There's such pressure at big law firms to increasingly raise the hourly rates, that at some point high-level law firms just become unrealistic for some clients," Ricketts says, noting that rigid billable-hour commitments can also drive away talent. "People get burned out doing that, and that's why there's such a high rate of people leaving big law firms—because people want a different life."
For Ricketts, that different life includes more time spent with her nephews, now 22 and 25, who came under her care for two years when her brother's wife died of breast cancer and her brother was deployed to Iraq. "I have a continuing relationship with them that's very close," she says.
It also allows time for pro bono cases, where Ricketts has a history of doing consequential work. In 2011, while still at DLA Piper, she played a key role in a huge voting rights case in New Mexico, earning a summary judgment against the secretary of state that opened the door for implementing voter registration systems at public assistance agencies, reaching citizens less likely to register through other means.
And it just means leaving time for living. "We're proving that you can still do the sophisticated work that you're able to do at big firms without having your work be the most important thing in your life," Ricketts says. "That's the key to getting people to stay in this profession."
Search attorney feature articles