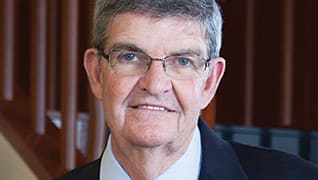 Photo by: David Schmidt
Embedded
Arizona Justice Project founder Larry A. Hammond speaks about the cases that have "gut-hooked" him
Published in 2014 Southwest Super Lawyers magazine
By Jimmy Magahern on April 11, 2014
Ray Girdler never had a whole lot of money. That would explain why, shortly after his wife gave birth to their first baby in 1979, he boasted to friends that he had found "a steal" in an 18-year-old, 50-foot mobile home he bought for $2,750.
It also helps explain why, two years later, when that trailer, with its old wiring and thin plywood paneling, burned to the ground near Prescott, Ariz.—with his wife and daughter trapped inside—prosecutors were able to convince a jury that Girdler, unemployed and six months behind on the trailer's payments, had intentionally set the fire to collect $6,400 in insurance.
Girdler's meager resources were also at play in assigning him a court-appointed public defender, who, it was later discovered, overlooked critical data and allowed several misinterpretations of the fire scene to go unchallenged by prosecutors. Most damning was the incorrect testimony by the state's chief deputy fire marshal that the fire could only have been started by a deliberately splashed "liquid accelerant" like gasoline.
So it seems strangely fitting that after eight years behind bars between Yavapai County Detention Center and Arizona State Prison in Florence, Girdler ultimately didn't need any money to secure one of the state's top criminal defense lawyers to handle the post-conviction hearing that eventually led to his freedom. All he needed was some prison stationery and a postage stamp.
After reading a newspaper story on John Henry Knapp—a Mesa man convicted of a similar arson murder, resulting in 13 years on death row—who was freed after a Phoenix lawyer demonstrated that the fire that killed Knapp's two children was likely accidental rather than arson, Girdler wrote a letter to the man's attorney, Larry Hammond. He agreed to take Girdler's case pro bono, just as he had done for Knapp.
In the case, Hammond, a partner at Osborn Maledon, introduced newly discovered fire science that showed the fire in Girdler's mobile home was more likely ignited accidentally by a smoldering cigarette or faulty electrical appliance, subsequently spreading via the phenomenon of a ceiling-spread "flashover," which mimics the effects of arson. Girdler was eventually released from prison and exonerated of all charges.
"I ended up with the best representation I could have had at the end of this game, with no return other than my gratitude," says Girdler, now 68 and working as a Web application developer. "Guys like me, our cases get adjudicated, we're sent to Florence, and it's done. Then you get somebody like Larry who has the courage to say, 'No, it's not done.'
"And that's an unusual thing. He's got the courage to take on cases where there doesn't seem to be any hope, and spend countless hours working to make things right."
Hammond was inspired by Girdler's case to start the Arizona Justice Project, an organization that provides legal representation for inmates believed to have been wrongly convicted or otherwise failed by the criminal justice system.
Hammond admits it can be daunting at first to reopen a complicated, closed case. But he says righting cases for people like Girdler—or, more recently, in April 2013, Louis Taylor, whom Hammond's team helped free after he served 42 years on a wrongful conviction for setting a Tucson hotel fire that killed 29 people—can have a "transformative effect" on him and his colleagues.
"The record itself may be thousands and thousands of pages, and getting people committed at the front end to look into these cases again can be difficult," Hammond says. "But once people start to look at the facts of the case, it's like venturing into the heart of darkness. The deeper you go into the jungle of these cases, the more horrified you are at what happened at the time of the trial. Little by little, you get gut-hooked on them. There's just something about injustice that causes that to happen."
As Hammond gazes out the window of his office on the 21st floor of Phoenix Plaza on Central Avenue, he points to the top of the 26-story Phoenix Corporate Center located next door, at one point the tallest building in the city.
"When we first started,"—Hammond joined what was then Meyer Hendricks Victor Osborn & Maledon, in 1974—"we were on the top floor of that building, because most of us had come here from Washington, D.C., or somewhere else, and we thought that we ought to be fancy lawyers on the top floor of the tallest building in town," he says. "Then they built the Valley Center—a taller building—and we moved down there. We were like a bunch of children."
By the time the partners moved back uptown to the Phoenix Plaza in 1990, Osborn Maledon was well-established—today it's recognized as one of the premier white-collar criminal defense practices in the Southwest—and doesn't need the top floor anymore. A few years ago, in fact, the firm ran an ad in the State Bar of Arizona's trade publication listing its "best clients." It was a blank page.
"I often say that we've done our best work in criminal cases if nobody knows the name of our client," Hammond explains. "If we can have a case with a beginning, middle and end without the corporation or its executives being identified publicly, we've done a good job."
The bread-and-butter corporate and criminal defense work ("What I get paid for," he points out) can appear philosophically opposed to the passion-driven casework he does with the Justice Project. But Hammond says there's an important balance to strike.
"I want our white-collar criminals to get good representation, just as I want our indigent to get it," he says. "That's one of the ways you test whether the criminal justice system works. If you have people who are very well represented in criminal investigations and prosecutions, you'll find out quickly whether it matters to have a good lawyer, well-funded. And it's a good reminder that, 'Hell yes, it does matter!' It matters a lot!"
Seeing how top-flight representation works to keep the well-funded out of trouble drives Hammond's desire to bring that same level of competency to pro-bono cases. And the firm has kept good on a pledge to help those most in need.
"We had an informal rule, back when there were about 20 of us. We would always have one death penalty case in the office—and only one," says Hammond, who's among the legal community's strongest voices against capital punishment. "We've been entirely true to the first half. But many times we've violated the 'only one' rule. Right now I'm involved in six."
Hammond and the partners handle the pro-bono death penalty cases and have an additional independent pro bono project that concentrates on a population that is in some ways even more forgotten by the system: inmates not on death row but no longer afforded representation.
"One thing death-row people have is the right to an attorney," he says. "But for people convicted and serving a life sentence or long sentence, those people, after they've gone through their first round of appeals, don't have counsel anymore. So if there's new DNA or other evidence that might prove their innocence, they're stuck without a lawyer."
Fortunately, Hammond has a reputation for talking other top lawyers in town into taking on cases for people who could otherwise never afford them.
"One of the advantages of being here is that I don't think that there is really a good criminal defense lawyer in Arizona who I haven't met," says Hammond, who counts Tom Henze and Larry Debus among his top courtroom colleagues. "And most of them, I've encouraged to take on these cases. I've often said that my greatest talent as a lawyer is suckering other lawyers into doing things they don't get paid for."
Randy Papetti can attest to that. Papetti, a partner at Lewis Roca Rothgerber who specializes in commercial litigation and antitrust disputes, has taken on a few high-profile pro bono post-conviction cases at Hammond's urging, including one in which he helped free a man falsely accused in the death of his 5-month-old son.
"I can't think of anybody else in the local market who's been able to inspire as many others to do high-level pro bono work," Papetti says. "When Larry asks, people tend to say 'Yes'—and that includes people who are not instinctively drawn to his particular causes. He has an incredible reputation for walking the walk, and doing his part."
He can certainly be persuasive. "How can a lawyer take an oath to uphold the Constitution, but then say they don't want to know anything about the defense of the poor?" Hammond asks. "My belief is that every lawyer, whether they practice probate law, bankruptcy, you name it, ought to be concerned about indigent defense."
Hammond pulls a framed photo off of the shelf behind his giant wooden relic of a desk. It's a shot of himself and Louis Taylor, the Tucson man jailed for 42 years until Hammond's team freed him.
In the photo, Hammond, a die-hard baseball fan, mugs with the 59-year-old Taylor—lately a familiar face from the local news, a "modern-day Rip Van Winkle," in the words of one reporter—in the stands at a Diamondbacks game.
"This is from the night he was released," Hammond says. "I just saw him again the other day, and he's doing well." He makes a habit of keeping in touch with those he's helped set free (Girdler says he still sees Hammond at least a couple times each year), and always brings them into the office upon their release to meet the rest of the Osborn Maledon staff, particularly its younger members.
"I always bring them to the firm and walk around with them, introduce them to our messengers, receptionists, secretaries, paralegals," Hammond says. "And it's amazing the effect they have on our staff people. There's something about shaking the hand of somebody who's been in prison a long time—as Louis had been—and seeing them as free people, and knowing that your work contributed to that."
The freed prisoners aren't the only inspiration.
"Larry has been a role model to all of the people who work here," says Katie Puzauskas, executive director of the Arizona Justice Project, which works out of a clinic at the ASU College of Law (soon to expand to the University of Arizona in Tucson). "He treats everyone the same and cares deeply about correcting injustices, and that inspires all of us."
Hammond himself got gut-hooked on catching injustices early in his career. In the '70s, he was one of the three youngest lawyers recruited to work in the Watergate special prosecutor's office.
"I was a bottom-dwelling slug in that office," says Hammond, who was hired by the case's first special prosecutor, Archibald Cox. "I had part of the drudgery of listening to the Watergate tapes, sitting around a table with 30 other lawyers in headphones trying to refine the transcripts.
"It was really hard to hear what was going on in a lot of them. They're all available now from the national archives, and there are enhanced recordings where the background noise has been cut out. They're a lot better today that they were 30 years ago," he says. "It was a great experience, though."
After three years in Phoenix, Hammond took a sabbatical to return to Washington, where he spent four years as one of the youngest deputies at the Department of Justice in Washington, dispensing constitutional law advice to the Carter cabinet and, in his final year, working with the White House trying to get the hostages out of Tehran. "One of the best things about working for such a well-respected office is that we could hire the best young lawyers in America. It was so easy to hire good people."
Hammond identifies with the prisoners he's helped set free—something he says concerns his wife. On the corner of his desk sits a 266-pound alabaster sculpture of a Chippewa guardian turtle with an odd bird-like beak that she gave him as a 20th wedding anniversary gift.
"The Chippewa believe that animals are the embodiment of various spirits, and the turtle is the embodiment of the spirit of guardianship," he explains. "But they also think that if you guard and protect something too closely, you start to look like it. Which is why this turtle, who is guarding a baby eagle, is starting to look like an eagle. He's getting a beak and talons. So my wife gave it to me when we were in Santa Fe, and said this is a reminder: Don't get too close to your clients!"
He laughs. "I've always had that problem. I get embedded in my client's lives. But I can't imagine being any other way."
Search attorney feature articles
Helpful links
Other featured articles
The first Hispanic justice on the state's high court set out to be more Grisham than gavel-wielder
Jany Martinez-Ward's personal tribulations inspired her to help the immigrant community
Organizations like The Trevor Project are confronting legislation that prevents trans students from joining teams that align with their gender identity
View more articles featuring lawyers
Find top lawyers with confidence
The Super Lawyers patented selection process is peer influenced and research driven, selecting the top 5% of attorneys to the Super Lawyers lists each year. We know lawyers and make it easy to connect with them.
Find a lawyer near you