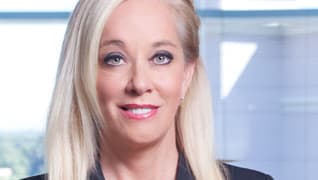 Photo by: David Schmidt
Perfect Balance
Pamela Overton Risoleo juggles high-stakes litigation, her family and empowering young women
Published in 2013 Southwest Super Lawyers magazine
By Jimmy Magahern on April 12, 2013
When Kristine Campbell STARTED her career at Greenberg Traurig, she was impressed with Pamela Overton Risoleo's legal work. Overton's representation of a string of Fortune 500 companies put the Iowa-bred litigator on the front page of the business journals, and her extended work defending Lorillard Tobacco Company in the landmark Big Tobacco liability suit ultimately banished the likes of Joe Camel and the Marlboro Man from the nation's billboards and proved she was able to handle controversial cases.
But Overton's desire to sneak into the back of a school auditorium without embarrassing her teenage son impressed Campbell even more.
"My first year, we had this huge court hearing down at the Arizona Superior Court," says Campbell, who started at the firm in 2002 and was one of a number of female attorneys that Overton brought onboard after helping form the Phoenix branch of the international full-service law firm in 1999.
"We had prepared for weeks, had the hearing and did really well. But on the way back, she said 'Can we stop at Brophy? My son Teddy is doing his speech for the freshman class.' So we stopped and snuck in the back and watched his speech."
The detour proved reassuring for Campbell, a first-year litigation associate who was considering having children herself but worried about how motherhood might affect her career.
"I thought it was just amazing that she fit both things into her day," says Campbell, who assisted Overton for nearly nine years before accepting her current post as a commercial litigation attorney for U-Haul International. "To Pam, there was no difference in importance between the big court hearing and her son's high school speech."
Throughout the city, Overton, the co-chair of Greenberg Traurig's Phoenix litigation practice, has been a mentor to female attorneys. Overton spends much of her free time championing causes like the Fresh Start Women's Foundation, a nonprofit resource center dedicated to helping empower women, where she is a founding board member.
"Since I started at Greenberg, there's always been a majority of women in my group," Overton says in her office on the seventh floor of a high-rise on 24th Street and Camelback Road, near the ritzy Biltmore Fashion Park. "It wasn't a plan I had, but I enjoy working with and mentoring women. Because when I came up through the ranks, there just weren't a lot of women mentors."
Overton says women have unique career concerns that men, however involved they may be with their families, can't relate to. "You're off on maternity leave for a couple months, somebody else is doing your job. You think, 'Is somebody else going to come in and take my cases?'" she says. "I'm somebody to ask guidance from who's had the same experiences."
Campbell, who now has her own children, ages 2 and 4, says she's grateful Overton was there for her. "It's still a male-driven environment at a lot of the larger law firms," she says. "People don't want to hear excuses when you have to stay home with a sick kid or participate in something at their school. It's a tough balance between being a kick-ass lawyer and being a good mother. But Pam has taught me not to feel guilty about doing both. By her example, she's shown all of us that it can be done."
One of Overton's own mentors was the late John Westover of O'Connor, Cavanagh, Westover, Killingsworth & Beshears in Phoenix. In the early 1970s, when few big law firms were employing equal opportunity practices, Westover was one of the first principals to support hiring women. He brought Overton onboard in 1983, fresh out of law school at the University of Iowa.
The respected trial lawyer, who passed away last November, was also instrumental in shaping Overton's old-school approach to general law practice.
"When I started practicing with John, you didn't have specialties," she says. "So we did everything from medical pharmaceutical device defense to condemnation cases to common traffic accident cases. They were great cases to learn on."
Overton's first big assignments were in the area of medical malpractice defense. "For each case, I had to learn about that particular branch of medicine," she says. "If I was defending a neurosurgeon, I would learn all about that. If I was defending an obstetrician, I had to learn everything about heart monitors and hospital procedures." In recent years at Greenberg Traurig, Overton has defended Medtronic in a string of class action lawsuits following a major FDA recall of pacemakers containing defective batteries.
She became an expert on cigarette marketing during the course of defending Lorillard Tobacco in a case involving the top tobacco manufacturers. "It was really targeted at the advertising and how it enticed teens to smoke," she says. "Representing that somehow it was a cool thing to do." In one of the largest public liability settlements ever, the Big Four agreed in 1998 to put an end to outdoor cigarette ads and create a multibillion-dollar fund to pay for health education campaigns and reimburse states' medical assistance programs for their costs in treating smoking-related illnesses such as lung cancer.
Overall, the settlement allotted $206 billion paid to affected states over 25 years, part of which went toward national public education about tobacco use.
"The other half of that case was targeted at reimbursing the state," Overton says. "Because the state had spent a lot of money, billions and billions, they claimed, to pay the medical care for smoking-related injuries. So all the states got a lot of money, and the public interest groups got a lot of money." The Big Four, in exchange, got legal immunity from future claims.
Overton learned about the issue of whether a privately owned structure can be condemned for future public use when she defended the owners of the land beneath a Greyhound bus station leveled to make room for Chase Field's parking garage. "We were really litigating some interesting issues," she says. "The question of whether you can condemn for private development is a controversy that's been going on for years."
Lately, she's been learning about bridge construction and tribal eminent domain. "I'm currently representing a man who developed and managed the Grand Canyon Skywalk," Overton says, referring to the long glass-bottom walkway suspended 4,000 feet above the Canyon's western reaches. In the case, the Hualapai tribe condemned her client's management rights and seized control of the tourist attraction. "It involves private law, tribal law—very interesting."
"She loves a challenge," says Hilarie Bass, co-president at Greenberg Traurig, who's worked with Overton since 1999. "She handles cases in multiple areas, always digs in deep, and learns everything she has to learn.
"Pam is one of those people who just gets it done," Bass adds. "Whether it's a complicated case or a charity event, she knocks it out of the park each and every time."
Occasionally, Overton, a devout Catholic, will represent clients whose views conflict with her own (she says she's had interesting discussions with her kids about defending a tobacco company). There again, she's professional.
"You find the good in them, and you find the thing that they trust about you," Overton says. "That's what the job's about."
Overton exhibited her voracity for learning at an early age.
"I was always reading books as a kid. Always analyzing everything and taking positions," she recalls. Although no one in her family had practiced law—her mother was a nurse and her dad was a contractor—her parents pegged her as a future litigator early on. "My mom said she could never win an argument with me," Overton says with a laugh.
In high school, she got involved in debate and philosophy. After deciding on law and completing her freshman year at Arizona State University, Overton returned to Iowa to finish her undergraduate degree and attend law school. She was happy to get back to Arizona, however, upon being recruited by Westover.
"I love hot weather," says the Midwest transplant, whose Paradise Valley home is located just a short drive from her office. "I love the climate, I love the people, it's a melting pot. And it's been a great place to raise my kids."
The past few years have brought changes in Overton's personal life. In 2008, she and her husband of 22 years were divorced, and in November 2011, she married Host Hotels & Resorts executive vice president Jim Risoleo. She also gained two stepdaughters, Catherine, a lawyer in Washington, D.C., and Lauren, who is working toward her master's at the University of Chicago. Her fraternal twin sons, now 22, have graduated and both work as investment bankers on opposite coasts—one in New York, the other in L.A. Her daughter is in her junior year at Xavier College Preparatory and scouting colleges. "It won't be long until we're empty nesters," she says.
One thing that hasn't changed is her commitment to empowering women, both in and out of the legal profession. Her Fresh Start Women's Foundation—which she and seven other women started in 1992 with the mission of helping women achieve financial independence—today serves more than 2,500 a month, offering education, employment assistance and even clothing to wear for interviews and jobs.
"It's not just women who are impoverished," she says—although for them, Fresh Start will tap into emergency funds to help with things like electric bills. "We also get women who have perhaps been in a higher economic category but whose husbands had always been working, and then they're either abandoned or get a divorce. They have children, the husband refuses to pay them, and they don't know where to go or what to do.
"I think it's all about self-esteem. It's all about confidence," adds Overton. "For me, there wasn't a day I didn't think, 'If I go for this, I have just as good a chance as the next person, and I'm gonna work twice as hard and I can do it.'
"There are a lot of women out there who, for whatever reason, don't think that they can do it. Probably the most important role I have is just telling these women, 'You can.'"
Search attorney feature articles