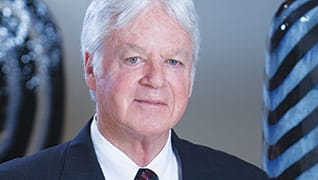 Photo by: David Schmidt
Speaking the Language
James A. Ryan approaches business law as only a former NSA intelligence agent could: by decrypting coded information and putting the pieces back together
Published in 2015 Southwest Super Lawyers magazine
By Jimmy Magahern on April 21, 2015
Nobody ever got to become James Bond by picking cotton in Chandler, Arizona. But James A. Ryan came close.
Now a partner in the Phoenix office of Quarles & Brady, Ryan recalls a moment in 1978 when he was being escorted into Government Communications Headquarters, the central intelligence hub for Her Majesty's Secret Service, in Cheltenham, England.
"I was working for the NSA, getting sent to a meeting at the British Ministry of Defence in London to exchange intelligence information with my counterparts at MI6," Ryan recalls with bemusement. "So here I am, this 28-year-old kid from Chandler stinkin' Arizona. And all of a sudden I find myself in London in the depths of the Ministry of Defence!"
The 64-year-old business litigator, blessed with poise and a shock of silver hair, wears his colorful history well. For nearly 13 years, Ryan worked for the National Security Agency—first in the Army, then as a civilian—decrypting foreign communications and analyzing materials of national concern as a language specialist, intelligence analyst and, finally, cryptologic staff officer.
"It was pretty exciting work," he says, noting that the post-9/11 NSA exposed by Edward Snowden bears little in common with the outward-focused agency he worked for in the '70s. "[As a civilian analyst,] one day I'm briefing the director on intelligence matters, with his staff of admirals and generals all lined up behind him. Another day I'm participating in the debriefing of a defector. All the time I'm writing hundreds of intelligence reports, a number of which are going to the highest levels of the government."
But the son of his hometown's first optometrist might never have made that journey from Chandler to Cheltenham had he not spent time with the Spanish-speaking laborers who were building the early agricultural economy around the town, a sleepy whistle-stop with a population of only 3,800 the year he was born.
"I spent the summers working in the fields—that was the only job you could get in Chandler back then," he says. "And for some reason, I had an ability to pick up Spanish and be able to speak it without having to translate everything in my head."
Growing up, Ryan had studied Spanish at Seton High School and Mesa Community College in Chandler. But his knack for finding commonalities in language sprang from somewhere beyond schooling. "Somehow," he says, "it came naturally to me."
That talent proved life-altering when Ryan was drafted into the U.S. Army in 1971 and assigned to a company that was to be sent to Vietnam as replacement infantry later that same year.
"When you first go into the Army, they give you a whole battery of tests," he says. "And when they gave me the language aptitude test, I ended up scoring very high. So I was called out of basic training one day by two Army captains who said, 'We've never seen anybody score so high in language aptitude. How would you like to go to the Defense Language Institute at the Presidio in Monterey, California, and study a foreign language for a year, instead of going to Vietnam with these other guys?'"
Ryan laughs while recalling the speed of his decision. "I said, 'Oh, heck yeah!'"
Ryan was assigned to Steinbeck country, learning a language that bore structural similarities to Spanish but was of much more national interest during the fourth wave of the Cold War, when the U.S. was stepping up anti-communist policies toward the USSR and other Warsaw Pact nations.
"I chose to learn Romanian in Monterey," says Ryan, who, true to form (he had also studied Latin and French in school), picked up the language quickly. "Then they assigned me to the Army Security Agency, which, at the time, was one of the military branches of the NSA."
As a linguist, Ryan's job entailed intelligence analysis of Romanian communications, taking into account cultural and political factors. After that, Ryan was appointed to work as a military intelligence analyst at NSA headquarters in Fort Meade, Maryland, where he served out the remainder of his stint in the Army. Following his discharge in 1974, the agency hired him back as a civilian.
Just before his London summit, Ryan, who was by then married with two kids (he now has three grown children), started studying law, an endeavor he took on while working full time for the NSA. "I have a lot of relatives in Arizona who are lawyers," he explains. "There are 15 or more members of the state bar that I'm either related to by blood or marriage. So I thought, 'After I finish my time with the federal government, I'll come back to Arizona and practice law here with some of my relatives.'"
At times, the demands of juggling work at the NSA with law classes at the nearby University of Maryland in Baltimore became a challenge. "There was one day when I wrote an intelligence report that went to the White House in the morning, and I'd come home that afternoon to gather all my books to head off to law school," he recalls. "And as I'm backing my car out of the driveway, my wife came running out to say, 'The agency just called, they want you to get back right away!' When I got back to Fort Meade they told me, 'The White House Situation Room has a list of questions for you.' Needless to say, I never got to class that day."
The NSA began tapping into Ryan's emerging legal knowledge, too, grabbing him upon graduation to work as an attorney in the general counsel's office. "There I dealt with what you could only call 'intelligence law,'" he says. "Navigating questions like, 'How do you perform the duties of the agency legally under the new Foreign Intelligence Surveillance Act?' It was a really interesting area of law, because there was no set of cases that you could refer to for deciding these intelligence law issues. We were dealing with things where there wasn't a clear source of guidance, yet every question had a national security component to it—where if you made the wrong call you were either violating the Constitution or federal law, or you were exposing the U.S. government to some serious risk. It was pretty much a new challenge every day to answer the questions that were posed to us."
Ryan left the NSA in 1983 to take a job with Streich Lang in Phoenix. There he worked in commercial litigation and began taking on civil racketeering cases in the 1990s. In 2009, he took the lead in arguing for dismissal of the federal racketeering claims asserted by Maricopa County Sheriff Joe Arpaio and then-County Attorney Andrew Thomas against four superior court judges, county supervisors and other lawyers. The lawsuit accused the parties of conspiring against Arpaio and Thomas by denying funding for their county budgets, and charged them with activities such as bribery and extortion.
"That was probably the worst racketeering claim I'd seen in 24 years," says Ryan, whose defense in the oft-cited 1998 7th Circuit case Goren v. New Vision International, which set the standards for the allegations necessary to plead a RICO conspiracy claim, made him the perfect lawyer to point out the many holes in Arpaio's and Thomas' case.
"That case got a lot of publicity and a lot of hoopla," Ryan notes, "and then once the arguments for dismissal were fully briefed, about 30 or so days later, Arpaio and Thomas [dropped] the entire case. … My own view is they saw the writing on the wall. It was going to be an embarrassing and resounding dismissal, so they decided to cut their losses and get rid of it."
In 2011, Ryan handled the successful appeal of the Tohono O'odham Nation to the Arizona Court of Appeals in connection with a state court action attempting to interpret annexation statutes in a way that would allow the city of Glendale to block the Nation's plans to build what would be Arizona's largest resort and casino just outside the city limits. The state Supreme Court denied review after Glendale appealed the decision.
"In the hardest cases, in the most challenging securities fraud or racketeering cases, I found that what I learned in the NSA helped me a lot," he says. "When you're doing intelligence analysis, what you normally get are seemingly disparate pieces of information: something happens over here; another piece of information comes in from over there. If you look at the pieces individually, they don't tell you very much.
"But the real trick in analysis is to put the pieces of the mosaic together to show the big picture of what's happening. To pull together, from different decisions, evidence and legislative history, an argument and a theory of the case that is logically sound. And that's what I've found to be the most fun."
Perhaps as a way of giving back to the Spanish-speaking community that inspired the love of language, Ryan for nine years served on the board of directors of Xico, a multidisciplinary arts organization created to promote local Chicano and Native American artists.
"Jim's involved in several civic activities, but that's the one he was most active with," says Jon Pettibone, partner at Quarles & Brady who first met Ryan when Streich Lang merged with the firm in 2000. "Jim has contributed mightily to that organization, in terms of time and effort, over the years." Pettibone has come to admire Ryan's "very good judgment," which he says has won Ryan many key clients at the firm.
Ryan has also maintained his Romanian, performing regular pro bono work on behalf of Romanian immigrants, who descended on Arizona in the early '90s after the nation's people overthrew their communist government.
"Suddenly, all these Romanian citizens who had been cooped up and kept in the country since the late '40s were loosed on the world," Ryan says. "And they all wanted to come to the West."
At the time the only lawyer in Phoenix listed in the Arizona State Bar as Romanian language-capable, Ryan began to get calls from scores of middle-aged Romanians.
"These people really couldn't maneuver in American society without running into trouble with legal issues here. People were taking advantage of them, they were signing agreements they didn't understand, and they were being scammed left and right."
Ryan decided to focus on the valley's Romanian community. "It's really rewarding," he says. "Sometimes all it takes to fix a problem is to write one letter as a lawyer on your firm's letterhead or have an Apostille seal put on a document to give it official status. These are little things on the scope of cases that I normally do for paying clients, but they can make such a difference to people who don't know where to turn for help.
"Sometimes," he adds, "just finding someone who can speak your language and has the ability to help can make all the difference in the world."
Search attorney feature articles
Helpful links
Other featured articles
The passion and decorum of J. Bernard Alexander III
The pro bono SCOTUS work driving Seepan Parseghian
Ruchi Kapoor fights for parental rights at the appellate level
View more articles featuring lawyers
Find top lawyers with confidence
The Super Lawyers patented selection process is peer influenced and research driven, selecting the top 5% of attorneys to the Super Lawyers lists each year. We know lawyers and make it easy to connect with them.
Find a lawyer near you