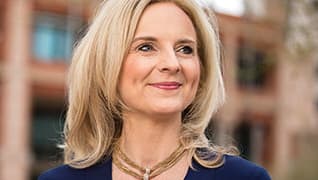 Photo by: Brandon Sullivan
The First Lady
As Phoenix's first lady, Nicole France Stanton fights bullying in her brother's memory
Published in 2017 Southwest Super Lawyers magazine
By Jimmy Magahern on April 10, 2017
Google the phrase "First Lady of Phoenix," and, curiously, your results won't date back further than 2012. That's the year Greg Stanton took office as mayor and Nicole France Stanton took the role of mayoral spouse to a whole new level. 
"I know that no other first lady of Phoenix has ever turned the position into what I turned it into," says Stanton, who jokingly laments that "FLOP" lacks the elegance of "FLOTUS." "We've had some great first ladies. Certainly Mayor Gordon's wife and Mayor Rimsza's wife before that were great. But I think I was the first one to have my own logo and to be called First Lady of Phoenix in any overt sense." 
Over the past five years, Stanton has used her increased visibility to champion causes such as anti-bullying initiatives, LGBT rights and the empowerment of women. "In Phoenix, it's a 'weak mayor' system, if you will," she says. "He just has one vote, like every other person on the city council. But he has the bully pulpit, he has a platform, so I wanted to use that platform to do good."
When not chairing fundraising galas or leading community initiatives, Stanton serves as managing partner in the downtown Phoenix office of Quarles & Brady, where she defends clients like law firms, public and private schools, and accounting firms. 
"The quality that makes her really unique, and addresses the question of why our public universities and educational institutions and companies that are involved with the public benefit from hiring her, is that she knows that it's not always about just winning the case in court," says Leezie Kim, who originally recruited Stanton to work at Quarles & Brady, and is now general counsel for Fox Restaurant Concepts. "It's about making sure that you have preserved the client's good will with the public.
"Maybe it's a result of her having had the opportunity to live in the world of politics and having represented so many large public companies whose real asset, more than anything else, is their name and their public reputation," Kim adds. "But however she learned this skill set, Nicole gets that."
Stanton grew up in Coalville, a northern Utah town founded by a handful of people who knew the value of positive optics. The town was born in the mid-1800s, after the state's territorial government offered a $1,000 reward to the first person who could find coal within 40 miles of Salt Lake City. 
To Stanton, though, Coalville was small. "My graduating class had 52 people in it," she recalls. "No stoplights. I think there's one there now."
Her older brother, Dion, had a difficult time. "In small towns, football and sports are everything," Stanton says. "My brother wasn't into that stuff. He was into speech and debate and drama, and things that were not athletically inclined. So he was bullied—by the football players, by other boys. We were eight years apart, but I have these memories of him running home from school just terrified. Boys chasing him and throwing rocks at him. And so that certainly had an impact on me."
As an adult, Dion came out to his family. He died of AIDS-related causes in 1991 at age 28. Rather than finding emotional support from the town following his death, Nicole's family was shunned.
"Back in that time," says Kim, who grew close to Stanton during their time at the firm together, "to have a member of a community die of AIDS, some people didn't want to be around anybody associated with that. They were really afraid. So she grew up under that stigma. She knows what that's like."
As a result, Stanton's first major act as first lady—and, she says, her main reason for leveraging the position—was to launch a statewide school anti-bullying program called Stop Bullying AZ, which eventually grew to become the Dion Initiative for Child Well-Being and Bullying Prevention, a resource and research program that seeks to educate school administrators on effective anti-bullying strategies.
"You can't be a child in school and get out of it what you need to get out of it if you feel unsafe," Stanton says. "So I've been trying to do my part to make sure that kids feel safe, and create an environment in Arizona that recognizes that this is a problem and supports leaders in doing things about it."
She's put forth similar efforts to support the LGBT community, for which she's been honored by several Arizona LGBT and human rights groups. In 2016, at Stanton's urging, Quarles & Brady signed the UNITY Pledge, promoted by the Arizona group One Community, to support policies in the workplace that prevent discrimination based on sexual orientation or gender identity. Today, an OpenAZ sign, signifying a business "open to everyone," hangs prominently in the lobby of the firm's Phoenix office. 
Stanton says she's essentially been helming the effort from within the walls of the firm. Does she see any bullying in the law?
"Are there lawyers out there with those types of bullying personalities? Certainly," she says. "In some cases, clients are looking for the junkyard dog type of lawyer—that kind of fierce, zealous advocate—because that's the prototype that they see on TV. But as you go up in the profession, that kind of personality does dissipate."
Courtroom bullies, Stanton says, are more often viewed as amateurish by judges and opposing counsel. "Honestly, it's much more about being strategic than bombastic. And sometimes that means laying low and waiting for the right moment. I think you can be just as effective without being nasty and overly aggressive."
"I like to describe Nicole as a velvet hammer," says Shirley Mays, dean emeritis of the for-profit Arizona Summit Law School in downtown Phoenix, who has retained Stanton's services in litigation matters. "She's got that grace and class, but she also has that underlying toughness when she needs it. … One of the things I have seen is, because of her status and the personality and aura that Nicole carries around her, she has become a role model for our students."
Stanton's most memorable case was her first: a complex professional liability matter in the early 2000s involving an accounting firm that eventually settled for close to $500 million. The rookie Stanton had the good fortune of supporting firm veterans Don Martin, Andy Sherwood and Ed Novack at trial. "[They] all told me that it would ruin my career," she says. "They said, 'You will never have another case that is this intellectually challenging and stimulating.' And, for a long time, I think they were right."
These days, a big part of her role involves representing other lawyers. "It never ceases to amaze me how few lawyers read those rules again after they take the MPRE," she says, referring to the Multistate Professional Responsibility Examination developed by the National Conference of Bar Examiners. "But when they run into a problem of some complicated ethical nature, I'm of course their best friend! Not many lawyers are students of the ethics rules, but they sure come in handy when you find yourself in the midst of some ethical quagmire. People can lose their law licenses, or be suspended or censured in some embarrassing public way. And so those rules become pretty important."
Never one to back down from a political discussion, Stanton is frustrated at the way many Americans handle political disagreements today. That includes, she says, the country's new commander in chief.
"I think you should be able to have dialogue about political issues without demeaning people, without making it personal," she says. "I have no problem talking about politics because I want to hear other people's perspectives, and I want them to hear mine. And I think that you can have conversations about very difficult things.
"We do it in the law all the time, when we stand in front of a judge and we make our best case," she adds. "And then at the end of the hearing, hopefully we're professional enough to shake the other person's hand and walk out of the courtroom. I think we need to elevate our political discourse to that level, too."
Last year, in what came as a surprise to many, the city's power couple amicably separated, moving into separate North Phoenix homes (about a three-minute drive from each other) while maintaining daily contact because "we actually like one another!" They also continue to co-parent Violet, age 6, and Trevor, 9. "Greg usually takes one of the kids to school every day and I take the other," Nicole says. "He took our son this morning, and I took our daughter. They go to two different schools—and Violet's a bit of a lollygagger—so oftentimes it takes two people to get that done anyway."
But Stanton will hang onto her title—and more importantly, her self-driven responsibilities—as long as she and the mayor remain married. "We're not divorced," she says, "so when I speak at events, people still introduce me that way.
"The city definitely embraced me and I love it," Stanton adds. "I can't say enough good things about it. It's been a terrific place to have a career and raise my family, and I think it's going no place but up." 
Search attorney feature articles
Helpful links
Other featured articles
Discovery with Jessica L. Mackaness
Judy Simmons Henry has battled cults and Ponzi schemes, and now reps NCAA players and coaches, too
Lisa E. Davis' decades-long battle for inclusion in entertainment and law
View more articles featuring lawyers
Find top lawyers with confidence
The Super Lawyers patented selection process is peer influenced and research driven, selecting the top 5% of attorneys to the Super Lawyers lists each year. We know lawyers and make it easy to connect with them.
Find a lawyer near you