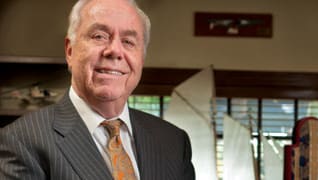 Photo by: Art Holeman
The Sailor
Legendary Phoenix defense attorney Larry Debus is equally adept at navigating sea currents and jury trials
Published in 2011 Southwest Super Lawyers magazine
By Jimmy Magahern on April 14, 2011
In the fall of 1980, Larry Debus sold his cars, gave away his gold Rolex and left his thriving law practice to his partner with the line, "Maybe I'll see ya someday!"
Debus and then-wife Leslie packed up their essential belongings and took off on his Vagabond 47 yacht, first around Mexico and then across the Pacific Ocean to the South Pacific islands.
"I needed some kind of new adventure," says the veteran Phoenix attorney, who had by then established himself as one of the highest-profile criminal defense lawyers in the region. After making an early name as the young hotshot who at first assisted—and eventually fired—Melvin Belli in the case that freed the infamous "Trunk Murderess," Winnie Ruth Judd, Debus spent most of the '70s taking on the city's biggest cases.
His team defended Max Dunlap, the Phoenix contractor convicted of ordering the Mafia-linked car-bombing hit on Arizona Republic investigative reporter Don Bolles in 1976, winning the so-called "fall guy" a second trial.
But by 1980, Debus, an avid sailor, was ready to take an indefinite break from the courtroom.
"On all the other trips, I always had a particular period of time that I was going to take off," says Debus, who grew up in Kansas City, Mo., yearning for the sea, yet settled in the Arizona desert. "But the South Pacific trip had no end. I didn't want there to be an end."
The Debuses spent all of 1981 carefree and shoeless aboard the Vagabond, enjoying the simpler life. For a while, Debus says he considered ditching the rat race entirely for some kind of free-floating freelance consultancy that would net the few hundred dollars a month the couple needed to make ends meet on the sea.
Eventually, however, he did return to land, and to law, and to Phoenix's most high-profile cases. In 1987, Debus represented Phoenix Suns center James Edwards in a sweeping cocaine bust that roped nine people, including other members of the team. In 1991, Debus was a defender in the AzScam case, a $1.4 million sting operation by the Phoenix police and the Maricopa County attorney's office that caught seven legislators, five lobbyists and five others accepting $370,000 in bribes from an undercover agent posing as a casino gambling lobbyist.
In recent years, Debus has continued to make headlines by defending a man falsely linked to the city's highly publicized "Desert Divas" prostitution ring; an antique store owner accused of shooting to death an unarmed homeless man who haunted his shop; and a former Miss Arizona accused of conspiring to murder her husband using Viagra.
"I do more consulting now, but I still go into the office every day," says Debus, who helms Debus, Kazan & Westerhausen in downtown Phoenix, not far from the Central Avenue neighborhood where he lives. "And I probably will as long as I can, because I enjoy it."
Every so often, though, Debus still takes off on his sailboat, most recently a Beneteau 46-6.
"It lets you clear your head and gives you a different perspective on life, really," says the septuagenarian ("Let's say I'm 69," he says with a laugh, "sounds better!"), who occasionally sails with his 25-year-old son, the youngest of his three children, or his girlfriend, a restaurateur.
Mostly, though, what Debus likes about the open seas are its immutable laws—a bracing change from the erratically shifting currents of the legal realm.
"When you're in open ocean, problems are either immediately solvable or they're not solvable at all," says the defender, who's shown a knack for captaining retrials at opportune moments when he's on land. "That's the main thing I've found sailing."
His courtroom style became legendary in the mid-'70s when he won a jury acquittal for a Fort Huachuca woman accused of shooting her abusive military colonel husband, with the audacious defense: "The son of a bitch deserved to die."
Debus represented his friend, country singer Glen Campbell, after a headline-grabbing DUI arrest in which the crooner left the scene of a two-car collision and allegedly assaulted a police officer (he allegedly drunkenly kneed the officer in the thigh). Debus got the aggravated assault charge dropped.
In every case, Debus delivers his gutsy defense while charming the jury with the movie-lawyer panache of a Spencer Tracy or a Gregory Peck.
"He's a larger-than-life character," says James Keppel, a Maricopa County Superior Court judge who attended law school with Debus at The University of Arizona and worked with him at the county attorney's office in the late '60s.
"He's very theatrical in the courtroom," Keppel says. "He's very focused, analytical, but also very flamboyant and entertaining. He's like the old-time trial attorneys of years and years ago that were famous. Larry just fits that mold."
Keppel was pitted against his old college pal when he served as chief prosecutor in the AzScam case. He found Debus a formidable foe.
"He kind of weaves a spell in the courtroom," Keppel says. "I think jurors really like him; I know judges like him. And I think most opposing counsel like him."
Some of Debus' favorite targets have been equally flamboyant figures whom he feels have sought their notoriety at others' expenses. He found himself in the position of firing Belli when the celebrity lawyer, who had hired Debus fresh out of law school to help him free the infamous "Trunk Murderess" locked up in Florence, got in the way of his own client's release.
Winnie Ruth Judd, a Phoenix medical secretary arrested in 1931 for the murder of her two roommates whose bodies were found dismembered and stuffed in a trunk she had taken with her on a train to Los Angeles, was well into her 60s and had spent the past three decades in—and, on seven instances, escaping from—the state mental hospital, before being sent back to prison. By the time Belli called on Debus, many had come to believe Judd had actually taken the fall for a prominent man she'd had an affair with and had already served enough time.
Acting as Belli's Phoenix arm, Debus had all but secured Judd's release at her next parole hearing save for Gov. Jack Williams' signature, which Belli had cajoled from the governor in exchange for keeping their meeting hush-hush. When San Francisco's star lawyer called a press conference the next day to announce the woman's imminent release, Williams canceled the commutation, keeping Judd behind bars for another eight months.
"The governor felt [Belli] was a publicity hound," Debus says. "The only way she was ever gonna see the light of day was for me to fire him."
Debus also has strong opinions on modern public figures. Maricopa County Sheriff Joe Arpaio is a frequent lawsuit target—and current federal investigation subject—whom Debus feels has promoted his self-proclaimed image as "America's Toughest Sheriff" at the expense of his prisoners' basic constitutional rights. "If we ever need an example of how absolute power corrupts absolutely, he and former County Attorney Andrew Thomas are it," Debus says. "When public servants get arrogant," he says, "that's what fires me up. Still."
These days, when he's not in the office or on his sailboat, you're most likely to find Debus pressing the flesh at Sierra Bonita Grill, a moderately priced Southwestern-style neighborhood restaurant at Seventh and Glendale that he co-owns.
"Life is not all country clubs and $60 steaks," he says. "Most people who go out for dinner save for [it], and then they're looking to spend $30 total.
"The people that I associate with, I suppose you could say we're all elitists," he continues. "We have little understanding of what America is really like. Those of us who have had the good fortune to have gone to college and get great professions, we live in a strata that the huge majority of America doesn't live in. We don't see it, we don't understand it, and we don't want to know about it."
Debus credits his own widened social perspective to his tough upbringing (raised by a single mom, he drifted through street gangs and married at 16) and the five years he spent as a detective in Phoenix before becoming a lawyer. In 1962, Debus was one of the detectives who arrested an ex-con named Ernesto Miranda for a petty theft and, during interrogation, got him to confess to the kidnapping and rape of an 18-year-old girl from 11 days earlier—without first advising him of his Fifth Amendment rights protecting the accused from self-incrimination. This resulted in the landmark Supreme Court ruling requiring all cops to read arrestees their "Miranda rights." Debus would later tell reporters, "That's the way it was" in law enforcement those days.
"[Being a detective] gave me an understanding, an appreciation—and a tolerance—of the human condition," he says. "Because police officers see it all: the dregs of it and the beauty of it as well."
"Larry does a great job of making his clients realize he shares their burdens and worries and is committed to help them if it is at all possible," attests longtime friend and former next-door neighbor Tom Henze, another legendary old-school defender, who presides at Gallagher & Kennedy in Phoenix. "He has an uncanny ability to see the essence of a complicated situation and to distill what is important into the simple terms that a jury—and some judges—can clearly understand."
Debus says getting out on the open seas helps him escape that elitist "strata" and reconnect with basic human needs, which ultimately sharpens his empathy each time he comes ashore.
"When I'm in front of a jury, I can understand their troubles, and their joys, because I've lived it," he says. "There was a time when I lived it."
Search attorney feature articles
Helpful links
Other featured articles
"Lifetime Detroiter" Saul Green fights every day for his city and its people
Texas attorneys who switched from prosecution to defense talk about what stays the same: getting the job done
Linda Mealey-Lohmann's longtime passion for China
View more articles featuring lawyers
Find top lawyers with confidence
The Super Lawyers patented selection process is peer influenced and research driven, selecting the top 5% of attorneys to the Super Lawyers lists each year. We know lawyers and make it easy to connect with them.
Find a lawyer near you