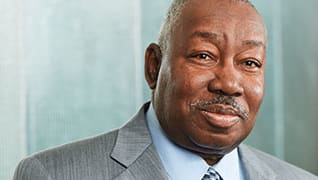 Photo by: Brandon Sullivan
The Voice
Booker T. Evans Jr. speaks softly but powerfully for clients who might otherwise go unheard  
Published in 2016 Southwest Super Lawyers magazine
By Jimmy Magahern on April 11, 2016
"The honor of having people trust you with their problem, to speak for them," says Booker T. Evans Jr., gazing out a conference room window on the 23rd floor of the downtown Phoenix skyscraper housing Ballard Spahr's Arizona offices, "that's the thing that reaches inside you, and makes you know that you're doing something that's important. It's still an honor that people actually hire me to go in and speak for them in a place where they can't speak for themselves."
Evans speaks softly. His voice encourages the listener to lean in a little. Kimberly Warshawsky, a partner at Ballard Spahr who's known him for 11 years, says that's his style in the courtroom, too.
"He's even-keeled, and very much a gentleman when it comes to litigating cases," she says. "It's a very nice courtroom presence. He tends to de-escalate situations with that demeanor."
It's who Evans speaks for that gives his voice its power.
Twenty-seven years ago, Ronnie Barlow, a 22-year-old black man, worked as a forklift operator at a Mesa hospital and rode a bicycle to work. Every workday, he was bullied on his way home by a group of routinely inebriated young white men who often physically intimidated him while yelling racist slurs. Eventually, Barlow felt the need to obtain a small Davis P-380 pistol.
One October night, Barlow was pedaling to his girlfriend's house when the group, led by 21-year-old Robert Lockwood, ran him down and cornered him in front of a convenience store. Witnesses later said that Lockwood—a bodybuilder with a criminal record for smuggling steroids and the attempted sexual assault of an 8-year-old girl—threatened Barlow with a broken Boone's Farm wine bottle, saying, "What are you gonna do, shoot me?" Barlow wound up fatally shooting Lockwood in the chest. A few months later, an all-white jury convicted Barlow of the second-degree murder of Lockwood, who happened to be the son of Mesa's former justice of the peace.
That's when Evans—at the time, one of the few African-American attorneys working at any large Phoenix law firm—heard about the case from a local investigative news reporter.
"When they had picked him up, nobody went back there to interview the witnesses," recalls Evans, who took the case pro bono. He enlisted the help of private investigator Paul Huebl, who uncovered several witnesses as well as some unlikely allies: a hundred or so white, pro-gun conservatives who turned up at the courthouse to support the young black man's right to defend himself. In the end, Judge Ronald Reinstein reduced the charges to manslaughter; Evans eventually got Barlow's sentence commuted. "Took about a year and a half," he says. "Today he is a working, good, solid citizen; lives in the West Valley; has worked for a pest control company; owns a small business. Just turned out great."
Evans, 69, says it's the cases like Barlow's that keep him practicing law. "The money has never been the driving force for me," he says. "It's the individual who calls, saying they're getting pushed around. Suddenly a lawyer from Ballard Spahr shows up and he says, 'This is not fair, and we're going to do something about this.' That's the role I like to play. That's what I can deliver."
The son of a career Army man, Evans attended 18 schools in 12 years, bouncing between his birthplace of Hattiesburg, Mississippi, and military bases around the country, with brief stays in France, Germany and Japan. He ended up attending college at Northern Arizona University, where he got a bachelor's degree in psychology by age 20, earned his master's the following year, and got a law degree from Saint Louis University in 1978 after a stint working as a mental health counselor in Las Vegas.
He then moved back to Vegas where, after overcoming the prejudice of the sitting D.A. ("He said to me, in a group setting, that he had had a black law clerk a couple of years before and that didn't work out—so he had no intention of hiring me."), he landed a job as chief deputy district attorney. That led to a post with the U.S. District Attorney's Office, first in Las Vegas and then Phoenix.
"By then, I was married with three kids, and I was trying to figure out how on the prosecutor's salary I was going to send three kids to college," Evans says. After serving as corporate counsel for the Arizona Public Service Co., he landed jobs in some of the city's most prestigious firms—litigating at Jones, Skelton & Hochuli, Quarles & Brady, Greenberg Traurig, and Gallagher & Kennedy—before joining Ballard Spahr in 2015.
Evans' bread and butter is his commercial litigation practice, where he routinely defends telemarketing enterprises in matters of Federal Trade Commission regulations. Then there's his white-collar defense practice. "You know, people who are accused of stealing with a pen or a computer, misleading people," he says. "Or someone will set up a business where they're working across major borders in a foreign country and not realizing that, in that culture, their position might be treated as a government official, and a simple business dinner may be seen as a bribe."
His high-profile political clients include then-state Sen. John Huppenthal, who was accused of tampering with an opponent's election materials. "What John did was," Evans says, "someone was placing signs around the community that were very negative and not true, and John had taken down some of the signs. So they had filed a criminal charge against him, but they charged him on the wrong statute. The court dismissed the case."
Evans is keenly aware of the example he sets.
"It's one of the reasons I keep working well past 65, I guess," he says. "It's important for young people of color to see someone like me in the legal field to understand that they can do this. I've often said that every time we lose one of the older African-American lawyers to death or retirement, it takes an awful lot out of the community."
Brian Booker, a partner at Gordon & Rees who's known Evans since they worked together at Streich Lang about 20 years ago, puts it this way: "I can say with assurance that, had it not been for Booker and the other great mentors I've had, I would not have enjoyed the career that I have. It is especially important to have an African-American mentor, because it just lets you know that it can be done, and it can be done well and at a very high level in a community where, frankly, you don't see a lot of that."
Evans, a veteran of the civil rights movement who marched with the Rev. Ralph Abernathy shortly after his college days, understands the frustrations Black Lives Matter protestors feel with the criminal justice system. But he urges young people to get involved in that system—starting with jury duty, which he says "the brightest of our people avoid."
"You have to take these issues and battle them in the arenas where they really need to be fought," he says. "As opposed to just doing so in the press—which is a good thing, you have to have people bring attention to those issues. But somebody needs to do the grind-it-out work."
That Evans does, even with his deceptively soft voice and gentlemanly demeanor.
"Don't let the smile and the gentle nature fool you," adds Brian Booker. "He is a very nice man, and that's genuine. But the man is an assassin when it comes to trial work. Anyone who mistakes his soft-spoken nature for a lack of tenacity is always in for a surprise."
---
Head to Head to Head: Booker T. Washington or Booker T. & the MG's?
Evans' father was named for Booker T. Washington.
"Going through life, probably until I was a teenager," he says, "I didn't know I had a middle name—I always just thought it was 'T.' Everyone always called me Booker T."
Evans shares the name with both a founder of the Tuskegee Institute and an architect of the Memphis soul sound. But with which Booker T. does he have the most in common?
| | Booker T. Washington | Booker T. Evans Jr. | Booker T. Jones |
| --- | --- | --- | --- |
| Educational achievements | Established Tuskegee University, a historically black university located in Tuskegee, Alabama. | Evans' maternal grandmother went to Tuskegee when it was a training school. | Attended Booker T. Washington High School in Memphis. |
| Skillset | Believed that people should have two skills: an academic skill and a trade skill. | Evans made psychology his academic skill and law his work. | Played everything from keyboards to guitar and even tuba. |
| Bridging divides | Discouraged confrontation, advocating that cooperation with supportive whites was the best way to overcome systemic racism.  | Evans' courtroom style de-escalates tensions, seeking common ground amidst diverse jurors. | Founded one of the first racially integrated soul groups, which, according to Rolling Stone, was a symbol of integration in the South in the civil rights era. |
| Musical chops | Despite his many accomplishments, Washington wasn't known for possessing any musical skills. | Has been known to moonlight as a singer with all-lawyer bands like The Stilettos at Arizona Bar conventions. | Booker T. & the MG's were inducted into the Rock and Roll Hall of Fame in 1992. Evans says his favorite music by Jones is his guitar work with Bob Dylan on the soundtrack to Pat Garrett and Billy the Kid. |
Search attorney feature articles