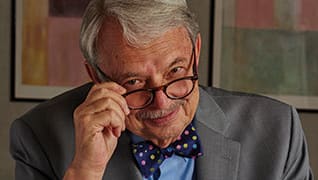 Photo by: Phillip Parker
South Toward Home
Philip Kaplan makes legal history in Little Rock
Published in 2017 Mid-South Super Lawyers magazine
By Jerry Grillo on November 7, 2017
If Philip Kaplan was scared, he did a damn good job of hiding it. That's how Jack Holt Jr. remembers it anyway. 
Kaplan and Holt, two Arkansas lawyers, were almost a year into an investigation of the state's brutal and segregated prison system—profiled in Time magazine in 1968 under the headline "Prisons: Hell in Arkansas"—when, at Cummins State Farm, in barracks designed for 80 men but holding 140, a group of black prisoners took white guards hostage in November 1970.
"The prisoners had their demands, and talking had come to a stalemate," says Holt, a now-retired chief justice of the Arkansas Supreme Court who was a political mentor to Bill Clinton. "So Phil says, 'Let me go back and I'll talk to them.' I couldn't believe what I was hearing. We had federal authority and could go anywhere we wanted in that prison, and Phil wanted to go into the lion's den."
Robert Sarver, commissioner of the Arkansas Department of Correction, told Kaplan, "If they take you hostage, too, I can't send anybody in to help you." According to Holt, "Phil didn't hesitate. He said, 'OK, then let's get the inmates to send a representative to us, promise him safe passage, and we can iron out these issues.' And that's what happened. The prisoners sent a representative, Phil negotiated, and the hostages were released. That incident is a classic example of how bright and quick-witted Phil Kaplan can be under extreme pressure."
So was Kaplan afraid? Only when they flew the 70 miles to Cummins in Holt's Cessna. 
"That was a little terrifying," Kaplan says. "We landed in a grass field. But we were used to visiting prisons and inmates by then. We'd already made a lot of trips down there."
In 50 years as a lawyer in Arkansas, Kaplan has also fought for school integration, stood down creationists, stood up for a persecuted communist, and successfully defended nudity and frequent use of the F-bomb on stage—all of this, to some in the Bible Belt, a kind of blasphemy. And from a damn Yankee, no less: a vertically challenged, Harvard-educated son of Eastern European Jews.
"I've always been interested in social justice," says Kaplan, 79, of counsel at Williams & Anderson in Little Rock. "That's the main reason I became a lawyer."
He grew up in Lynn, Massachusetts, about 10 miles north of Boston, where he attended Lynn Classical High School. His parents, Myer and Marion, were Ashkenazi Jews, part of a scattered diaspora that sought better opportunities far away from the Eastern European shtetls.
"My father grew up in what is now Lithuania; and Mom, I'm not sure if it was Russia or Poland at the time, but I know the relatives with whom she lived for a while in Boston came from Latvia," Kaplan says.
His father owned and operated a kosher butcher shop just south of Lynn, which, over time, he transformed into a manufacturing facility for kosher foods, selling wholesale to supermarkets and other vendors. "I started working for the family business as a kid, when it was still just a butcher shop, making deliveries on my bike," says Kaplan. "When I got older, I used a moped, then finally graduated to the truck. I worked there a few summers while I was in college, too. It was an interesting job, an interesting business venture, but not the business I wanted to go into."
Instead, Kaplan had his eye on events taking place in the South while he was an undergrad at Harvard—particularly the efforts to integrate Central High School in Little Rock in 1957.
"I couldn't believe what was happening," Kaplan says. "But I was so far removed from it all. The only Southerners I knew were a few classmates at Harvard. I didn't have a firm notion of law as a career, but I'd read about Clarence Darrow and other lawyers of note, and law school sounded like something I'd like."
After graduating from University of Michigan Law School in May 1962, Kaplan moved back to Massachusetts with his wife, Ruthe, so he could take the bar exam. His process of winding his way south began when he was offered a job as a field attorney with the National Labor Relations Board (NLRB) in St. Louis, where he worked directly under the assistant regional director, Joseph Solein. 
"He was probably the major influence on my career. He really taught me how to try a lawsuit," Kaplan says. "The secret is hard work. It's all hard work. You have to be better prepared than anyone else. If you're interrogating someone, make sure you've got it all down, write it out, make sure you know exactly what's going to happen, or as much as you possibly can. Wherever you think there might be an objection, be prepared to meet it.
"It's the primary lesson I've carried through my career," he adds. "When I taught trial advocacy at the University of Arkansas at Little Rock, I used to tell my students: 'You don't have to be the smartest person in the room, but if you work harder than anybody else you have the advantage.'"
In 1968, he and Ruthe and their two children planted permanent roots in Arkansas—an unexpected result of an assignment in Houston, where Kaplan was acting as hearing officer following contentious elections involving the United Auto Workers at the Manned Spacecraft Center.
"The lawyer representing UAW was Jim Youngdahl from the firm of McMath, Leatherman, Woods and Youngdahl in Little Rock," Kaplan says. "I made some ruling—and now I have no idea what it was—but Jim says to me, 'I think you're wrong and if you won't reverse that ruling, I'm leaving.' So he left. Maybe a year later, I was surprised to get a phone call from him. Then I was shocked when he asked if I'd be interested in going to work with McMath in Little Rock."
Sid McMath had been governor of Arkansas from 1949 to 1953, and Kaplan believes that connection helped make his transition to the South easier. "I never felt alien," he says. "Most of the joking was friendly. It helped that I started with Gov. McMath's firm."
But that didn't last long. Kaplan had been promised that he'd receive a percentage of ownership after a year. When it didn't happen, Kaplan left to join the first racially integrated firm in Arkansas: Walker, Kaplan, Lavey and Mays. Eight months later, Kaplan and Holt were called to the office of federal judge J. Smith Henley, who wanted the two lawyers—a former prosecutor and a civil rights attorney—to work together to investigate prison conditions, and represent state penitentiary inmates who had filed petitions alleging, among other things, torture, forced labor, crowding, racial discrimination and lack of protection from other inmates.
"These were prison farms," Kaplan remembers. "The state did not provide a single dollar for the prison system. All the money came from farming. They grew cotton and beans and a few other crops—all prison labor. There were very few free-world guards. The prison towers were manned by prisoners with rifles. It was so cold when we first went down there, Bob Sarver had just gone to the nearby town and spent his own money to buy LP gas to heat the guard towers."
The case became known as Holt v. Sarver II (Holt, a prisoner, has no relation to Jack), and the two lawyers became field generals in a prison reform campaign being waged by Gov. Winthrop Rockefeller, son of John D. Jr. "Rockefeller was a remarkable person," Kaplan says. "After he lost the election in 1970, before he left office, he commuted the sentences of every person on death row. He just didn't believe that the state should be killing people. Quite a contrast to recent developments."
As one class action suit bled into the next, Kaplan and Holt lost count of the number of trips they made to Cummins and Tucker prison facilities over the years. "We did these hearings day after day, and the pace never seemed to slack off," Holt says. "And I can honestly say that I've never worked with an individual as sharp and as cooperative and as dedicated to the mission as Phil Kaplan."
Based on their investigations, Henley, in 1971, became the first federal judge in the U.S. to declare an entire state penitentiary system in violation of the Eighth Amendment against cruel and unusual punishment, setting the stage for more successful challenges of prison systems in other Southern states. Kaplan would continue representing inmates for years in a series of class action suits. Eventually they would become Finney v. Hutto, which Kaplan argued in February 1978 before the U.S. Supreme Court. The Court affirmed Henley's findings. 
As the prison cases were waging, Kaplan also led a successful battle for artistic freedom when the Little Rock Auditorium Commission refused to grant a contract for a local performance of the musical Hair, claiming the script's liberal use of curse words plus a brief nude scene made the play obscene. "Nonsense," says Kaplan, who won the case. "I'd seen the play already. We took our son, who was 10 at the time." On several occasions, he worked with the ACLU, representing Grant Cooper III, an assistant professor of history at the University of Arkansas at Little Rock who was dismissed for admitting he was a communist (Kaplan prevailed); and representing the plaintiffs in McLean v. Arkansas Board of Education, a 1982 federal court case challenging a state law requiring that creationism be taught alongside evolution (Kaplan prevailed). 
In 1978, Kaplan became a principal at Kaplan, Brewer, Maxey & Haralson, where he ran the first leg of the decades-long relay race that was the Little Rock desegregation cases. 
Kaplan was lead counsel for the Little Rock School District, which filed an action in November 1982 against the state of Arkansas, the state board of education and the two other school districts in Pulaski County. In the face of continuing racial disparities in education, his client wanted to create one consolidated and integrated countywide district. The suit alleged that the district lines were drawn to accommodate the transfer of whites out of the historically African-American district, rather than to the city boundaries. "Little Rock was the donut hole," says Kaplan. "Whites got all the special preference. That was the world."
Kaplan won a significant victory in 1984 when the U.S. District Court ordered consolidation of the three districts. Ultimately, he says, "the court of appeals overturned that, but readjusted the district boundaries to give Little Rock schools more territory." 
JoAnn Maxey, now general counsel for the University of Arkansas System, remembers working with Kaplan. "It was inspiring for a new lawyer," says Maxey. "Also intimidating. I'd be sitting there watching this great lawyer, thinking, 'I can't do that.' I can shut my eyes and see Phil in a courtroom, larger than life, even though he's not a big person. I'm 5-foot-3 and might be taller than he is.
"But he has enormous presence in a courtroom," she adds. "He's got that bow tie, and those reading glasses—during cross-examination of a witness, he'd peer out over those glasses, peer down at the witness. There was something about the look and the tone in his voice, you could tell when he was about to make mincemeat out of the person on the witness stand."
But maybe his biggest case, in terms of headline play, was when Kaplan represented the university system against African-American University of Arkansas basketball coach Nolan Richardson, who coached the Razorbacks to a national championship in 1994. After being fired in 2002, Nolan sued the university system, alleging racism and bias. Kaplan won; the case was dismissed in U.S. District Court in 2004.
"The Razorbacks are huge in this state, and there are people here who believe that was the case of the century," says Maxey, who worked on it with Kaplan. "We had all the characters you can imagine—coaches like Eddie Sutton and Houston Nutt, and the legend himself, Frank Broyles. You had John Walker on the other side. Nothing in my experience compares with that."
Kaplan is on the board of both the Arkansas Symphony Orchestra and the Arkansas Educational Television Network Foundation. And he's not just a patron; he's a performer, too. For about 10 years, until 2014, he and pal Leslie Singer were the hosts of The Two Jewish Guys' Chanukah Special, which he describes as "a Prairie Home Companion-type show, only much more Jewish. We wrote skits, music, hired a local klezmer band with one Jewish guy in it; and two musicians at the temple, the Bauman Brothers, would perform Tom Lehrer's song 'Hanukkah in Santa Monica' every year. It started on the radio, then we had live audiences, and we even televised a couple of them. Then we decided enough was enough. We went out on top a few years ago."
The legal kind of performance, even approaching 80, he continues. He's a master of preparation, a fastidious note-taker who also relishes the stuff you can't plan for—the sudden twists and turns of a case, especially at trial.
"It's an exhilarating feeling," he says. "It is theater and you're writing the script as you go." 
Search attorney feature articles